With So Few Candidates, Only 2 Boston City Council Seats Up For Preliminary Vote
04:47
Play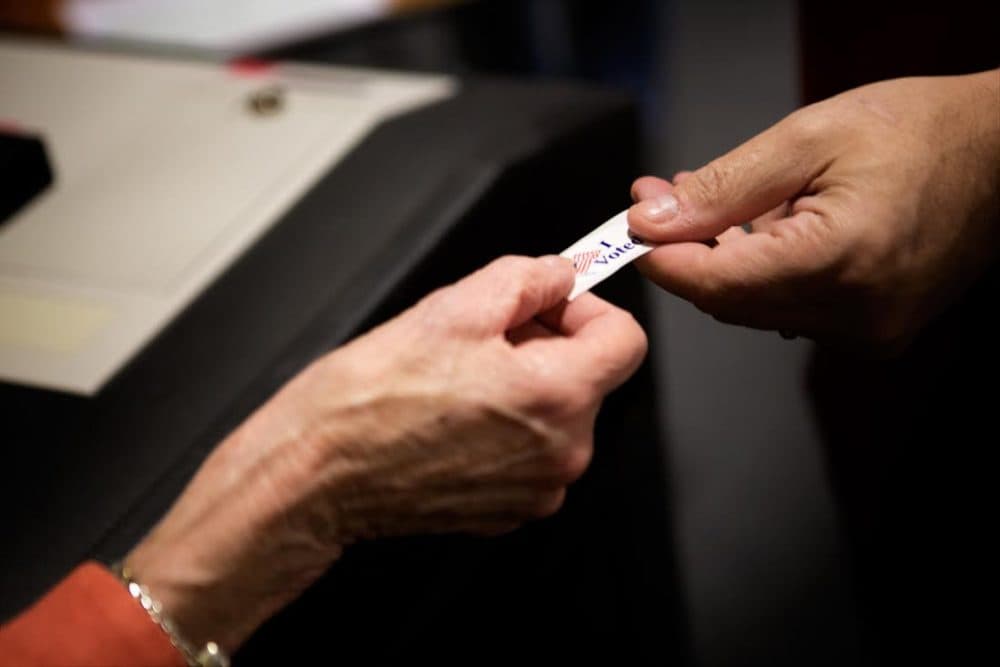 This article is more than 5 years old.
The Tuesday after Labor Day unofficially marks the end of summer. For many, it's back to school or time to knuckle-down again at work.
But in Boston this year, that Tuesday is special for another reason: it's Election Day. Specifically, preliminary balloting for municipal elections.
The election has gotten little notice, and interest from potential candidates is clearly a factor. While all 13 seats for Boston City Council are up for a vote, only two seats have enough candidates running to require a preliminary election.
Few Candidates Interested In Running
Ron Bell, a longtime political activist, has worked in campaigns at all levels — from presidential down to municipal. But this year has been harder than most when it comes to stoking the fires.
"A lot of people just don't realize the election is coming this soon, cause it's right after the Labor Day," Bell said.
Preliminary balloting in Boston's municipal elections was initially scheduled for Sept. 22, but that date falls on Yom Kippur. According to Dion Irish, chair of the Boston Election Department, that wasn't an option.
"Due to Jewish holidays, it was moved back to Sept. 8, because we have a long-standing policy in the city of Boston to make sure elections are accessible and available to all residents," Irish said.
Sept. 8 is also the first day of school for Boston public school students, which creates a tricky situation as some polling places are located in school buildings.
"We've been actively working with the school department," Dion said. "That will be a challenge, but we're prepared for it."
Irish says the city's election department has been reaching out to the public to let people know the preliminary election is coming up. But awareness among the electorate is just one issue. This year, few candidates are interested in running for a City Council seat.
A 'Sleepy Time'
Boston municipal elections are different in that they are non-partisan. So instead of party primaries, the preliminary winnows the field to two candidates for each seat.
"It is about literally pulling people out of their houses and taking them to the polls. That's what this race is down to."

Joyce Ferriabough-Bolling
In the last preliminary two years ago, 48 candidates competed for the 13 City Council seats. This year, so few candidates filed that there will not be a citywide preliminary election for at-large seats. And in the district races, five councilors have no opposition at all. Only two districts have enough candidates to require a preliminary: Districts 4 and 7.
"It's sleepy time, because there's no mayoral race, there's no gubernatorial race, there's no president's race," said Joyce Ferriabough-Bolling, a media and political strategist. She says that means incumbents have an advantage.
One of those incumbents is City Councilor Charles Yancey, of District 4, which covers parts of Dorchester, Mattapan and Jamaica Plain. He's the longest-serving member of Boston's City Council, running now for his 17th term. He's competing against newcomer Andrea Campbell, who has drawn attention with a well-funded campaign, as well as Terrance Williams, who placed a distant second to Yancey in the last election. Attorney Jovan Lacet will also be on the ballot, but he recently withdrew from the race.
The other incumbent in a contested preliminary is Tito Jackson, who represents parts of Roxbury and Jamaica Plain in District 7. He faces five challengers.
Strategist Ferriabough-Bolling expects turnout to be low this year.
"It is about literally pulling people out of their houses and taking them to the polls," she said. "That's what this race is down to."
The last time there was a preliminary election with just two contested districts was in 2007. That year, only 13 percent of registered voters showed up at the polls.
So while she gives the edge to the incumbents, with numbers like that, Ferriabough-Bolling says anything can happen.
Registered Boston voters can request an absentee ballot until 5 p.m. Friday.
This segment aired on September 3, 2015.