To Get Into MIT's New Design Program, Students Must Score High On The 'Love Metric'
Resume
Cacophony has taken over Matt Kressy's MIT class. But the noise is planned, and soon, he hopes, it will become music.
This week, Kressy has put MIT's first-ever integrated design and management (IDM) students in a kind of boot camp. He wanted to immerse the engineers, designers and business school students in a project where they would have to work in concert.
"The analogy I use is that people learn instruments," Kressy says as we talk in the big studio the students are occupying in MIT's vintage Building N-52. "They learn to play violin and cello and tympani and bass and piano, and they become virtuosos in these sort of instruments. But when you take these people together and you make them play together, it's a whole 'nother ball game. All of sudden you have to respond to your fellow musicians."
The task: build instruments from found materials. And boy did the students find materials. Mechanical engineer Maria Tafur, from Bogota, made a clarinet from a carrot.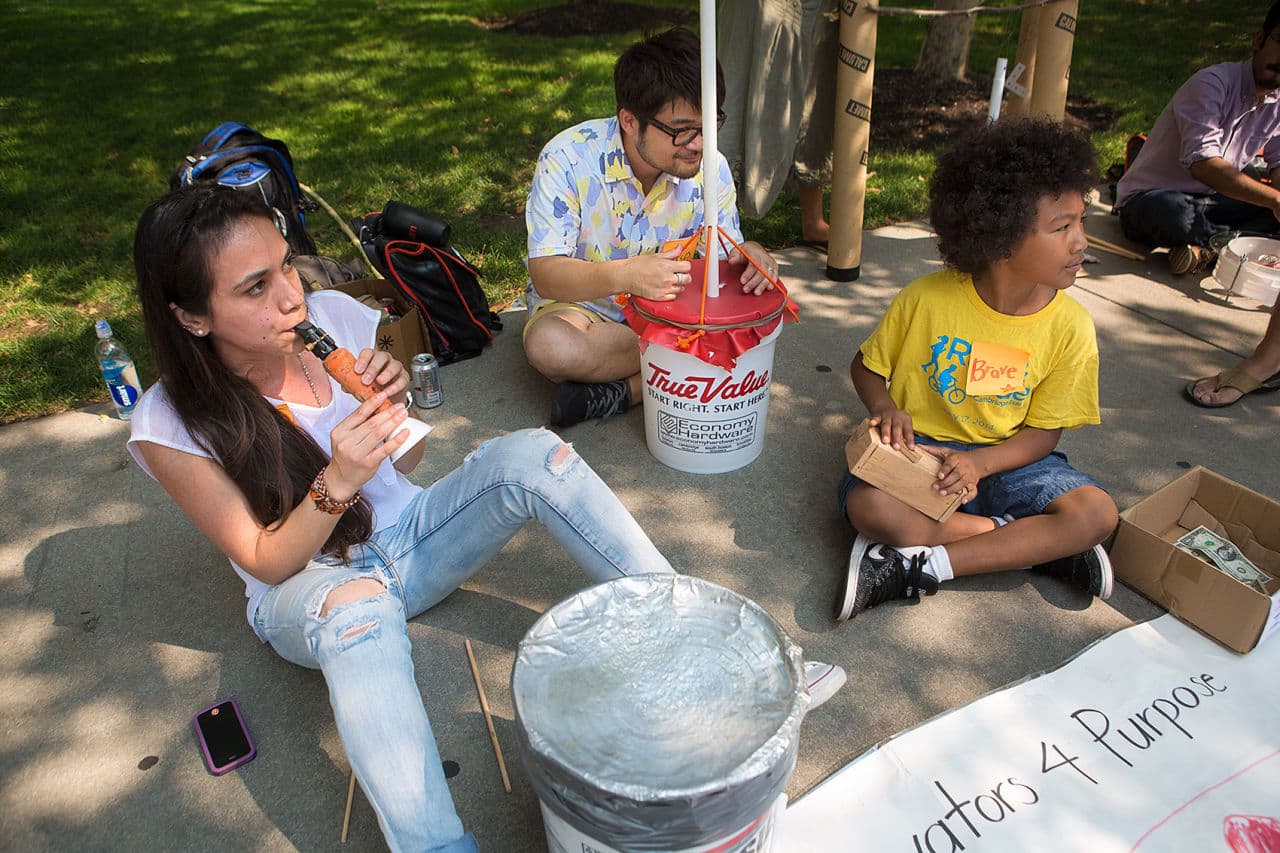 Engineer Tammy Shen, from Taipei, has made an instrument that includes glass bottles.
"I put different water inside," Shen says, eliciting different tones from the bottles filled to varying levels. She's draped her instrument with green hydrangeas she rescued from a trash can.
"There is a mountain called Yangming Mountain," Shen explains, "and they have lots of this flower, and I went to see those flowers this year, and I love those flowers."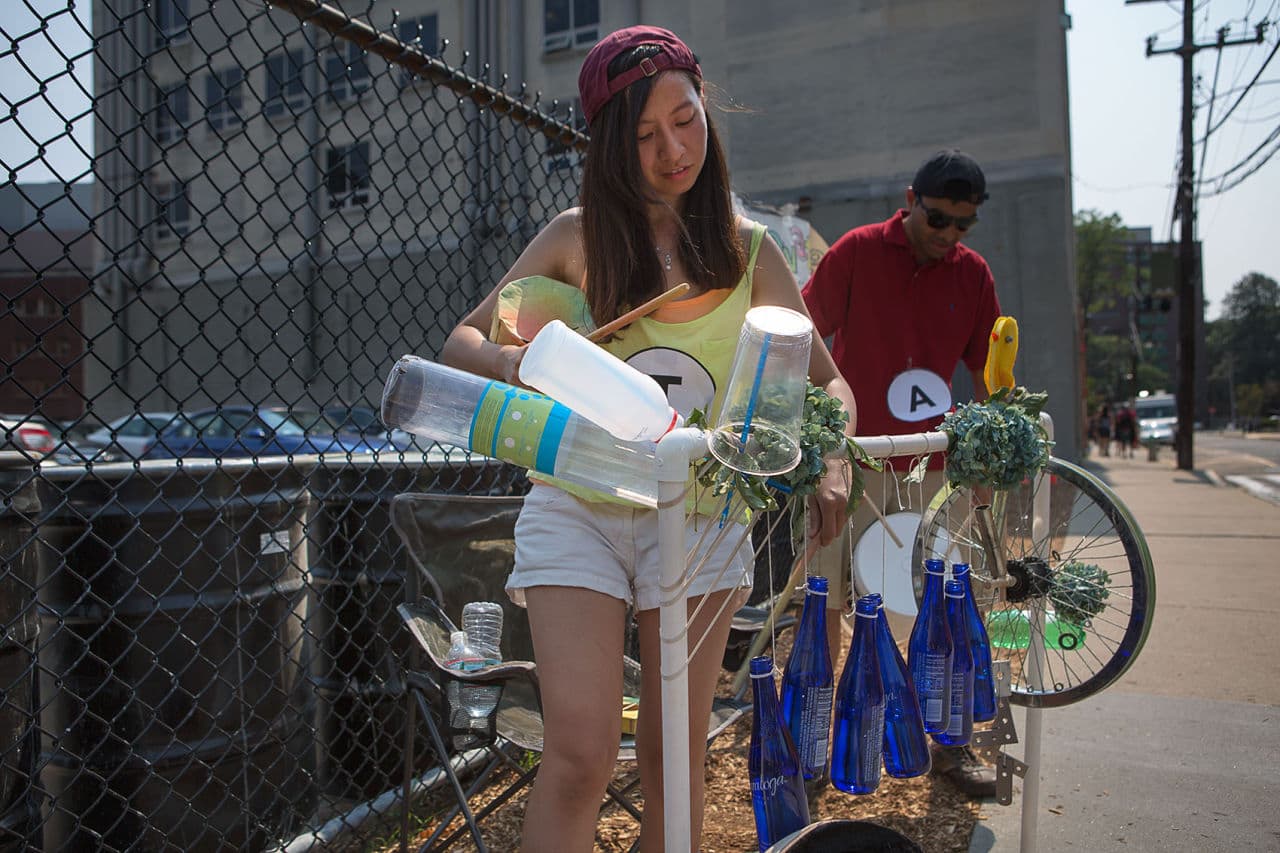 Kressy was teaching a course at the Rhode Island School of Design when he got the idea for the new IDM master's program. He was also teaching engineers and business students at MIT — but it was the design students from RISD that caught Kressy's attention by asking a critical question: "How does this product enhance our lives?"
Two of Kressy's RISD students went back to California to found Airbnb, a company Kressy says is successful largely because of the user-friendly design of its website.
Kressy says it took 13 years for his idea for a design program to get traction at MIT. When it did, he was able to pick 18 students with completely different criteria from what MIT typically uses.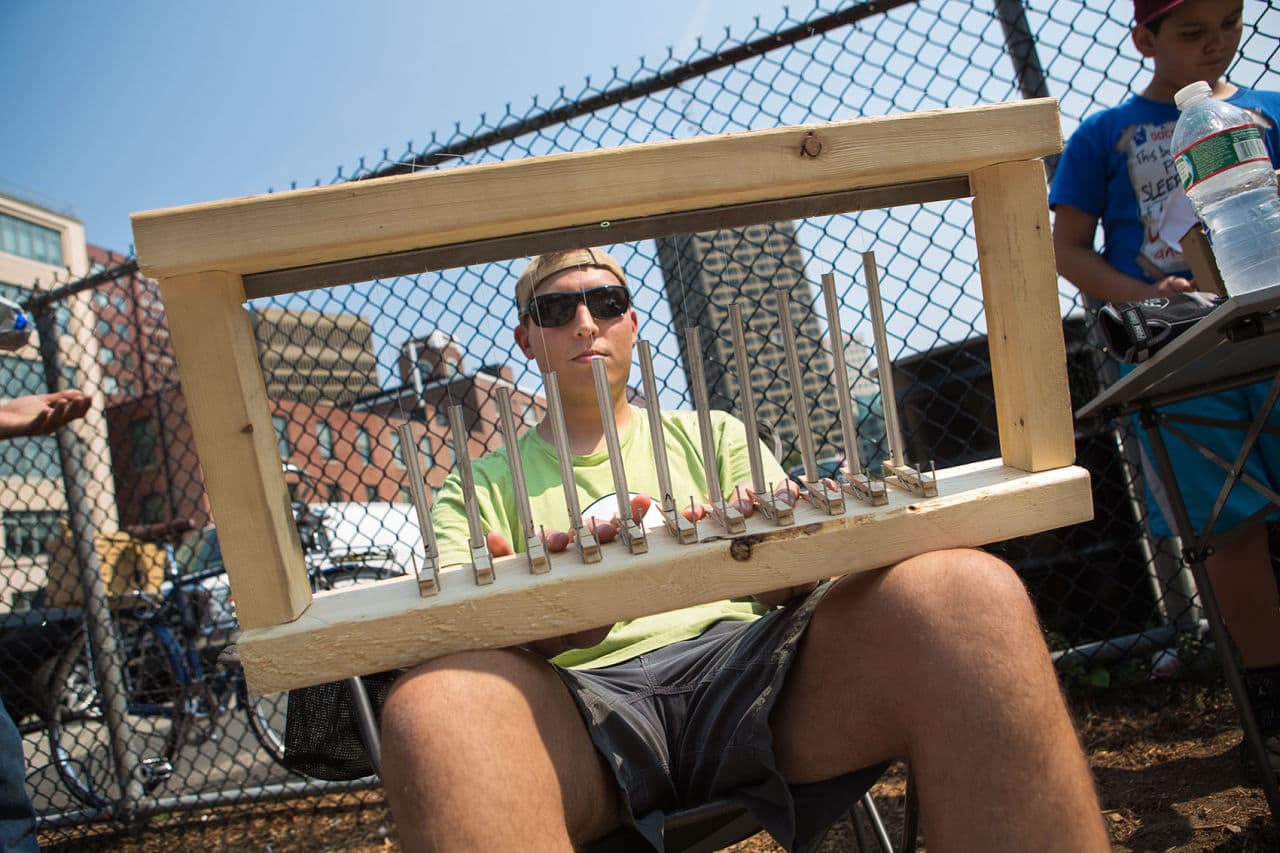 "And that rubric had crazy metrics, such as the metric love," Kressy says. "And the love metric was basically: Does this candidate have a large capacity for love and compassion?"
Kressy was looking for people who wanted to do something meaningful for people around them and for society at large.
"When I showed the rubric to my colleagues here, let's just say it got mixed responses," he says, laughing.
Kressy says it was a hard set of criteria to quantify. "There's no test for that love metric, right? But we also ask for every student to submit a portfolio."
And what portfolios!
For example, Shen has designed a robot companion for autistic children. She's an engineer who wanted to learn design.
"I love design, and I want to be a designer, so that's why I'm here, because I want to combine my background in engineering and my design interest so that I can make things different," Shen says.
Then there's Honey Bajaj. She designed a low-cost filter that converts snow into purified drinking water for soldiers at high altitudes, and a low-cost infant warmer for premature babies, now sold in 16 countries.
"You charge it like a phone," Bajaj explains. "It charges in about 30 to 40 minutes, and stays warm for up to five to six hours without continuous use of electricity. So it's really helpful for transporting babies from one place to the other, because most babies don't really die in the hospital; they die during transportation."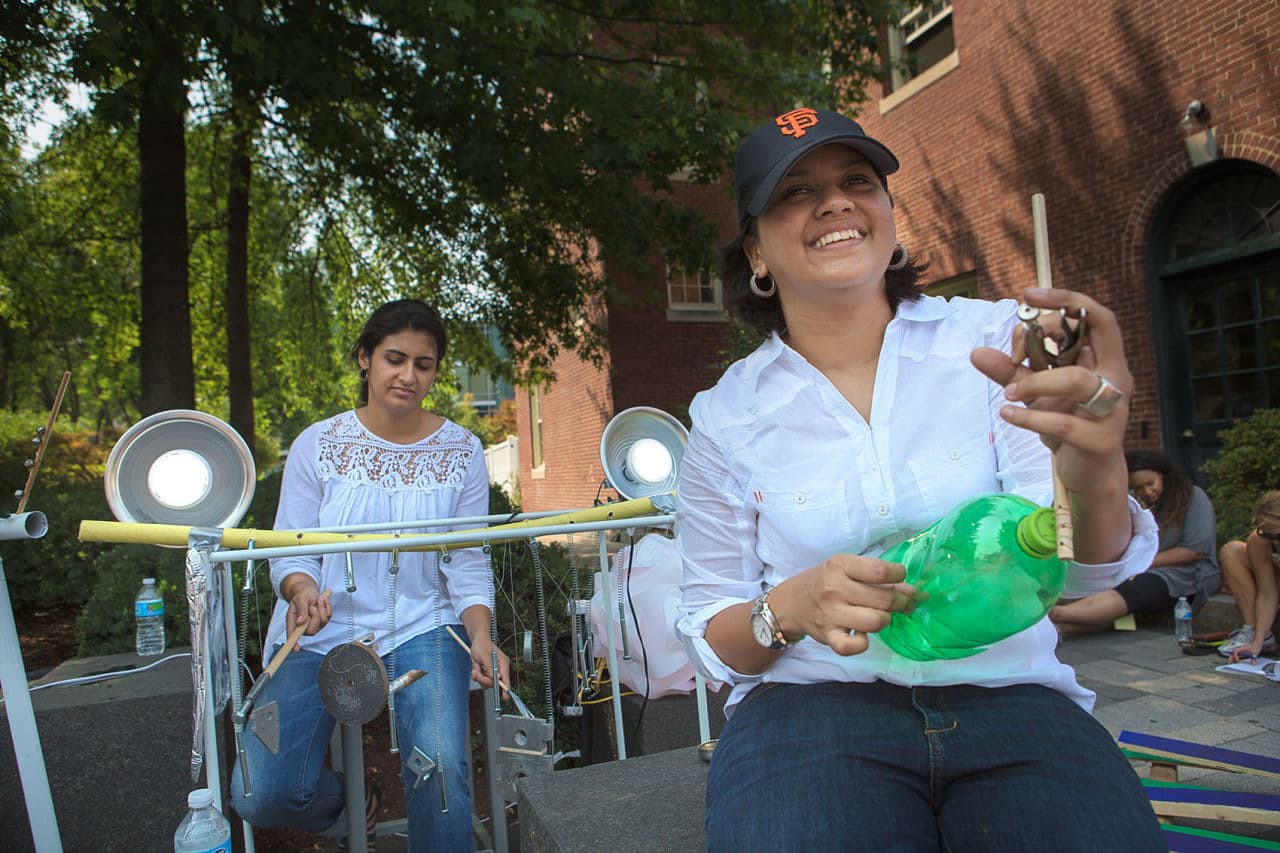 Bajaj is from a small town called Siliguri, at the foothills of Darjeeling.
"You get all the tea from there," Bajaj says.
Bajaj previously taught design thinking at one of the best MBA schools in India. She wants to use her MIT education to continue to make low-cost products with social impact.
It's 7,000 miles from Siliguri to Cambridge, but Bajaj's journey was in many ways much longer.
"Let me tell you a story about how it works in India," Bajaj says, explaining that she had to break a lot of barriers to get here. "Because I come from a very small town, I am the first in my whole family tree to have stepped out out of India, have come this far."
Against her family's wishes, Bajaj left her husband to pursue her dream. When she did, she had to overcome the fact that her GRE math scores were much lower than her peers applying to Kressy's program at MIT. She retook the GREs and got in.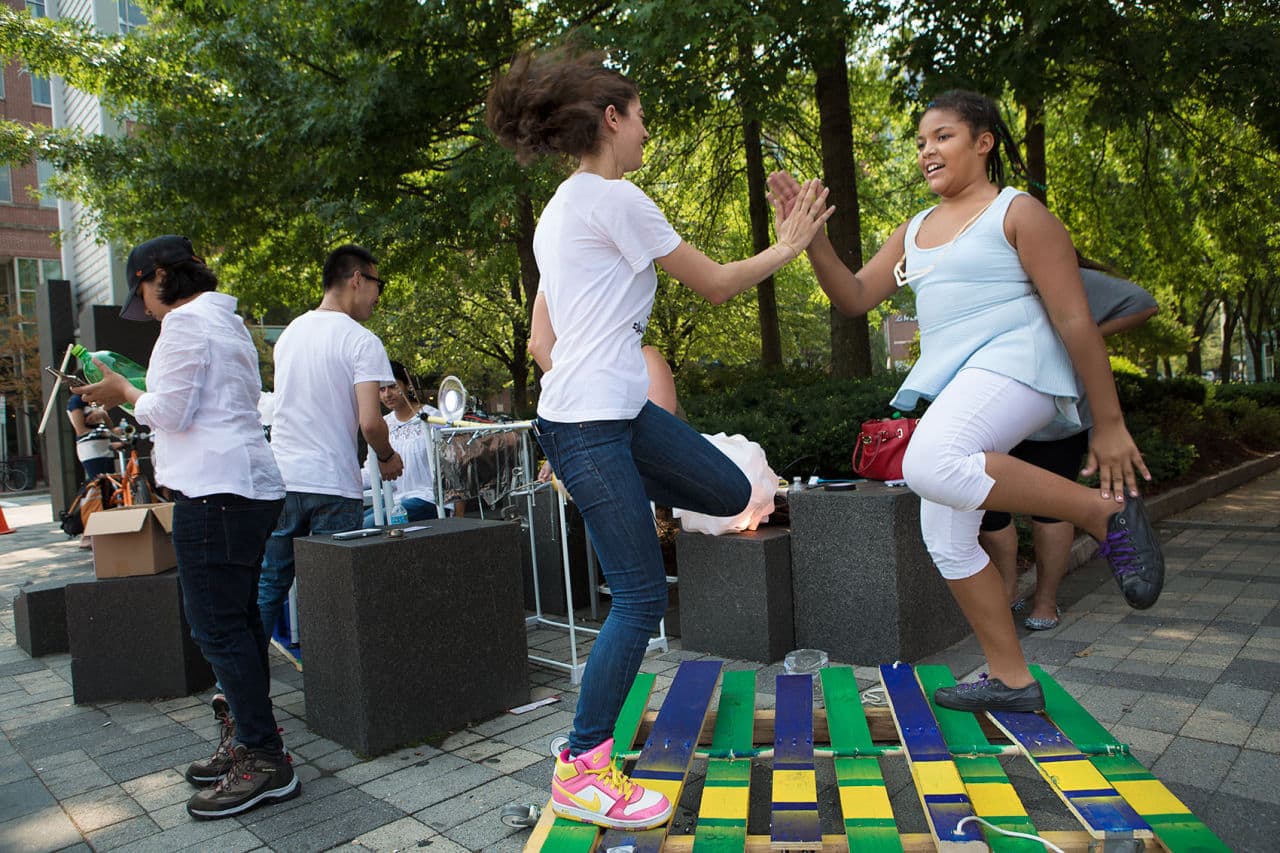 "OK, one hurdle's done," she recalls thinking, "but what about the tuition? Because that's a very big amount."
Bajaj wrote to 10 of the world's biggest philanthropists. "And my life changed," she says. "I got a response from Mr. Ratan Tata."
Ratan Tata is chairman emeritus of the Tata Group, India's largest conglomerate.
"And the trust sponsored the entire tuition for the whole year," Bajaj says.
The two-year program costs $72,000. To pay for next year, Bajaj hopes to work as a graduate teaching assistant at MIT's Media Lab.
The 18 students in Kressy's new program come from India, Pakistan, China, Taiwan, South Korea, Japan, Lebanon, the U.S., Canada, Costa Rica and Colombia.
Their ultimate test this week came Thursday, when they had to hit the streets of Cambridge and busk with their homemade instruments.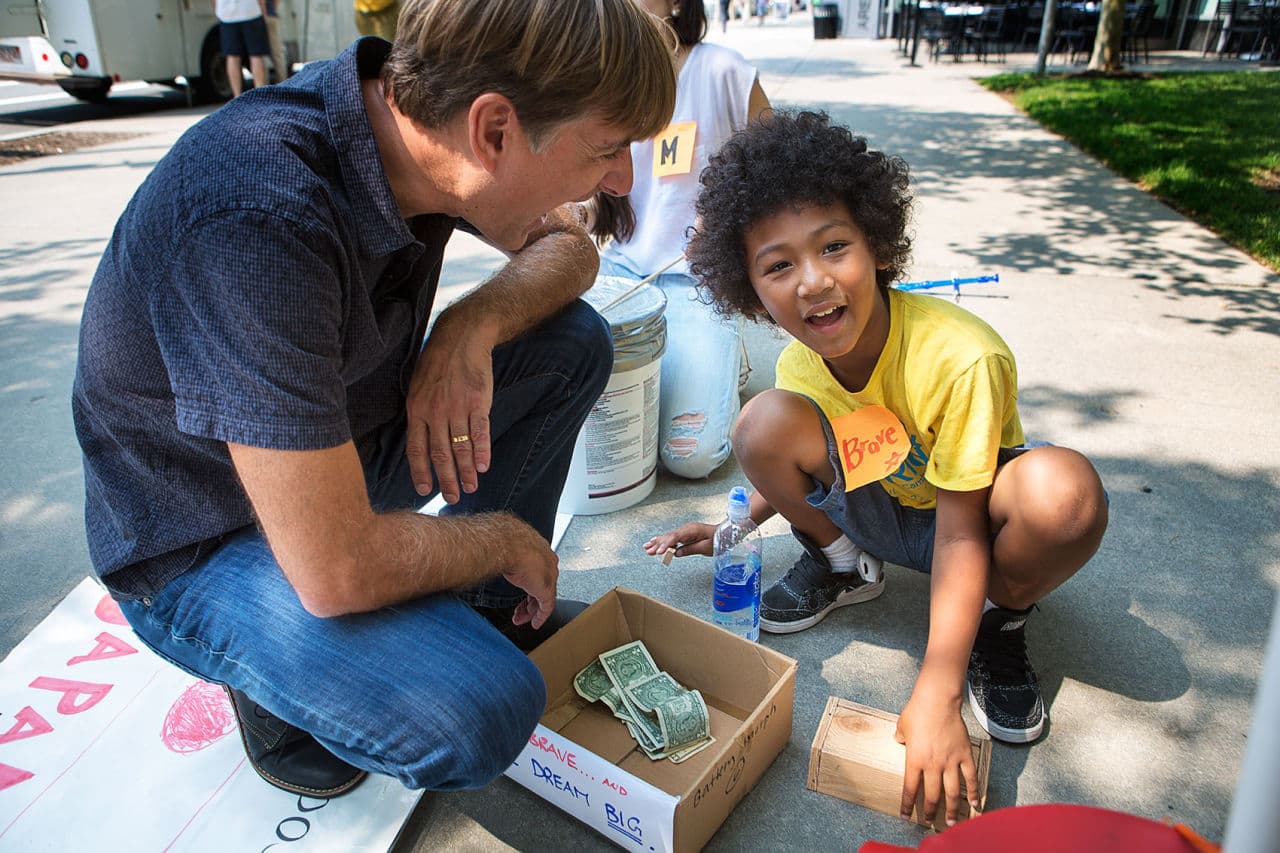 Maria Tafur's group raised the most money. Perhaps it was their location — they were near Area Four, a popular restaurant in Kendall Square with an even more popular food truck out front. Or it may have been Tafur's carrot clarinet that brought in the $122.92.
The money the students raised will go to innovators 4 purpose, a Cambridge nonprofit that seeks to connect underprivileged children with creative people such as the 18 students who have just embarked on MIT's first integrated design and management program.
Correction: An earlier version of this piece reported Honey Bajaj taught design thinking in India for four years; she taught for one year. We regret the error.
This article was originally published on September 04, 2015.
This segment aired on September 4, 2015.