'Oberon Presents' Makes Room For Experimental Shows And Emerging Artists
This article is more than 7 years old.
Under the direction of Diane Paulus, the American Repertory Theater in Cambridge has built its local and national reputation in recent years as a test lab and proving ground for shows bound for Broadway, including "Waitress," "Finding Neverland" and "Porgy and Bess."
But the A.R.T.'s beating experimental heart lies at Oberon, its flexible club theater space. It's where Paulus' "The Donkey Show," the Shakespeare-inspired disco spectacular, has been shaking its groove thing since 2009, and where immersive theater spectaculars like "Prometheus," an Amanda Palmer-headlined "Cabaret" and the Hypocrites' Gilbert and Sullivan adaptations have taken up residence.
This season, though, Oberon will play host to an expanded array of shows under the Oberon Presents umbrella, a new subscription series of experimental new work with a musical focus.
"We started this Oberon Presents series last season, with a smaller number of offerings, and audiences responded really well," said Ariane Barbanell, Oberon's associate producer and the A.R.T's director of special projects. "So it was a natural progression to expand the series, because there's so much exciting work being made right now for the club theater-style environment. Work that is connecting to not just a cultural need but a social need. More and more artists are exploring the nature of event and the social aspect of theater and looking for a deeper interaction with audiences."
From 2010 to 2012, the A.R.T. co-hosted the Emerging America festival along with the Huntington Theatre Company and the Institute of Contemporary Art. The festival featured a slew of experimental and devised ensemble work, including visits by theater companies like Universes, Witness Relocation, The TEAM and Banana Bag & Bodice (whose "Beowulf" adaptation was brought back a couple of times).
"We've been presenting work since Oberon began in 2009. But it's only in the last two years that we've really focused it as a series that our subscribers have first access to and that our audiences can join in on. So rather than a one-off, now-and-again production, we really wanted to create something that was accessible to a wider audience."
Part of Oberon's mission, Barbanell said, is to be an accessible space for young up-and-coming artists, local producers in the Boston area and visiting artists, where they can work in a "low-risk model" and use the A.R.T.'s space and resources to make new work.
"Having a second stage allows us to take chances on new work and test new models in a really thrilling way, to meet new artists doing unconventional things and foster relationships with them," Barbanell said.
---
Here's what Oberon Presents has in store for its 2015-16 series:
The season launches this week with Dave Malloy's haunting ghost story song-cycle "Ghost Quartet," running at Oberon Sept. 9 - 12. Performed by four singer-musicians, with music that spans from gospel and doo-wop to folk, jazz and electropop, the show asks the question: "If you could be any kind of dead person, what kind of dead person would you be?" It blends together storytelling references from "Arabian Nights" and Grimm-style fairy tales to Poe's "The Fall of the House of Usher" and the animated movie "Frozen." Malloy's work has been seen at the A.R.T. several times already. He composed the music for "Beowulf" and co-created and co-performed "Three Pianos" at the Loeb in 2013.
"Dave's a perfect example of somebody who we're constantly connected with and looking at what he's doing," Barbanell said. "He's a prolific creator and a wonderful collaborator. He makes things for a social environment. The way he writes is really always about celebrating the audience and the experience of performing for an audience."

Todd Almond's "Kansas City Choir Boy," which comes to Oberon from Oct. 1 - 10, is "a theatricalized concept album" about a man (played by Almond himself) who learns from a TV news report that a lost love from his youth, Athena, has been found dead. That revelation sends him careening back in time to recall a youthful romance that burned bright but left him heartsick and emotionally scarred. Rock goddess Courtney Love — singer-songwriter for the band Hole, widow of Kurt Cobain, and infamous tabloid fixture — embodies both the grasping young Athena and her lost soul.
The show debuted at the Prototype festival in New York last winter, and Love was applauded by critics for her charisma and strong emotional connection to the character. The New York Times' Charles Isherwood said that her voice "retains the singular sound that made her an electrifying front woman for the band Hole: a single sustained noted can seem to simultaneously contain a plea, a wound and a threat."
"It's also exploring this idea of the 24-hour news cycle and when a young woman goes missing — but in a unique way through music," said Barbanell.

Michael Yates Crowley and Michael Rau's "Song of a Convalescent Ayd Rand Giving Thanks to the Godhead (In the Lydian Mode)," which comes to Oberon Oct. 15 - 23, may be a mouthful of a title, but its ostensible subject is quite concrete.
"Michael Yates Crowley suffers from very debilitating migraines. As part of his treatment, he was asked by his doctor to keep a migraine diary, and out of that was born a show exploring illness and art in a very funny and moving way," said Barbanell.
Created and performed by Crowley and Rau and the tech-savvy theater-makers from their company Wolf 359, the show blends up a series of scenes, songs and monologues on the themes of illness and art. There's a doctor who specializes in treating migraines, an academic delivering a speech about the views of conservative icon/writer/philosopher Ayn Rand, a special appearance by Beethoven and even "a mid-career drag queen" emceeing a strip show in Peoria, Illinois.

The emotion-drenched, confessional music of pioneering 60s-70s folk singer-songwriter Laura Nyro lies at the heart of "One Child Born," written by Louis Greenstein and Katie Ferber and performed by Ferber herself. The solo show celebrates Nyro's wildly eclectic musical sensibilities and iconoclastic oeuvre, which influenced a generation of contemporary musicians from Kate Bush to Lucinda Williams and Suzanne Vega. The show, which runs from Dec. 2 - 4 at Oberon, will feature Nyro's folk-pop chestnuts such as "Eli's Comin'," "And When I Die," "Save the Country" and "Stoney's End."

"Ubu Sings Ubu," arriving at Oberon Feb. 4 - 5, finds actor Tony Torn (son of Rip) playing a rotund, barely clothed Pa Ubu and burlesque performance artist Julie Atlas Muz as Ma Ubu in this anarchic adaptation of the scatological satire "Ubu Roi," fused with the bizarro art-rock songs of Pere Ubu. Torn adapted and co-directed this theatrical mash-up with Dan Safer.
"That play is already an absurdist extravaganza, and this production seems to bring all of these raucous pieces together with these cutting-edge, downtown New York theater makers," Barbanell said. "It's not for the faint of heart. But it's certainly for those who are ready to try something wild and new."

In March, the Chicago theater troupe the Hypocrites will sail back into town with their third immersive, anarchic Gilbert and Sullivan adaptation, "H.M.S. Pinafore." The Hypocrites affectionate send-ups of "Pirates of Penzance," staged as a Jimmy Buffet-like beach party, and the circus-themed "The Mikado" were both previously seen at A.R.T. "Pinafore," which runs March 8 - 20, has been reinvented as a pajama party that takes place on a nautical-inspired children's playground complete with a slide. The genders of the main characters are also swapped from male to female.
Adapted and directed by Saugus native Sean Graney, the Hypocrites' mad scientist artistic director, this production features a cast of 10 doubling as their own orchestra. Matt Kahler and Andra Velis Simon are credited with the new arrangements.
"What Sean does with these Gilbert and Sullivan shows is incredibly innovative. He stays faithful to these shows that people know so well and love so much, and yet flips them on their head and makes even those who think they don't love Gilbert and Sullivan love it," Barbanell said. "And Sean knows exactly how to engage an audience in a theater space. What he's doing in Chicago is very much in line with the kind of work and mission of Oberon."

The Oberon Presents season will conclude with Young Jean Lee's "We're Gonna Die," produced by Boston's Company One, which typically stages its shows at the Boston Center for the Arts, where it's a resident company. "We're Gonna Die" runs April 20 - 29.
Directed by Company One's Shawn LaCount, Lee's autobiographical cabaret "blends storytelling, stand-up, music and theater" into a celebratory song-cycle that juxtaposes the catchy choruses and jaunty melodies of the pop idiom with an existential examination of pain, loneliness and the inevitable end of the road that we all face. The New York Times critic Charles Isherwood wrote, "Ms. Lee's hourlong set of sad songs and sadder stories really doesn't feel dirgelike at all. Its forthright acknowledgment that life can is a rough business is bracing, funny and, yes, consoling."
"She's this incredibly bold and adventurous creator. So it's always surprising to me that there hasn't been more work of hers done in Boston," Barbanell said. "And Company One is making some of the most exciting theater in town. They're really thoughtful and always taking chances. So it was a natural fit."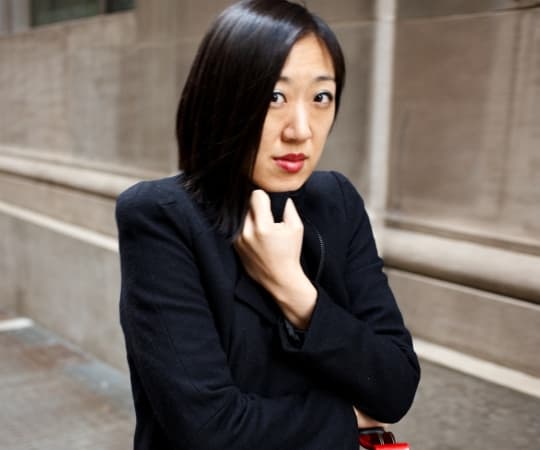 Barbanell stresses that all of the show in the series may be new works, but are fully-fleshed out productions with sets and costumes. They are not workshops.
"At Oberon, the space itself is a set. It has so much possibility. There are so many nooks and crannies and elements that these artists can transform into something completely different," she said. "Every company comes in and embraces what Oberon naturally has as an asset when they're making a show."
Which can put a bit of stress on her production team since the venue has something going on nearly every day of the week. "How many people does it take to change an Oberon lightbulb?" Barbanell said, with a laugh. "But we do it quickly. I feel like I should get the time-lapse video of the magic of a [production] changeover at Oberon. It's pretty wild."
---
Christopher Wallenberg is a freelance arts and entertainment reporter and a regular contributor to the Boston Globe, the New York Times, and American Theatre magazine. You can email him at chriswallenberg@gmail.com and follow him on Twitter at @chriswallenberg. 
Correction: The band Hole was misidentified in a previous version of this post. We regret the error.