Poets' Theatre Opens Its 2015-'16 Season With 'Beckett Women'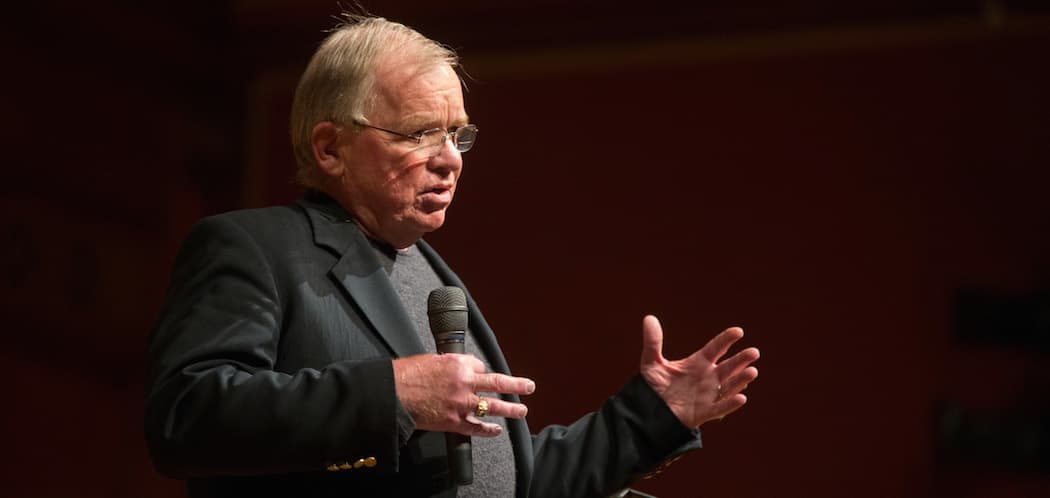 This article is more than 5 years old.
My two most serious ambitions growing up were to be a poet and an actor. So when I first heard about The Poets' Theatre -- the group formed in Cambridge in 1950 to combine poetry and drama — I loved the idea. I was too young to be part of the original Poets' Theatre. But when it was revived in 1986, after 25 years of dormancy after a fire burned down the original theater, I wanted to be part of it.
In 1990 I got my wish. I had a small acting role in a Frank O'Hara play and then The Poets' Theatre accepted my proposal and produced a theater piece based on my first book of poems, "These People," which was essentially a series of dramatic monologues. Poetry and theater! In 2004, despite some starry fundraisers (Stockard Channing and Tommy Lee Jones reading Chekhov letters, for example), The Poets' Theatre submerged a second time.
But in September 2014, director Bob Scanlan, actor Ben Evett and actor-poet David Gullette resurrected it yet again, with Scanlan directing a reading of Dylan Thomas' "Under Milk Wood." This legendary poetic play actually made its very first public appearance in 1953 when Dylan Thomas himself read the new play aloud (the ink must have still been wet) — for The Poets' Theatre.
Along with Cherry Jones and Alvin Epstein (who created the role of Lucky in the original Broadway production of "Waiting for Godot"), Evett and Gullette, I was one of more than a dozen actors in the revival, playing four small (but juicy) roles of the nearly 40 in the play — a benefit for The Poets' Theatre. I was also part of a group of poets who read their translations for another Poets' Theatre program called "The Word Exchange." (Let me note that neither I nor anyone else I'm aware of has been paid for our work with The Poets' Theatre.) This year I'm not participating, but am still excited about the season's offerings and would willingly participate again if I were invited.
I spoke to Bob Scanlan about this season's opening event: "Beckett Women: Ceremonies of Departure" — four short plays starring women. Scanlan is one of the foremost living directors of Samuel Beckett. He's directed all 19 of Beckett's plays for the stage, and all but one of his plays for radio and television. Some of them more than once. In 1995, he won the Boston Theater Award (now called the Elliot Norton Award) for Best Director for an evening of Beckett plays at the American Repertory Theater. Beckett actually handed Scanlan typescript of his final prose piece, "Stirrings Still," for the great Beckett actor David Warrilow to read. It had its premiere on Beckett's last birthday, April 13, 1989, under Scanlan's direction for The Poets' Theatre at the Boston Museum of Fine Arts.
For some quarter of a century, Scanlan was Professor of the Practice of Theatre for the Harvard English Department. He is now officially an associate of the English Department and president and artistic director of The Poets' Theatre.
Beckett famously insisted that productions of his plays precisely follow his own stage directions, and at least one director with "experimental" tendencies called Scanlan, who became very close to — and protective of — Beckett in his last decade, a member of the "Beckett police."
But how he came to this upcoming evening of four plays for women suggests a greater flexibility than that epithet indicates. Scanlan said that in the 1980s, he was working with a women's theater collaborative in Belfast called The Charabanc Theatre Company — the group that launched the renowned Irish playwright, Olivier Award-winner Marie Jones. The group wanted Scanlan to direct an all-women's "Waiting for Godot." Scanlan asked Beckett for permission, but Beckett refused. Instead, he suggested that Scanlan direct an evening of the four short plays that he wrote for women.
So 24 years later, that project is finally coming to fruition. The plays are the hair-raising "Not I," "Footfalls" and "Rockabye," essentially brief monologues (certainly too short for any one of them to sustain an entire evening), followed by the poignantly comic "Come and Go," in which all three women literally come and go.
The cast of "Beckett Women" includes Amanda Gann (who will be performing her play both in English and in Beckett's own French translation—the language Beckett usually wrote in) There will be four performances, Sept. 17-20, at Harvard's Farkas Hall (the old Hasty Pudding club-house at 12 Holyoke St., Cambridge). More information can be found on The Poets' Theatre website.
The Poets' Theatre 2015-16 season also holds in store a workshop production, adapted for the stage by David Gullette, of Martha Collins's devastating award-winning book-length poem "Blue Front," a literary phantasmagoria based on a lynching her father witnessed in southern Illinois when he was a child early in the 20th century (Arsenal Center of the Arts Black Box, Oct. 24-25). Ben Evett will direct "Beowulf — A Feast of Story," adapted from Seamus Heaney's celebrated translation (Cambridge Multicultural Arts Center, Dec. 10-21). And next May there'll be both a Dario Fo Festival and a bilingual U.S./Cuba Poetry Fiesta, which will be performed both here and in Cuba.
Lloyd Schwartz is a music critic for NPR's Fresh Air and Senior Editor of Classical Music for New York Arts. Longtime Classical Music Editor of The Boston Phoenix, he was awarded the Pulitzer Prize for criticism in 1994. He is the Frederick S. Troy Professor of English at the University of Massachusetts Boston. Follow him on Twitter at @LloydSchwartz.