Report Warns Of Boston's High Inequality
Resume
Income inequality in Boston has widened considerably over the last dozen or so years, a new report from The Boston Foundation details.
In 2000, the average of the city's top 5 percent of households earned nearly 44 times more than the average of the bottom 20 percent, the report found. But "by 2013, those top earners were bringing home 54 times more than their counterparts in the lowest quintile," the report said.
Over the past 13 years, Boston's top 5 percent of households added 42 percent in median household income, or $122,072 in inflation-adjusted dollars, while the bottom 20 percent added 14 percent, or just $931 in income.
"We all know that we're adding population, we're more vibrant than ever, but we're growing in a very bifurcated way," Jessica Martin, director of the foundation's Boston Indicators Project, told WBUR's Morning Edition.
As WBUR has previously reported, in 2013 Boston was the third most unequal big U.S. city, behind only Atlanta and San Francisco.
Big-city inequality typically exceeds inequality in other parts of the U.S.
But, as the report said, "[s]ince the Great Recession, the divide has only continued to deepen in Boston, which has been adding very poor and very rich households at a faster rate than any other income demographic."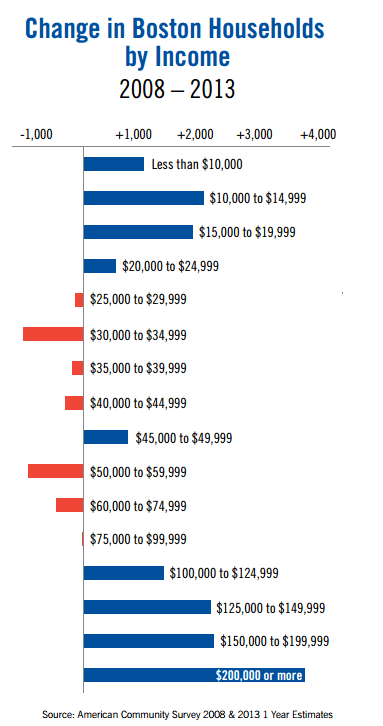 The report added (click figure to enlarge):
Of the more than 14,000 households Boston added between 2008 and 2013, nearly half earned less than $10,000 annually. At the opposite end of the spectrum, nearly 40 percent of the new households earned more than $100,000.
Jobs play a role in this bifurcation. According to the report, "[a]mong the net jobs added since the end of the recession, more than 85% paid a weekly wage of $718 or less," or roughly half of Boston's average weekly wage.
While inequality has increased, Martin told WBUR's Bob Oakes that Boston has "bent the curve on a lot of indicators," including rising college completion rates, and the city has the resources to mitigate inequality.
Text report by Benjamin Swasey. Click the audio player atop the post for host Bob Oakes' full Morning Edition interview with Jessica Martin.
This article was originally published on September 22, 2015.
This segment aired on September 22, 2015.