El Salvador Garment Factory Has High Hopes For Curbing Country's Gang Woes
Play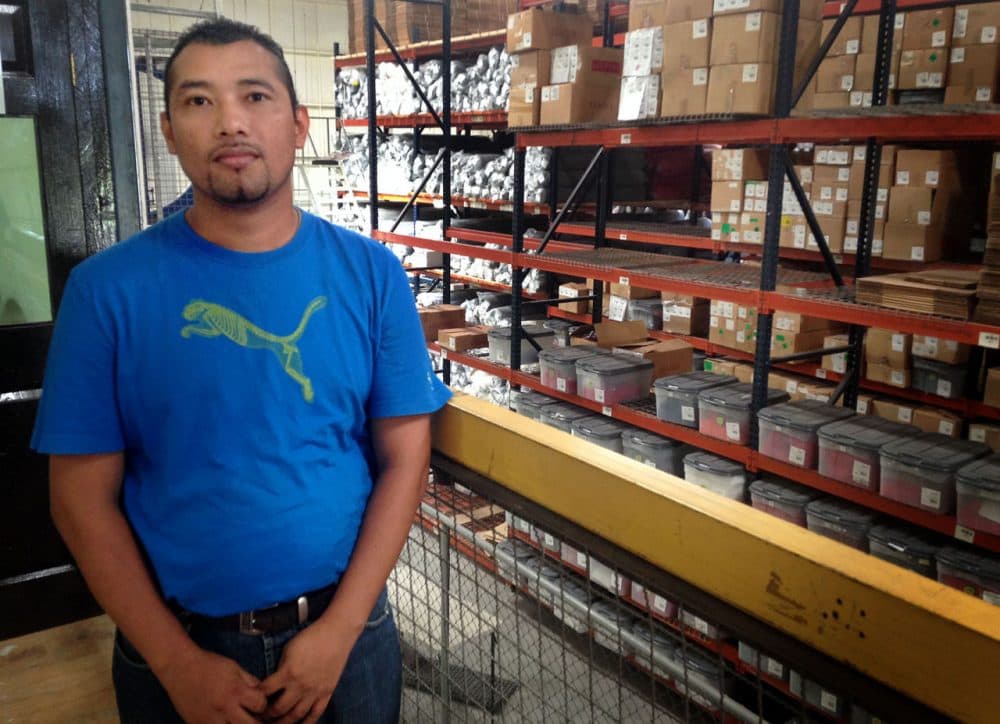 This article is more than 7 years old.
It's not yet 7 a.m., and most of the 400 employees at the League Collegiate Wear factory here are already in front of the loading dock, taking in the daily guitar concert. Many have already had a hearty Salvadoran breakfast of fried eggs, bananas, bread, rice and beans.
For just $1.05, the plant offers workers both breakfast and lunch.
League is a Pennsylvania-based company, and the director here, Rodrigo Bolaños, says the factory sells clothing to 3,000 colleges and universities in the United States and Canada, including Harvard and UMass.
But Bolaños is also trying to solve his country's gang problem.
The factory employs ex-gang members. Now, it hopes to keep local students out of gangs by offering them jobs, too.
After the guitar concert, Bolaños tells the gathered employees that the factory, from now on, will focus its recruitment efforts on the local neighborhood. Already it employs 125 people from the neighborhood.
"If we take charge of this community and move it forward," he says, "we have a solution for this country."
Bolaños tells the employees to expect a visit from graduating seniors from the local school. He's offered a job to all 57 of them.
"We believe that we have a solution for this gang situation," Bolaños says.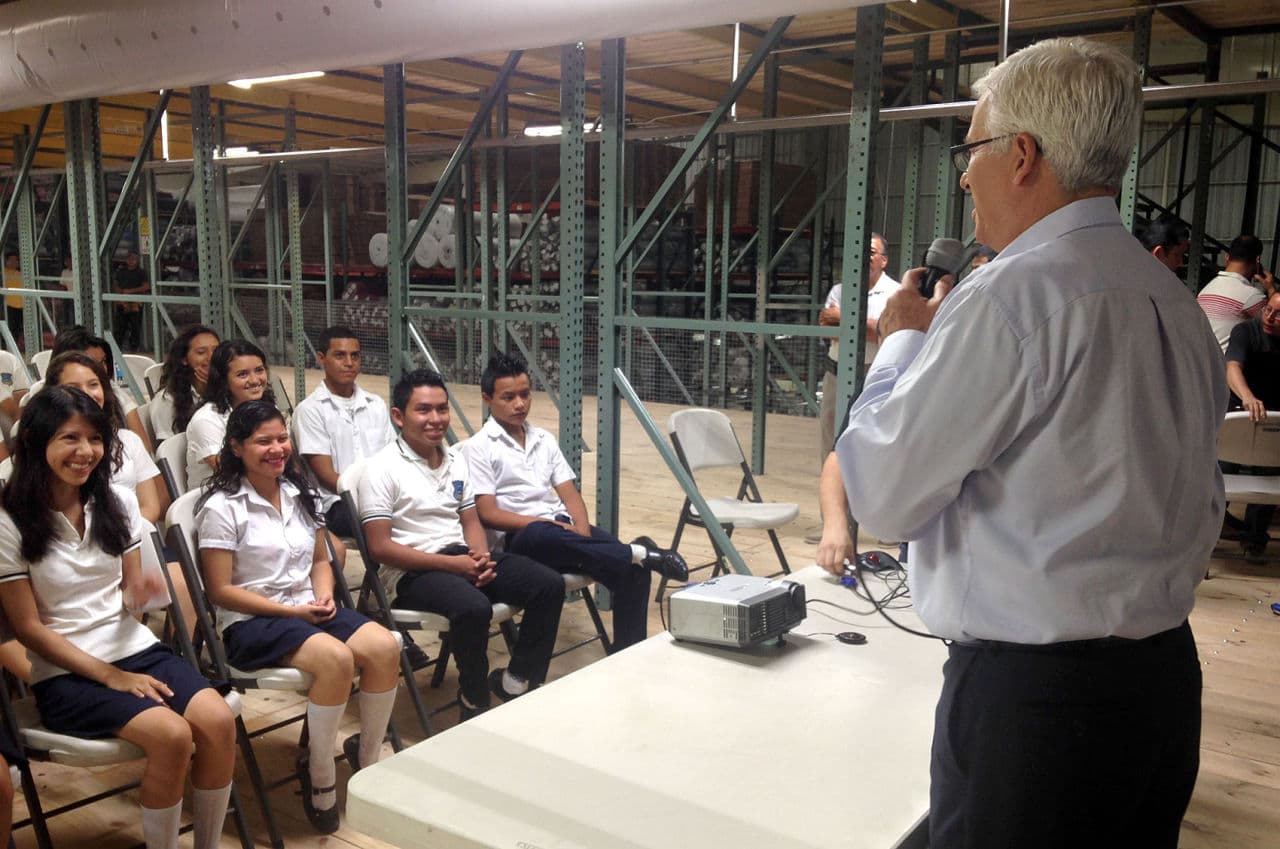 El Salvador is wracked with violence. At the current rate, it's expected to pass Honduras to become the world's most violent country. Much of that violence is caused by the country's gangs; the Salvadoran National Police estimates that about a third of people killed are gang members.
"What League is doing is a model to help El Salvador to overcome its violence problems," says Celia Szusterman, the director of the Latin America program at The Institute for Statecraft, in London.
Szusterman says it's urgent that El Salvador's gang problem be solved.
"If we don't do something about the gangs now, the big cartels are going to step in and offer the jobs or opportunities or financial rewards that nobody else is offering them," Szusterman says.
Bolaños would like to see every factory in his country adopt a neighborhood or two and provide full employment there. He says that way, business can lure young people away from the gangs.
Forty of Bolaños' employees are former gang members.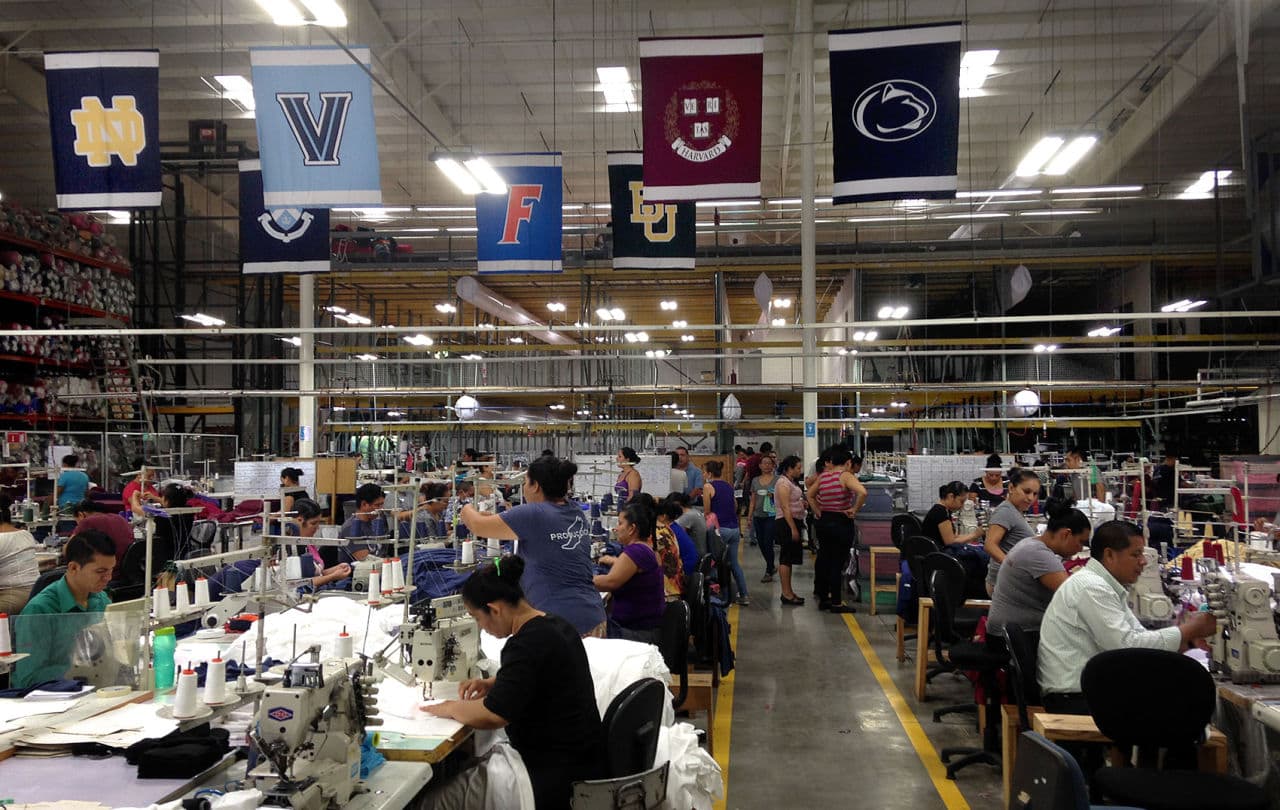 Jaime Martinez Eriqueros started out in a gang at age 15. He grew up in a neighborhood in Santa Ana, the nation's second-most populous city.
He was in the gang MS-13 until he was 28. And then his girlfriend became pregnant. Her mother told him either he changed his ways, or she would take her daughter abroad. That's when he says his transformation began.
"I had to talk to people in the gang you need to talk to," he says, "because in the gang you don't just say: 'I don't want to go on and I'm leaving,' because the gang will kill you. So I reached an agreement with the leaders of the gang. Thank God, I didn't have any problems. They said: 'Yes. That's fine. You're going to change? Change.' "
Martinez Eriqueros explains that the gang will let you leave if you promise to go on the straight and narrow. But if they catch you committing crimes on your own account, they'll kill you.
To improve his chances of getting a job, Martinez Eriqueros decided to remove his most visible tattoos. "But I had to talk to the people in the gang about that," he says. "You can't just remove your tattoos. The gang is like a barracks. There are rules that have to be respected. If you don't respect them, you know what's going to happen to you. And they accepted that I take off my tattoos, because I needed to work."
He has been working at the factory for five years now. He's a supervisor. His wife also works in the factory. Their daughter is 13 now, and they have a son who is 7. They still live in Santa Ana, an hour and 45 minutes away. He gets up at 3:30 a.m. to catch the first bus so he can be at the factory at 6:15.
Like Martinez Eriqueros, former rival gang member Juan Flores Escamilla found League through his church. He is from Apopa, a town on the outskirts of San Salvador.
"Since I was 11, I've been involved with the gangs," Flores Escamilla says. "I was inducted into the gang when I was 13."
He belonged to the 18th Street gang until he was 27. That's when he had a conversion to Christianity. After his conversion, he says the gang supported him for a long time, because he could not find a job. He attended several workshops meant to socialize him.
He's 32 now. It's been five years since he retired from the gangs. He still lives in the same neighborhood where he grew up. And although no one in his gang bothers him, he says rival gang members have tried to kill him several times. To them, he'll always be a member of the 18th Street gang.
When he started working at the factory, he spent six months taking the bus. But almost the entire route went through rival gang territory. The factory co-op has since lent him money to buy a motorcycle. He can find his way to work without going through enemy territory.
He wants to leave his neighborhood for a place where there are no gangs.
"There in the neighborhood, the same gang is operating," he says, so he's safe. "But I can't go out with my children to the soccer field or anywhere because if I go out with my kids to play, right there on the corner are the boys. They drag me along and they get me involved in a shootout."
Driving around the nearby neighborhood where he wants to employ all the graduating seniors, Ciudad Arce factory director Bolaños concedes that the jobs at the factory don't pay much. But, he says, the experience gives people the tools to be successful in life. That, he says, is how the gang situation will disappear from El Salvador.
"It has to be removed, but not through killings," Bolaños says. "It has to be removed through government-private enterprise intervention where people have hope, bringing jobs back to the community."
And he believes he has the backing of the gang MS-13. Three years ago, Bolaños was summoned to a meeting.
"I got an invitation by the gang leaders in jail, and through a priest, they said they wanted to interview me," Bolaños recalls. In the maximum security prison, there were 30 top gang leaders waiting for him.
"'We want you to please explain to us what this is all about,' " Bolaños says the gang leaders told him. So Bolaños explained his work.
"They say, 'First of all, we want to tell you that our whole gang will go through your programs,' " Bolaños said. "This is a dignified way of getting us out of the gang problem. You have complete authorization from us. Nobody will bother you at all. This is a good program."
Bolaños believes the gang leaders support him because they want their members to find a way out and back into society.
This segment aired on September 23, 2015.