Ortiz Homers, But Red Sox Fall To Rays 4-2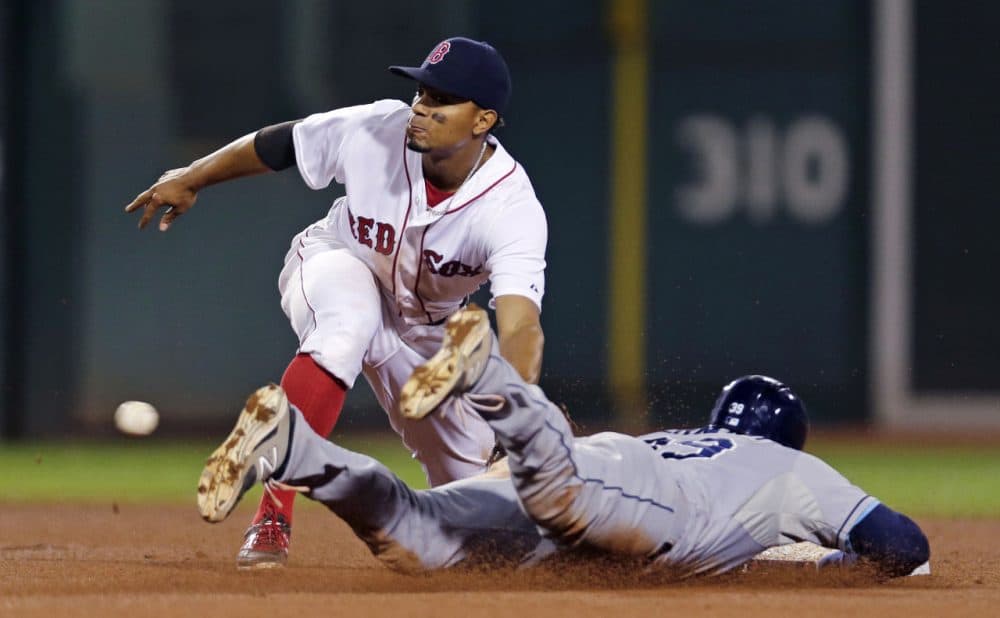 This article is more than 5 years old.
The milestones keep piling up for David Ortiz.
So do the losses for the Boston Red Sox.
Ortiz eclipsed the 100-RBI mark for the ninth time with his 36th homer, but Wade Miley's strong outing unraveled in the sixth inning and the Red Sox fell deeper into the AL East cellar in a 4-2 loss to the Tampa Bay Rays.
Ortiz's first-inning, two-run homer off Erasmo Ramirez put Boston ahead and gave him 36 homers and 101 RBIs this year. His ninth 100-RBI season tied Ted Williams for the most such seasons in team history. He also set a franchise record with his sixth year of at least 35 homers and 100 RBIs, surpassing Manny Ramirez and Jimmie Foxx.
But the sixth inning cost Boston the game. With two outs, Miley allowed a towering homer on the first pitch to Evan Longoria, his 20th of the season, then allowed a single to Logan Forsythe and consecutive doubles to Asdrubal Cabrera and Steven Souza, Jr., giving the Rays a 3-2 lead.
Souza ran into an out at third to end the sixth, but then Kevin Kiermaier led off the seventh with his ninth homer.
"I think tonight, Wade was outstanding for the first two times through the order," said Red Sox interim manager Torey Lovullo. "He just started to make some mistakes out over the middle of the plate."
Ramirez went seven innings, giving up two runs on four hits with no walks and six strikeouts. He improved to 11-6 with a 3.65 ERA. Brad Boxberger worked the ninth for his 38th save.
Miley (11-11) went 6 1-3 innings, giving up four runs on eight hits and a walk with three strikeouts.
"I just didn't execute pitches," Miley said. "I was in situations where I was in pretty good counts and just didn't make a pitch I needed to make. Obviously, they made me pay for it."
Longoria's homer gave him seven seasons with at least 20, joining Eddie Mathews, Chipper Jones and Scott Rolen as the only third basemen to reach the mark in seven of their first eight seasons.
Last-place Boston lost three of four to the Rays, falling 2 1-2 games behind them for fourth in the AL East.
The Rays have won five of their last seven games.
TRAINER'S ROOM
Red Sox: Lovullo said 3B Pablo Sandoval has pneumonia. He'll be re-evaluated Saturday. Originally, the club said he had an upper respiratory infection. ... Hanley Ramirez was shut down for the rest of the season with right shoulder inflammation.
END OF BOGAERTS' STREAK
Boston SS Xander Bogaerts went 0 for 3, halting his career-best 12-game hitting streak.
UP NEXT
Rays: RHP Jake Odorizzi (8-8) is set to open a three-game series Friday when they face RHP R.A. Dickey (10-11) and the AL East-leading Blue Jays in Toronto.
Red Sox: LHP Rich Hill (1-0, 1.93 ERA) looks to continue his career revival Friday when Boston hosts RHP Kevin Gausman (3-6) and the Baltimore Orioles. Hill was pitching for the independent-league Long Island Ducks before Boston signed him to a minor league deal.