Forecast: Cloudy And Muggy Day Before Heavy Rain On Wednesday
This nice weather we're having is about to come to a crashing end. If you have outdoor plans, today is likely the last mostly dry day for nearly a week.
We haven't had much rain this month, and Boston is running over 7.5 inches below the long-term averages for rainfall. There's a chance that by next week, that deficit will have been cut in half or even completely erased.
The overall picture is that a cold front will push close to, over and eventually past southern New England. However, the front will not clear the area far enough to lose its influence. Waves of low pressure will ride along the front and bring periods of rain.
Wednesday's morning commute will likely take place with some downpours in the area, and there could be street flooding. There is a flood watch posted for some areas, but not metro Boston right now. However, the flood watch areas could expand later.
Winds will be quite gusty along the coast on Wednesday and continue with a long duration flow from the northeast. There could be isolated power outages in some areas on Wednesday, too, but these will be limited.
On Thursday and Friday, there will be a break from heavy rains. However, after those two days, attention needs to be paid to tropical storm Joaquin. Although the storm is not forecast to become a hurricane, heavy rain will remain a significant threat over the weekend and even early into next week.
For now, the exact timing and track of the storm are still uncertain, but the potential exists for windswept flooding rains in parts of New England from this storm. Again, any flooding won't occur until the weekend or early next week.
You can see from the map below the current forecast track of the Joanquin. There is a large "cone of uncertainty" with this storm.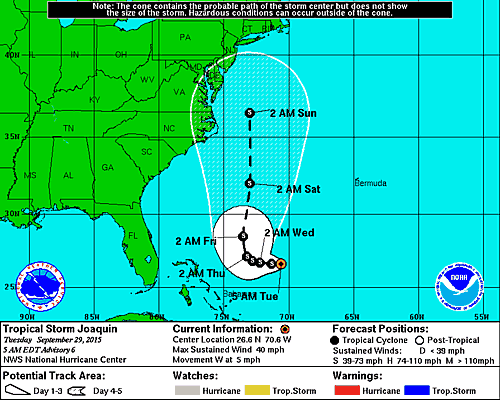 ---
Today: Lots of clouds, muggy and warm. A few scattered showers late in the afternoon, but generally dry. Highs 75-80.
Tonight: Muggy with periods of rain developing and becoming heavy by morning. Lows in the 60s.
Wednesday: Showers and downpours. Possible thunderstorms. Highs in the upper 60s to near 70.
Thursday: Cool and raw. Lots of clouds. Scattered Showers. Highs in the upper 50s.
Friday: A period of rain possible. Highs near 60.
Saturday: Lots of clouds. Scattered showers. Watching for tropical storm potential. Highs in the low to mid 60s.
You can follow David's weather updates on Twitter at @growingwisdom.