Ex-Priest Who Served More Than 10 Years In Prison For Rape Has Been Freed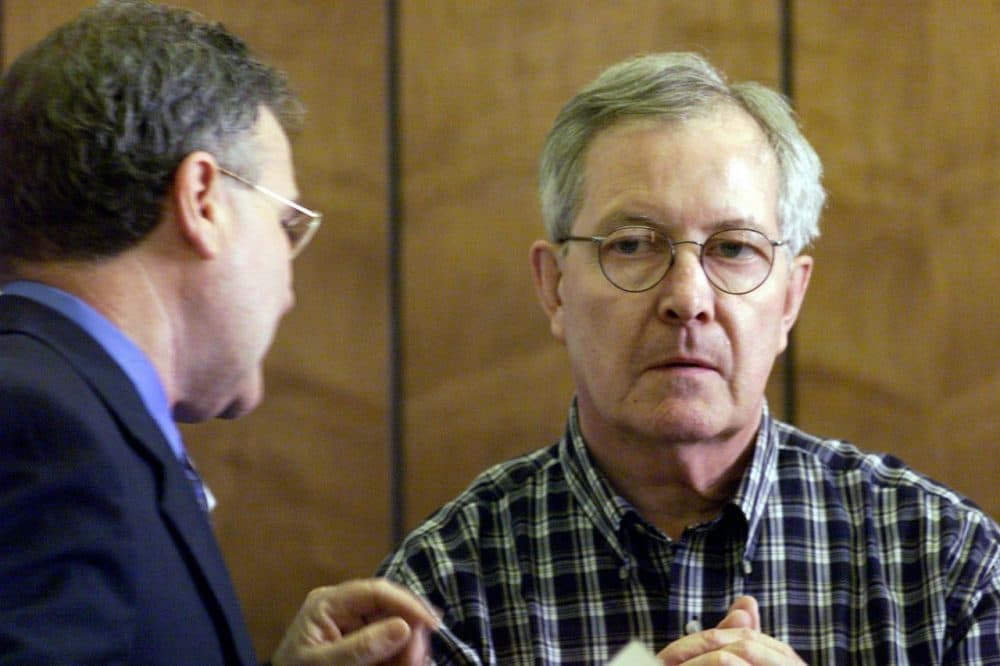 This article is more than 5 years old.
The state sex offender registry indicated that a former Roman Catholic priest who plead guilty to raping an altar boy in 2002 has been released from state custody Friday.
Ronald Paquin's release after more than a decade in state custody came after prosecutors on Friday withdrew a civil petition to have him committed as a sexually dangerous person. Paquin has reported to authorities that he is living at a Boston homeless shelter.
Essex District Attorney Jonathan Blodgett said he had no choice but to withdraw the petition under state law, because two experts who examined Paquin determined he was no longer sexually dangerous.
"Our contention is that Mr. Paquin poses a danger to the community," Blodgett said. "Unfortunately, we have no further legal options available to hold Mr. Paquin."
Under the law, anyone found sexually dangerous can be civilly committed indefinitely at a state treatment center even after their prison sentence has ended.
Paquin's current attorney, David Erickson, did not immediately return a call Friday for comment.
Now 72, he was one of the central figures in the Boston Archdiocese's sex abuse scandal. He pleaded guilty in December 2002 to child rape charges. Paquin admitted molesting a boy from 1989 to 1992 while assigned to a Haverhill parish, starting when the boy was 12.
Paquin was sentenced to 12 to 15 years in prison, and he completed his sentence in May.
Although he was convicted of raping one boy, several other people accused him of molesting them. He was later defrocked by the Vatican. At sentencing, Paquin expressed remorse through his lawyer and said that as a teenager, he was abused by a priest.
Michael Emerton, who said he was sexually assaulted by Paquin when he was a teenager in the 1980s, said he was shocked when someone from Blodgett's office called him Friday to tell him Paquin would be released.
"When he was incarcerated, we knew exactly where he was. Now a dangerous predator has been released and has been put back on the streets, and it's our job to be vigilant now, to keep track of him. The responsibility has been shifted to society," Emerton said.
The Associated Press typically doesn't identify people who say they are victims of sexual assault, but Emerton has spoken publicly about it for years.
The Archdiocese of Boston released a statement Friday afternoon saying it was disappointed in the decision. It also said the archdiocese remains committed to the safety of children.
Jeffrey Newman, who represented the victim in the case, declined to comment.
Clarification: This story has been updated to reflect that Paquin has reportedly been released from state custody. The story has also been corrected to show Paquin expressed remorse at his sentencing, not at a trial.
With reporting by WBUR's Newscast and The Associated Press
This article was originally published on October 02, 2015.