Cardinal O'Malley: Pope Francis Is 'Taking Steps To Move Us In The Right Direction' On Sex Abuse
03:12
Play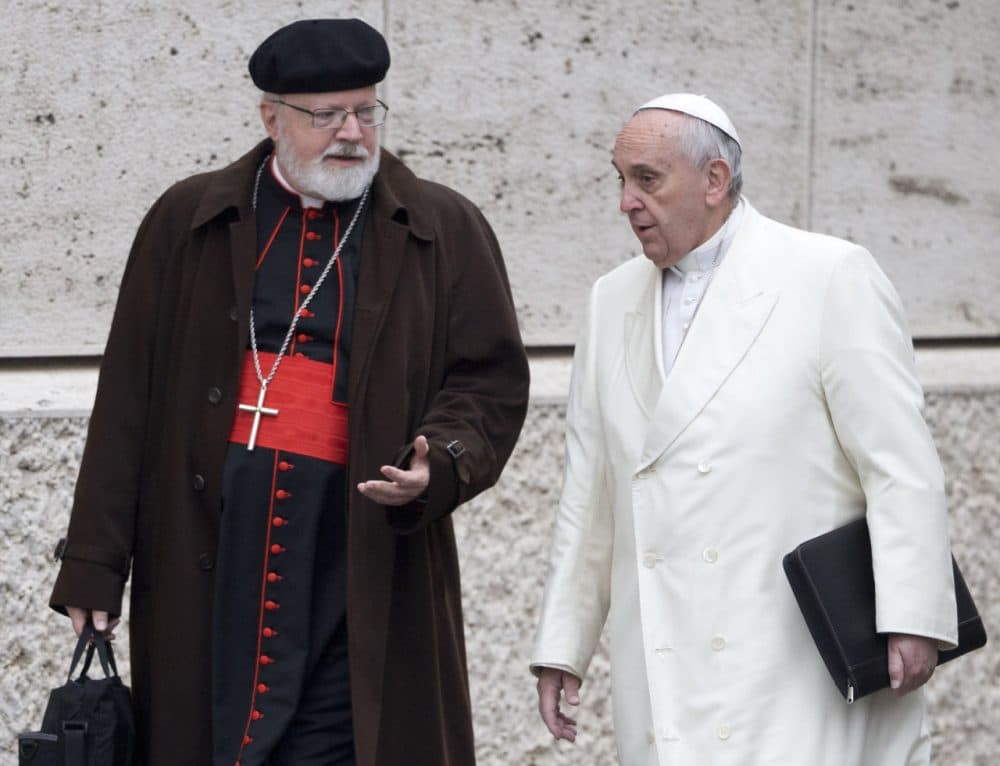 This article is more than 5 years old.
Cardinal Sean O'Malley, speaking during a rare press conference Tuesday, said for him one of the highlights of Pope Francis' trip to the U.S. came in Philadelphia, when he met with victims of sexual abuse by priests.
"The Holy Father in that meeting once again recommitted himself to the task of child protection in the church," O'Malley told reporters at Logan Airport Tuesday as he returned from Philadelphia, where he had accompanied Pope Francis. "And I know that many people are angry and disappointed and skeptical, but I think the Holy Father is taking steps to move us in the right direction."
O'Malley said the commission which he leads — the Vatican's Pontifical Commission for the Protection of Minors — is trying to help bishops around the world develop programs that deal with sexual abuse of children effectively.
"And I've been invited to address the bishops in Central America in a month or so," he said.
The cardinal said the pope is committed to a "massive" process of educating bishops, and removing them when necessary.
"Three bishops have been removed in the last six months in the United States," O'Malley pointed out.
Those bishops are Robert Finn, bishop of Kansas City; John Nienstedt, archbishop of St. Paul and Minneapolis; and an auxiliary bishop in the same archdiocese, Lee Piche.
During the press conference, O'Malley was asked whether the Vatican would try bishops who have retired, such as Boston's Cardinal Bernard Law. He resigned in 2002 after revelations that he had protected priests accused of abusing children, and he now lives in Rome. O'Malley said Law, now 83 years old, is in ill health.
"But Cardinal Law left Boston. He was not kept here, and that was a very important decision, I think, for healing," O'Malley said.
Before the pope's U.S. visit, O'Malley accompanied him to Cuba. When asked to elaborate on his own role and that of other American bishops in restoring diplomatic relations between the U.S. and Cuba, O'Malley smiled and gave all credit to Pope Francis.
"We're only advisers to the Holy Father," he said. "We can bring him certain themes, but the Holy Father quickly recognized an important opportunity to try to remedy the situation."
O'Malley said Pope John Paul II saved the Catholic Church in Cuba with his visit in 1998. He said discussions of renewing diplomatic relations began at a meeting between Pope Francis and President Obama at the Vatican last year.
Asked if the pope said anything about ever coming to Boston, O'Malley laughed and said he was afraid to ask the pope.
"He needs our prayers, and he's always asking for them. We haven't given up hope that we'll get him to Red Sox city, to Red Sox country," he said.
O'Malley said the pope's next overseas trip is to Africa in November.
This segment aired on September 29, 2015.