Knives And Cabbage Fly At Giant 'Kraut Mob' In Boston
05:18
Play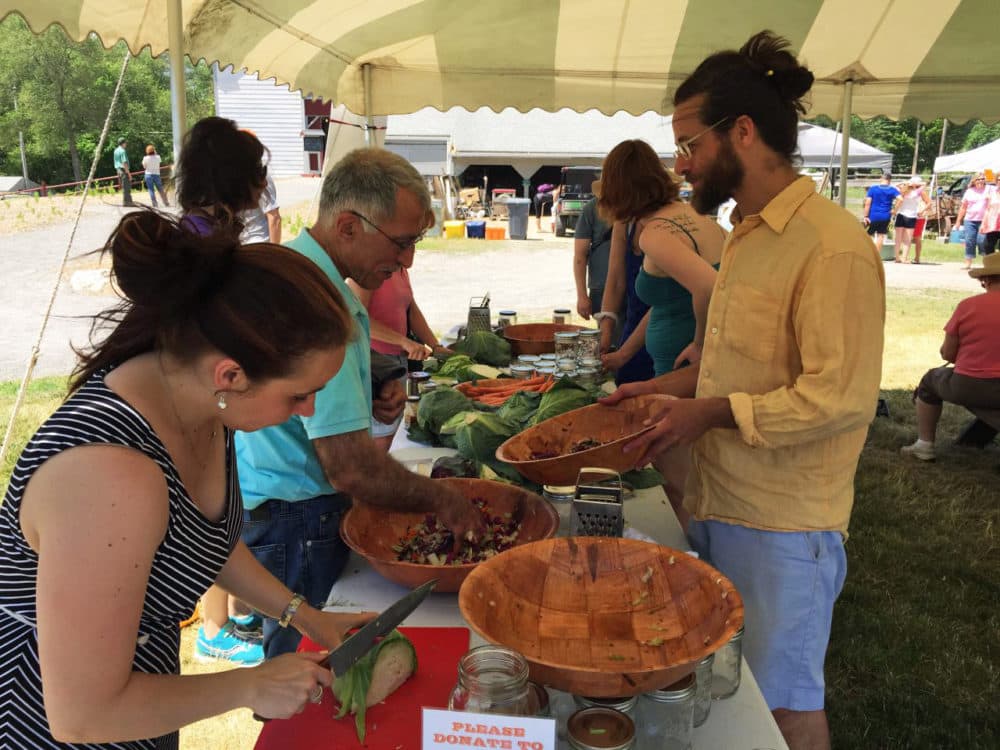 This article is more than 6 years old.
You've probably heard of "flash mobs" — but how about "kraut mobs"? Well, a giant "kraut mob" — as in sauerkraut — will form at the Boston Public Market Sunday morning as part of the third annual Boston Fermentation Festival.
Fermented foods — from kimchi to miso to hard cider — are all the rage with foodies, the DIY urban homesteading crowd and chefs at all level and style of restaurants. But what role are these local kraut mobs playing in the larger, bubbling fermentation movement?
For the past two years Jeremy Ogusky — a self-described "fermentation evangelist" — has been drawing crowds at farmers markets by staging these free sauerkraut-making lessons. He told me that when people stumble upon one they're usually pretty surprised.
"It starts with timid people kind of walking up, curious, and [asking] 'What's happening here, why do you have 100 pounds of cabbage sitting out on a table?' " Ogusky explained. But then, time and again, he's observed a shift.
"Once a few people start, other people get curious," Ogusky continued, "and they see knives and cabbage flying all over the place — and it becomes truly a mob."
That's why Ogusky calls these mass sauerkraut-making events kraut mobs. The one I went to was at Powisset Farm, a property run by the Trustees of Reservations in Dover.
People of all ages swarmed around a table strewn with mason jars, cutting boards and literature about fermentation. They wielded their sharp knives with aplomb, diving and chiffonading purple and green heads of cabbage — although new "mobsters" mused about how much faster and easier it would be with a food processor.
Ogusky shook his head and laughed, clearly amused at that cop-out. Then he went on to teach the crowd how to massage and salt the fruits of their labors. In their fervor some people added shredded carrots to their mixtures, too.
Melanie Carroll, a 39-year-old veggie-lover from Boston, brimmed with questions. "Do I need to put a liquid in there? Am I just mashing it all in? Did I put in enough salt?" she asked while squeezing the moisture out of her big bowl of chopped brassica (members of the brassica family include cabbage, as well as cauliflower, brussels sprouts and broccoli).
Then Ogusky directed them to pack the veggies into the jars where they would soon begin their natural and wild transformations.
"How long do I have to wait?" Hamid Nayeb-Hashemi asked.
"Personally, I like to wait around three weeks," Ogusky replied. "But if you like it very sour you can wait three years."
The 65-year-old Northeastern professor came back with a big, "Wow! No preservatives?"
"It has natural preservatives as a result of fermentation," Ogusky responded.
Hashemi can be counted among the kraut mob organizer's recent kraut converts — and converts are just what Ogusky will be targeting at Sunday's Fermentation Festival. His goal is to expose as many newbies as possible to the wide world of fermented foods, including kombucha, pickles, chocolate and beer. But for Ogusky, sauerkraut is the perfect "gateway drug" into the growing fermentation movement.
"Fermentation is the most ancient preservation method so it's nothing new," he said with a laugh, "But also food is like the new rock 'n' roll. People are really interested in where food comes from, how to cook it, what it tastes like."
The complex, sour flavors you taste in fermented foods are created by lactic acid bacteria. Ogusky — a longtime potter — started fermenting six years ago. That's also when he started making fermentation vessels. Demand for these crocks has grown in line with the fermentation trend. Now, Ogusky even sells them to the mainstream cooking retailer Williams-Sonoma.
In his Jamaica Plain studio he poured liquid clay into molds as he explained how he came up with the kraut mob idea and his concept for fermentation dinners at local restaurants, including Journeyman in Somerville's Union Square.
"I started out by selling a lot of fermentation crocks, and people would buy them, but then they would come back to me and say, 'OK, how do I use this, can you teach me?'" he recalled. "So I ended up teaching a lot of fermentation workshops. And I really enjoy educating people, especially talking about the health aspects of fermentation."
Fermented foods are also called "living foods," and interest in them is surging as more new research emerges about the important role microbes play in our bodies' health.
Sandor Katz, author of The New York Times best-selling book, "The Art of Fermentation," has been teaching people how to make sauerkraut for 20 years and is something of a godfather to the living food movement. But even with the steady stream of new research he told me a lot of people are still scared of bacteria.
"The number one question that I've received over the years is, 'How can I be sure that I have good bacteria growing in my cabbage and not bad bacteria that might make somebody sick?' "
Katz's assurances are based on science and experience. USDA microbiologist and fermented foods specialist Fred Breidt also told me how he would answer that question.
"I would say that following an established recipe — from a reputable source — you almost can't go wrong," he said from his lab in North Carolina, adding that a 2 percent salt brine is key to getting kraut right.
"If done correctly, fermented vegetables are probably some of the safest foods on earth," he suggested, adding, "it's safer than eating the raw vegetables, in fact, because you have the action of the lactic acid bacteria killing the other micro-organisms. So people shouldn't be petrified of bacteria."
Easing people's fears will be part of Tufts University microbiologist Ben Wolfe's job in the Boston Fermentation Festival's "Science Corner."
"When you generally talk about microbes to people, the scary factors of E. coli and salmonella and disease and death sort of turns them off," he explained. He's been studying microbial food ecology for the past five years.
But Wolfe believes using food as the translator can cause epiphanies.
"As soon as you put a wheel of Camembert or a bowl of miso soup or some kimchi in front of people, microbes become more engaging," he said. "And that's fantastic for me as an educator, because then I can really tap into people's minds and help them learn more."
Kraut mob organizer Ogusky acknowledges the fact that letting veggies sit in an un-sealed vessel — on a shelf, bubbling away for months — can seem creepy. But it's also provocative.
"I like when I kind of freak people out and they're like, 'Oh that sounds disgusting and dangerous,' " Ogusky said, laughing. "And I'm like, 'Well, maybe it's a little disgusting, and it can be a little dangerous — but not really.' It's mostly fun and healthy."
That's the pitch Ogusky will make Sunday to what he predicts will be the largest crowd to populate one of his kraut mobs. He's got more than 250 pounds of cabbage waiting to be chopped, massaged, salted, squished into jars before being invaded by armies of hungry microbes.
---
The Boston Fermentation Festival is held Sunday, Oct. 4 at the Boston Public Market from 10 a.m. until 4 p.m.
This segment aired on October 4, 2015.