Red Sox Drop To AL East Cellar With 2-0 Loss To Indians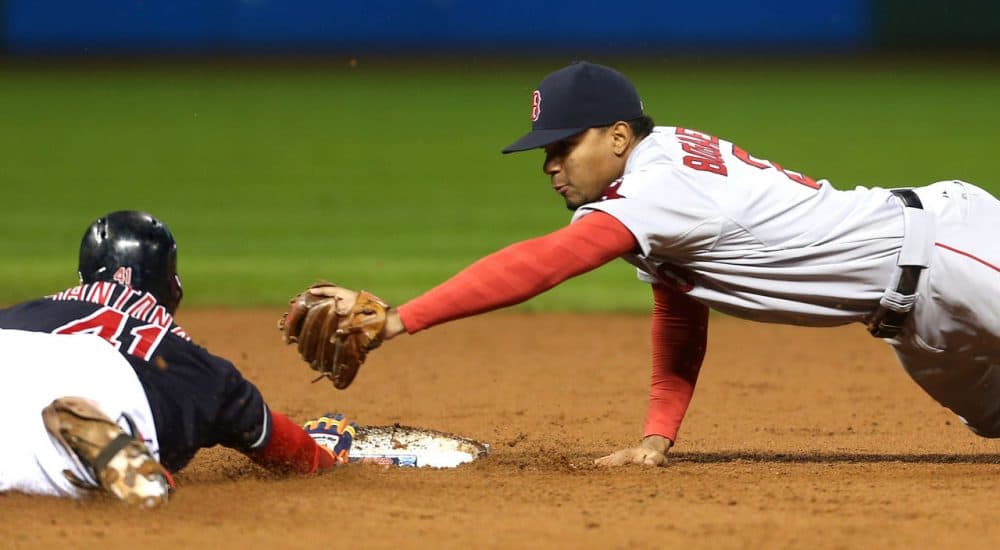 This article is more than 3 years old.
Boston Red Sox interim manager Torey Lovullo has one goal heading into the final day of the regular season.
"We certainly don't want to finish in last place (in the American League East)," he said.
Boston fell into the division cellar on Saturday night, managing three hits off reigning Cy Young Award winner Corey Kluber in a 2-0 loss to the Cleveland Indians.
The Red Sox are 78-83 with one game to play, while Tampa Bay is 79-82. Boston must beat Cleveland and have the Rays lose to Toronto in order to tie for fourth place in the five-team division.
"We want to win as many games as we can, which should be obvious by how hard the guys are playing," said Lovullo, who is 28-19 filling in for John Farrell. "Tonight, I think Kluber was feeling very good. I've always believed when a pitcher of his caliber has his rhythm going, it's going to be a long day for the other team."
Catcher Sandy Leon had two singles for the Red Sox, while first baseman Travis Shaw accounted for their other hit on a soggy 49-degree evening at Progressive Field. The first pitch was delayed 30 minutes by rain.
Right fielder Mookie Betts was the only Boston player to get past first base, drawing a leadoff walk and stealing second against the right-handed Kluber (9-16). It extended his on-base streak to 36 games.
Red Sox left-hander Craig Breslow (0-4) - making his second career start after 522 relief appearances - tossed a career-high 5 1-3 innings. The 35-year-old allowed five hits, including solo homers to Carlos Santana and Ryan Raburn.
"I was reluctant to label myself a starter after the first time, but this was a lot of fun and I enjoyed the routine involved," said Breslow, who lost his eighth straight decision dating to May 25, 2014.
"Continuing to do it is something that I'd definitely welcome. Heck, I'll do anything. If some team wants me to play second base, I'll do it."
Designated hitter Brock Holt suffered a bruised left knee after being hit by a pitch from Kluber in the seventh. He gingerly walked off the field, but was not limping in the clubhouse following the game.
Boston second baseman Dustin Pedroia and designated hitter David Ortiz were given the game off because of the conditions. Lovullo expects both to play in the season finale.
Matt Barnes, Tommy Layne and Heath Hembree followed Breslow to the mound, combining for 2 2-3 scoreless innings of relief.
"I feel like pitching into the sixth inning of my second start is pretty good, but I left a couple pitches out over the plate," Breslow said. "And they were the difference in the game."