Facing Questions Of Integrity, Future Is Uncertain For Fantasy Sports
Play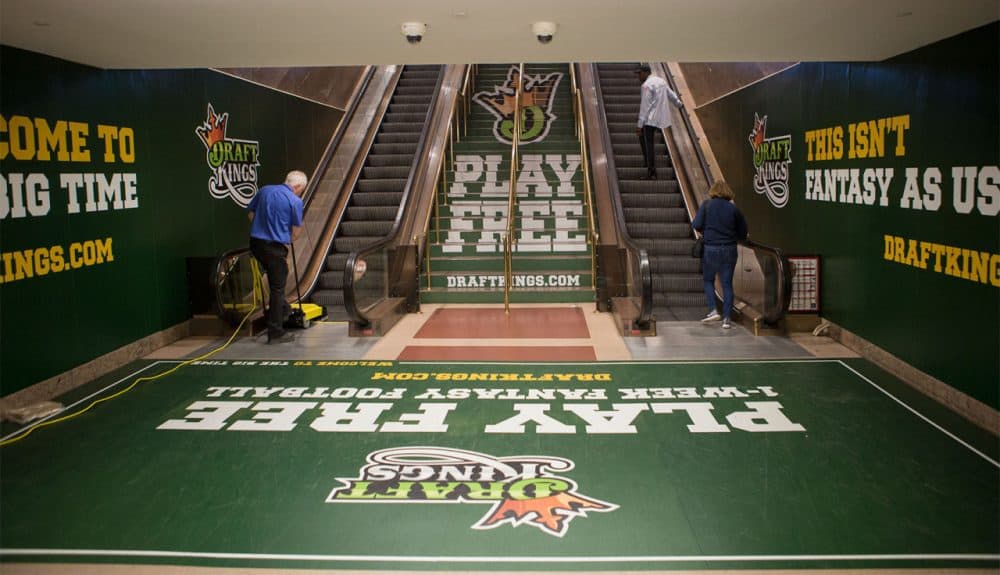 This article is more than 7 years old.
Allegations of insiders passing information. $350,000 going into an employee bank account. Millions of dollars at stake.
Sounds like Wall Street, but we're talking daily fantasy sports.
Boston-based DraftKings makes a web and mobile platform for daily fantasy sports. That's where people create virtual teams of actual pro sports players, and try to outscore other people's virtual teams. And they do it for money, weekly or even daily.
I spoke with DraftKings CEO Jason Robins recently, before the news came out that's unsettling to many of his core customers:
"We preach internally that it's about building an awe-inspiring customer experience, measured against all Internet companies, all entertainment companies," Robins says. "You know, how can we be up there with the best?"
DraftKings may have a ways to go.
An industry monitoring website, Daily Fantasy Sports report revealed that a DraftKings employee posted company data online, information that could give players in the know a better chance of winning cash prizes. The same week, that same employee won a $350,000 jackpot with DraftKings' rival company, FanDuel.
Roger Abrams is a law professor at Northeastern University.
"When there is a lot of money that's involved, there's always the risk that something can go wrong," he says. "People can see an opportunity to make some quick money."
DraftKings says there's no evidence the employee misused the information.
The 3 ½-year-old startup company teamed up with its chief competitor, New York-based FanDuel and released a joint statement. They said that employees with access to valuable data are rigorously monitored by internal fraud control teams. But both companies also agreed to temporarily ban their workers from playing daily fantasy sports for money at each other's sites. Until this week, workers had been banned from playing only at their own company site.
Abrams says this is a scandal that will bring increased scrutiny from government regulators.
"How far they go with it, will depend on what else is on board, and whether it becomes simply the first of many scandals, or whether these two companies have been able to stop it right from the beginning," Abrams said.
That will also influence to what extent the companies' customers continue putting their money at risk.
DraftKings and FanDuel have spent tens of millions of dollars on advertising over the past month to sign up new customers. Those customers might not stick around if they feel like the playing field is uneven.