Potential Savings From Criminal Justice Reform Eyed For Job Training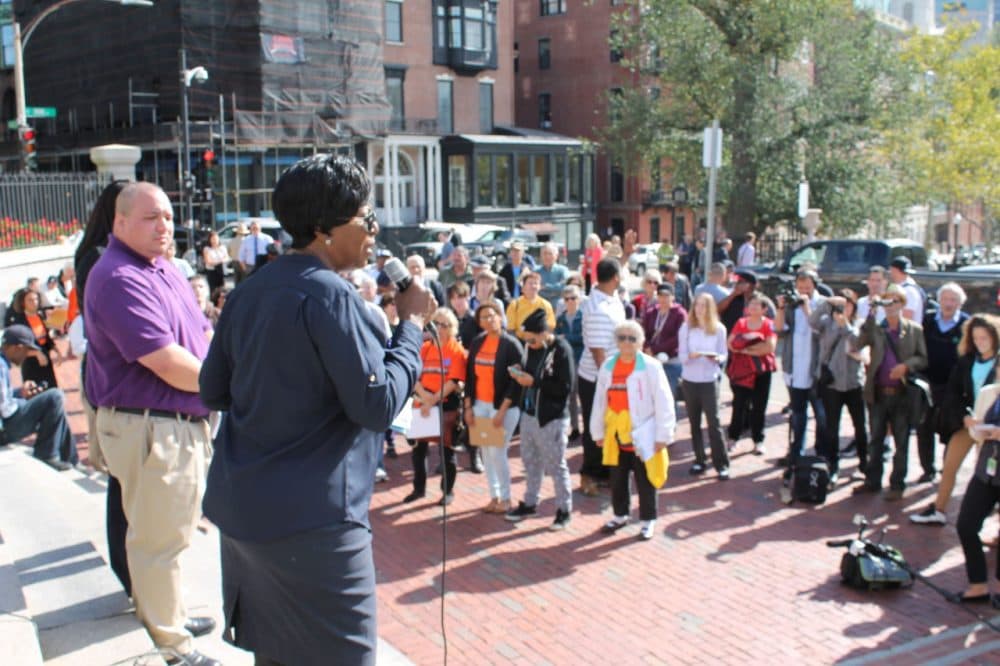 This article is more than 4 years old.
Supporters of a series of criminal justice reforms under consideration by the Legislature estimate that certain changes could save $118 million in corrections costs annually, money that some lawmakers hope would be reinvested into education and job programs.
Bills sponsored by Sen. Sonia Chang-Diaz and Rep. Mary Keefe (S 64, H 1429) would create a trust fund to support job development programs and efforts to help at-risk youth stay in school by using money saved through reforms also included in the legislation.
Among the bills' provisions are the repeal of mandatory minimum drug sentences, the reduction of certain low level-felonies to misdemeanors and the opportunity for judges to determine if persons who are terminally ill or permanently incapacitated should be transferred out of prison for treatment.
Chang-Diaz, a Boston Democrat, told the Judiciary Committee during a Wednesday hearing that the reinvestment trust fund was modeled after a California law and would require the state to track its criminal justice savings and "cycle them back into communities that are most affected by crime."
"History has shown that incarceration alone is not the answer to addressing crime because much of the crime that we're talking about is rooted in conditions of poverty," Chang-Diaz said. "The goal of the trust is to target those communities that are particularly impacted by crime and the criminal justice system."
State prisons and county houses of corrections in Massachusetts release 16,000 people annually, most of whom go home to the state's poorest zip codes, said Josh Beardsley, a volunteer researcher for the Jobs Not Jails Coalition.
Beardsley said that reforms, including an end to mandatory minimum drug sentencing and a reduction of low-level felonies to misdemeanors, could lead to an estimated $118 million in gross annual savings over a five-year period.
One of several ex-offenders who testified before the committee, Michael Merrick, who identified himself as an addict who had served time in prison and is now in a halfway house, said he was lucky to land a job after his release, but wishes there had been support for him at a younger age.
"Maybe things could have been different," said Merrick, 46. "That's in the past now, but I'm hoping for these younger kids to get some job skills and training while they're in there, instead of wasting time in a gang unit and just sitting there all day."
The education and jobs programs supported by the reinvestment trust fund would be available to other community members and not just ex-offenders, Keefe said. The Worcester Democrat called joblessness and unemployment "the real crime" and said she hoped to see those issues addressed.
"If we can attack those issues and lack of opportunities, then we can make a real difference in rebuilding our communities, because if it's not my family, it's my neighbors," Keefe said.
The Senate has already taken action on legislation similar to another provision of Chang-Diaz and Keefe's bill, which would repeal an existing law requiring license suspensions for persons convicted of drug offenses unrelated to the operation of a motor vehicle.
A bill doing away with the automatic suspensions for drug offenders passed the Senate unanimously in late September.
"There's been great support for this across the spectrum," Judiciary Committee Co-Chair Sen. William Brownsberger said during the hearing. "I really have not heard any material opposition to that change about the licensing."
Legislative leaders have suggested that any large-scale criminal justice reforms will come after the the completion of an outside review of the state's policies by the Council of State Governments Justice Center.
In August, Senate President Stan Rosenberg, House Speaker Robert DeLeo, Gov. Charlie Baker and Supreme Judicial Court Chief Justice Ralph Gants asked the U.S. Department of Justice and the Pew Center on the States to help review the Massachusetts criminal justice system in partnership with the council with an eye on lowering prison populations, reducing recidivism and limiting spending.
Both Senate President Stanley Rosenberg and House Speaker Robert DeLeo this week said they believe the Legislature should be patient before trying to tackle individual sentencing reforms until they can read the analyses of the Council of State Governments. Rosenberg said he expects information to start coming back to state policymakers within six months, and indicated that Baker was spearheading an effort to assemble a task force of stakeholders to help the leaders of the House, Senate, courts and executive branch work with the outside researchers.
DeLeo said last week that a comprehensive criminal justice reform package would not likely be ready this legislative session.
This article was originally published on October 14, 2015.