Baker's Proposed Limit On First-Time Opioid Prescriptions Ignites Controversy
Play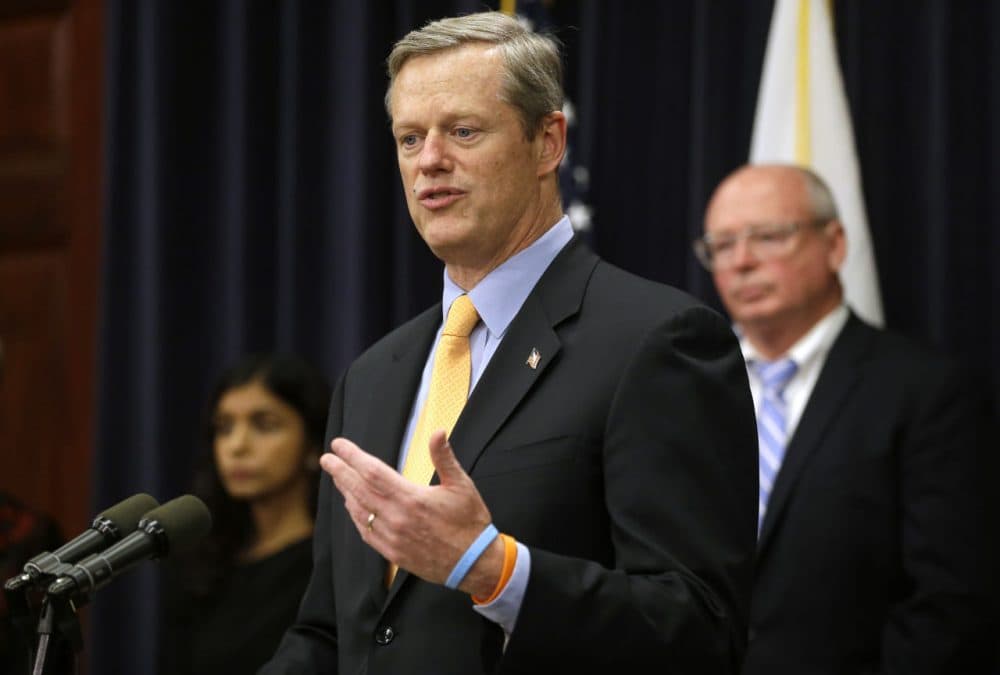 This article is more than 7 years old.
Updated at 7 p.m.
BOSTON — Gov. Charlie Baker is igniting controversy with two parts of a bill he says is needed to fight the state's growing opioid epidemic.
Baker wants to reduce the chances that patients will become addicted to opioid pain pills, and then heroin, by capping all first-time opioid prescriptions at a three-day supply.
"I and many others have listened to far too many stories of people who come home from the doctor's office, the dentist's or the hospital with 30, 40, 50, 60, or 80 tabs of all kinds of opioids, when a handful would do," Baker said during a press conference introducing the bill on Thursday. "This has got to stop."
Baker's aides say there would be exceptions for emergency medical conditions and palliative care, and that those details would be worked out in regulations. But Baker says it's time to crack down on opioid prescribing.
"I am astonished by the casual nature and casual attitude I find when I talk to [colleagues in health care] about these medications and these issues," Baker said, "and that has got to change."
Members of the Massachusetts Medical Society and the Massachusetts Dental Society say Baker's assessment is not fair. Both groups say they have new training and policies in place to curb overuse of opioids and that there is increased sensitivity to the problem.
Dr. Dennis Dimitri, president of the Massachusetts Medical Society, says he hopes to work with the Legislature on other ways to make sure patients get the right amount of pain relief. "But putting something very limiting like this right in a piece of legislation we think is not a productive way to go about it," he said.
Massachusetts Dental Society Vice President Dr. David Lustbader says Baker's one-size-fits-all approach won't work.
"People that are going to truly need pain medication are going to end up without," Lustbader said. "That's not fair to anybody and it's really unethical to let somebody suffer needlessly."
Lustbader, who is an oral surgeon, says his patients frequently need more than three days of pain meds to help them in recovery. He points out that doctors can't call in a prescription for opioids, so patients will need to return to their dentist or doctor for a new hard copy after three days — and many offices are closed on weekends.
The Baker administration points to the Massachusetts Hospital Association (MHA) as an example of a group that's using a limited pain med policy. But the MHA's guideline is a recommendation, not a mandate, and it suggests a five-day limit on opioid meds, not three as in Baker's bill.
"We were looking for the discipline [needed to manage opioid use] while at the same providing flexibility so we weren't removing the discretion that a physician needs to care for every patient," MHA Vice President Tim Gens said.
In controversy number two, Baker is proposing to let hospitals hold addiction patients against their will for up to three days while trying to place them in treatment.
Baker says he wants to stop the cycle of people "showing up at the ER, on the verge of death, receiving a Narcan injection, disappearing out into the street and several days later showing up and repeating the same scenario."
Baker points out that the state already has a process of involuntary commitment for people with mental health issues who are deemed to be a danger to themselves or others.
"But if you overdose, to the point where you are on the verge of death or you have died and Narcan brings you back to life, we don't have a standard in place that says you are a immediate danger to yourself. Seriously?" Baker asked during Thursday's press conference.
Lots of emergency room physicians are frustrated with this spin cycle. But Dr. Melisa Lai Becker, who runs the emergency department at Whidden Hospital in Everett, says Baker's plan simply won't work.
"It would crash the entire system," Lai Becker said. "It would crash the system of emergency medicine and emergency departments across the state."
One problem, Lai Becker explained, is that she already has several mental health patients boarding in the ER — patients who are suicidal or psychotic and waiting for a bed in a mental health treatment facility. She says she just wouldn't have the capacity to hold the up to five patients who arrive in her ER daily after an overdose.
Joanne Peterson, with the family support group Learn to Cope, says she's grateful for the governor's work on this issue but she's also worried about whether there are enough detox and treatment programs for all the patients hospitals might detain.
Keeping patients in an emergency room with no counseling or other treatment won't help much, Peterson says, and if a patient knows they could be held "it might prevent somebody from seeking help or somebody from using that route to seek help for somebody that clearly needs it."
The Baker administration says the state has added 194 new treatment beds so far this year and has another 64 in the pipeline. Parents in support groups say this isn't enough at a time when the number of funerals for patients who die after an overdose is increasing every week.
Doctors and hospitals say they are also worried about the civil rights of patients they would consider holding, and about research that shows forcing a patient into treatment doesn't usually work.
Baker says the three-day hold would give patients and families time to calm down and consider their options.
These ideas may be controversial, Baker said, "but it's a conversation worth having and the right thing to do."
This article was originally published on October 15, 2015.