Trump Addresses Hot Button Issues In Tyngsborough
02:03
Play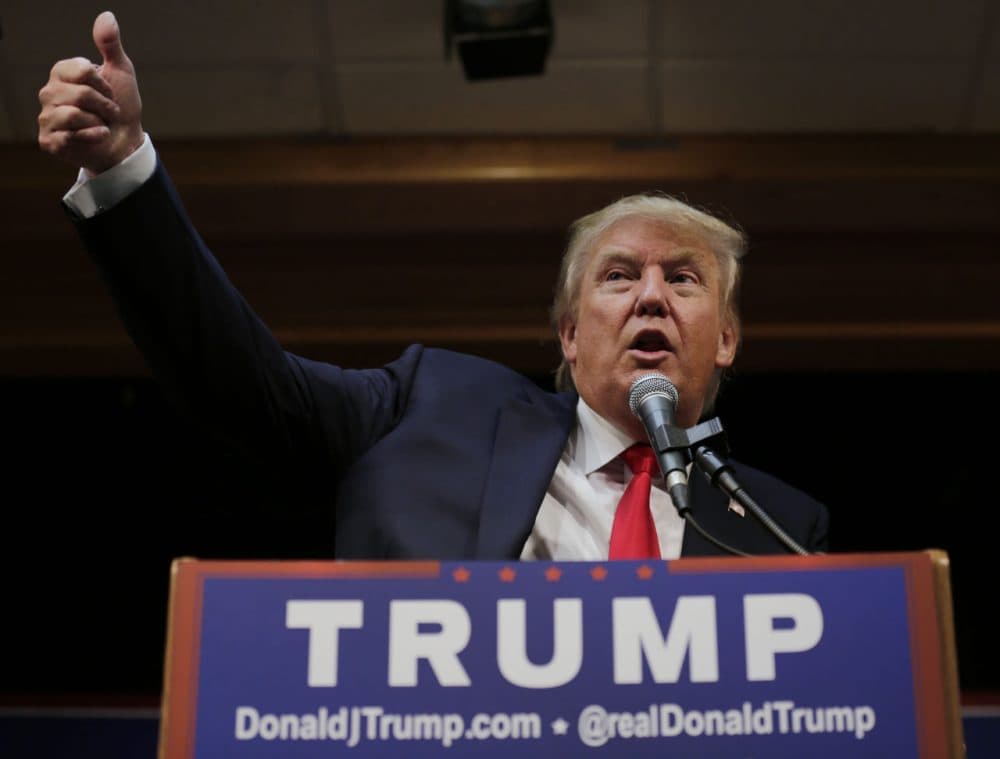 This article is more than 4 years old.
A large crowd greeted GOP presidential candidate Donald Trump in Tyngsborough Friday night. The billionaire businessman channeled the discontents of many in his audience.
Roads were jammed around Tyngsborough as Trump supporters made their way to the local elementary school. And Trump appeared buoyed by the crowds.
"Why do they always say that a Republican can't win Massachusetts?" he asked. "I think we can. You know why? I think the Democrats are so sick and tired of watching our country lose that they're going to vote for the Republican if this is the one."
In an hour-long speech, he turned his ire on a kaleidoscope of groups he says are responsible for the country's decline: undocumented immigrants, weak leaders, health insurers, companies that move jobs out of the country, the press — even Christmas haters.
But it was undocumented immigrants he returned to time and again.
"We're going to build a wall, it's going to be a real wall," he said, drawing perhaps the biggest cheers of the night.
"We're going to build a wall. And you know what? We're going to have a beautiful big door in that wall and we're going to have people come in. But they are going to come in legally."
The message resonates with Paula Smith of Ashby.
"I feel that we pay as hard workers for this country for people that come in and they get all these benefits," she said. "They get benefits that some of us don't get. And it's not right."
Trump did take several shots at Democrats Hillary Clinton and Bernie Sanders — including on immigration. But he barely named any of his opponents in the GOP primary — although he did spend a full 10 minutes proudly walking the audience through various polls that continue to show him with a substantial lead.
This segment aired on October 17, 2015.