StoryCorps: Harvard Professor Reflects Fondly On '60s Activism With Friend Corita Kent
03:55
Play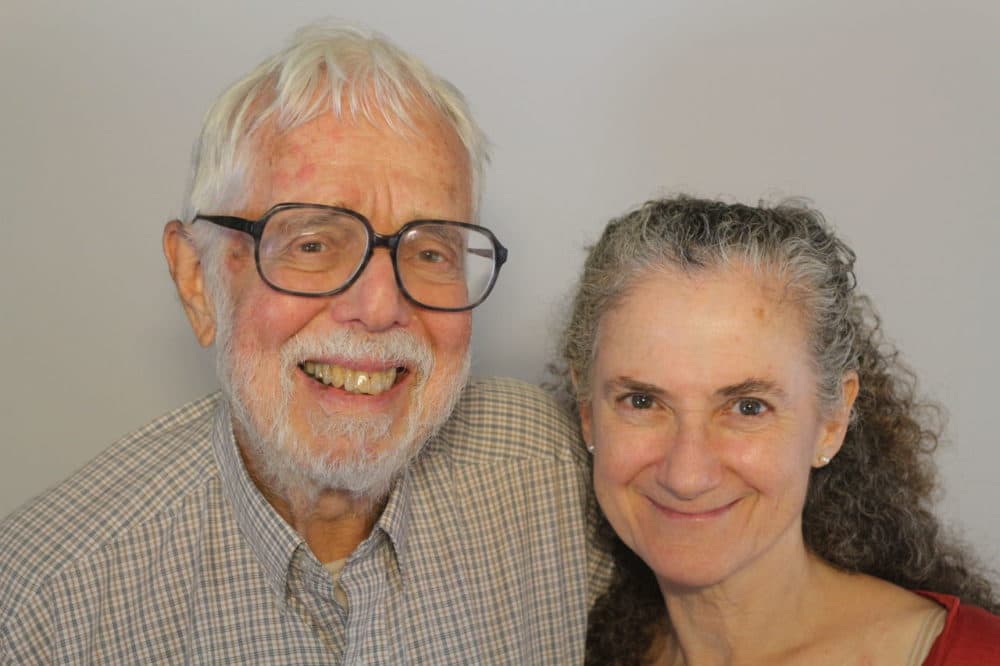 This article is more than 5 years old.
Ann Braude, senior lecturer on American religious history and director of the women's studies in the religion program at Harvard Divinity School, interviews her friend and colleague Harvey Cox, Hollis research professor of divinity at the Harvard Divinity School.
Cox reflects on his friendship and collaborations with the late famed artist and activist Corita Kent, who was also known as Sister Mary Corita.
---
TRANSCRIPT:
HARVEY COX: We were both involved in the anti-war movement — this was the '60s. And she [Corita Kent] was very committed to that, and I was as well. So it was her idea that we ought to have a, kind of, big public event [with] music and it would have art, and it would have dance, and it would have speeches and it would have color — all the things she liked to bring together.
And Corita was a good friend of Judy Collins, who was really the singer of the era. And I was a good friend of Dan Berrigan, the activist anti-war priest. So the four of us kind of sponsored this event. We called it "An Evening With God" and the subtitle was "A Peace of Bread." That was Corita's idea. She loved playing with words. A P-E-A-C-E, peace of bread.
And we served bread there, kind of quasi-communion style. And she had crayons distributed to everybody there and paper, and she gave them a little assignment: 'now I want you to draw something and don't be embarrassed. If you want to, draw it very, very small.' This was one of her techniques.
See, that's so characteristic of her. She didn't just want people to come in and listen to the music, she wanted them to be drawn into creating something, and would not have been satisfied if she hadn't done that.
ANN BRAUDE: On that poster, she used the image of Wonder Bread.
COX: "Have you tried Wonder Bread?"
BRAUDE: "Have you tried Wonder Bread." And when I was growing up in LA in the '60s, we thought Wonder Bread was poisonous. And the idea that she would use that as an image for Holy Communion, I found really startling.
COX: Yeah, a bit shocking, I think. And startling.
BRAUDE: What was she doing?
COX: Well, you see, her gift was to express these really profound things with a kind of playfulness. That was Corita. There was an irony, what we might call "alludic" element in her work, that sort of disarmed you. She's almost a trickster.
BRAUDE: Harvey, when I first asked you about Mary Corita, you said, "Any opportunity to think about Corita gives me joy." Why is that?
COX: She was a joy-giving person. Something about her sort of exuded this sense of affirmation and celebration of life.
BRAUDE: And what do you think Corita would want to say to the world today if she were around?
COX: I think she would try to help us not to feel hopeless and defeated by the overwhelming problems and challenges we face. Without being naive, she would find some way to address that, that would evoke a sense of possibility and hope.
---
Produced by Dan Collison with interviews recorded by StoryCorps. Harvard Art Museums' "Corita Kent and the Language of Pop" is supported in part by an award from the National Endowment for the Arts and major corporate support from National Grid. Harvard Common Spaces has also provided support for the StoryCorps project.
WBUR is the media partner for the StoryCorps project. StoryCorps is an independent nonprofit organization. Its mobile recording booth travels the country recording conversations among loved ones. The recordings are archived at The American Folklife Center of the Library of Congress, and excerpts can be heard weekly on WBUR's Morning Edition.
This segment aired on October 26, 2015.