Archaeologists Dig Up Artifacts That Better Pinpoint Where Patriots' Day Battle Happened
06:00
Play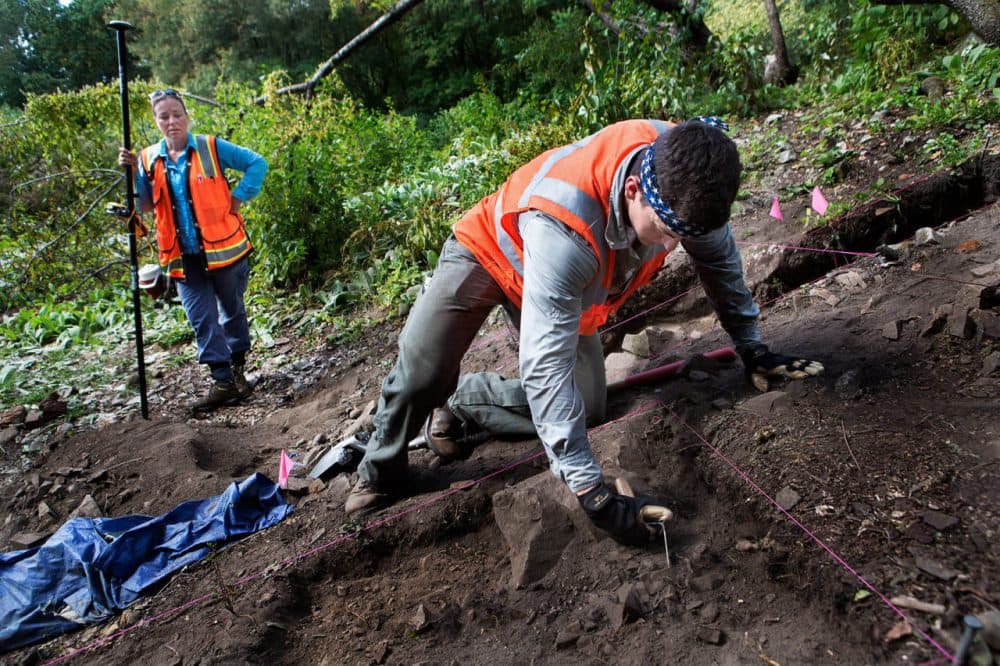 This article is more than 3 years old.
Archaeologist Sam Rousseau digs a hole in a wood in Lexington while his boss, archaeologist Meg Watters, observes.
"So you're confident that this is a natural feature and not cultural?" Watters asks Rousseau.
"Yeah," Rousseau replies. "Pretty confident."
"I think it's interesting," Watters says. "You can hear his shovel whacking against those rocks. That's exactly what farmers would have gone through when they were clearing these fields."
Watters is especially interested in one of those farmers on the first day of the American Revolution.
"We've been excavating out here at the Minute Man Park, in search of the different buildings that are related to the 1775 landscape, and yesterday, we came down on the corner of a house that's identified as Tabitha Nelson's house," Watters says.
Watters and her team have just made a significant discovery: musket balls. They believe they have found both colonial and British regular musket balls. Starting with the position of those musket balls, Watters hopes to figure out where the Lexington militia was standing when it engaged in its second battle on April 19, 1775.
"So you can just picture a Lexington militiaman standing there, accidentally dropping a ball, because he's being fired at by the British, so it's really exciting," Watters says. "Each ball that comes out of the ground is telling us a story."
On that first day of the Revolution, the British retreat from Concord along what is now known as the Battle Road headed straight for Tabitha Nelson's farm. Recent discoveries near the newly found farmhouse could broaden the area where Captain John Parker's Lexington militia and the retreating British are believed to have fought.
"Captain Parker and his 77 guys encounter 700 British," explains Bob Morris, president of the Friends of Minute Man National Park, which is paying for the archaeological exploration. "Eight of his men are killed. Ten are wounded. They bury their dead, reassemble their men and make the decision to march after this force 10 times their size, and they encounter them on this hill."
"So I often think about that," says Jim Hollister, a park ranger and historian who wonders what Parker must have been thinking.
"To take those men who have been through this devastating loss, they've got to be feeling outrage, anger, fear, sadness, all of those emotions," Hollister says. "Some might want to go charging off and do something rash. Some may want to be hanging back, but he's got to collect them back into a military unit and take them into action."
One of Parker's men wrote that the militia found themselves on the Concord Road on the border between Lincoln and Lexington.
"If what they did on the town common early that morning was calculated to possibly prevent violence and bloodshed, what's going on here in the afternoon is the exact opposite," Hollister says. "They are trying to inflict damage on the British who inflicted such serious losses on them in the morning."
To find the foundation of Tabitha Nelson's house, Watters' team used ground-penetrating radar.
"What's so important about knowing about where Tabitha Nelson's house is is it's either an obstacle in the landscape or it's cover for a soldier," Watters says.
If you go down the Battle Road from Lincoln into Lexington, as British soldiers did on April 19, 1775, you'll see a granite outcrop. That's where Watters says the skirmish called Parker's Revenge was thought to have occurred.
"But you know, the evidence points to something different, and it moves off of that granite outcrop, and down into the landscape near Tabitha Nelson's house, so it's really exciting," Watters says.
Watters says the musket balls reveal a battle was unfolding 300 yards away from that outcrop.
"They're all within 80 yards of each other, and a button, so that grouping tells us that this is where the battle took place," Watters says.
This is 21st-century archaeology. Besides ground-penetrating radar, Watters and her team test for conductivity.
"Conductivity looks at the electrical properties in the earth," Watters says. "It also looks at magnetic susceptibility, and it looks at the contrast of something that's buried, so it could be a stone wall or it could be a difference in soil."
For the most part, the archaeologists don't have to dig up the landscape to find the buildings and other features they are looking for. Watters calls it "keyhole archaeology." They look through the keyhole of technology at the buried archaeological evidence.
Morris, of Friends of Minute Man National Park, is excited about the discoveries.
"We have found 240-year-old musket balls, both British and colonial, that were shot on the first day of the Revolution," Morris says.
Morris hopes this kind of battle archaeology will be a model for other historic parks.
"Finding an archaeological expression of something that might have taken 10 minutes, maybe, on an afternoon in 1775, it's a real challenge," Jim Kendrick, regional archaeologist of the National Park Service, says.
Ten minutes that 240 years later are being reinterpreted.
"And we've moved the battle 300 yards, perhaps, to the north," Watters says. "It's cool."
Correction: An earlier version of this post contained an image caption that misspelled Sam Rousseau's last name. We regret the error.
This segment aired on October 28, 2015.