Health Boost: Story-Sharing Kiosk For Hospital Patients Coping With Illness Set To Launch
This article is more than 7 years old.
If you were really sick, with cancer, let's say, or a debilitating eating disorder or heart condition that put you in the hospital, would you want to hear from other patients like you? Would you feel better sharing your story? A growing body of research suggests you would.
That's the idea behind the SharingClinic, a kiosk stocked with a collection of audio clips from patients facing a range of illnesses. It's set to launch as an interactive exhibit at the Massachusetts General Hospital Paul S. Russell Museum in January. The goal is to ultimately move the listening kiosk into the main hospital.
The project was born out of frustration with a medical system that no longer has the time to really listen to patients, says Dr. Annie Brewster, an MGH internist who's been developing the listening kiosk for the past four years. Brewster (a frequent contributor to CommonHealth) is also the founder of Health Story Collaborative, a non-profit that helps patients and caregivers tell their own medical stories for therapeutic value.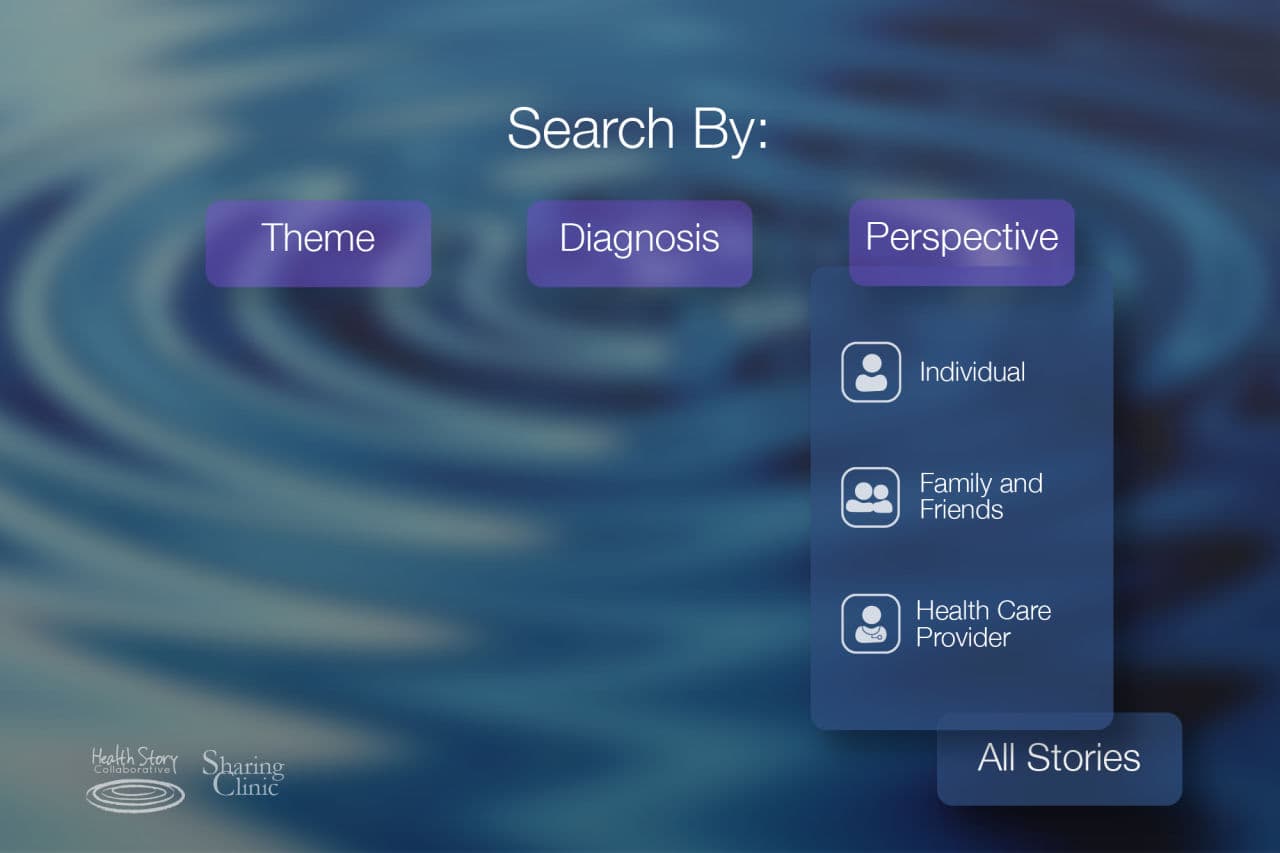 Ultimately, the MGH kiosk will offer a range of storytelling from different perspectives: hospital patients, their families and friends, doctors, nurses, psychiatrists and others. A touch screen allows listeners to select stories by diagnosis, by theme or by perspective. Listeners will also be able to comment. Currently over 100 clips are already collected, and the process is ongoing. The software, designed in collaboration with computer programmer David Nunez, previously at the MIT Media Lab, allows for easy, regular addition of new content. A downloadable app is currently in development.
"SharingClinic will take on a life of its own, constantly growing and changing, shaped by story sharers and listeners," Brewster said. Listen to few sample clips:
Why did she embark on all this? Brewster says: "Facing illness can be scary and isolating, and hospitals an be alienating. Our goals are to empower and connect individuals facing health challenges — to remind people that they are not alone — and to improve the culture of the hospital through storytelling."
Brewster herself is involved in the audio collection and editing process, but has also recruited other providers to help; her goal is to transform the culture of the hospital through storytelling. So far, she has an MGH chaplain and two MGH social workers helping with story collection. Eventually, she envisions having an actual story-sharing "clinic" at MGH — a dedicated physical site, open at a regularly scheduled time, where patients and providers can come to share their stories. She hopes to staff this "clinic" with other healthcare providers across disciplines — doctors, nurses, mental health professionals and chaplains. Story clips will then be plugged into the kiosk, where they can be shared with any visitor to the MGH museum, part of the MGH campus.
"It would, of course, be ideal to have time for such story sharing within medical visits, but I don't see this happening at any time soon given the structure of the health care system today," says Brewster. "Because of this, we need to create other opportunities to share, feel listened to and feel like we are contributing to a collective conversation about illness and healing."
There's clear evidence that sharing stories in this way promotes health. But launching the project hasn't been easy, Brewster said, mostly due to the many rules and regulations that exist within medical establishment, including patient privacy concerns and fear of litigation.  "...we sometimes let fear hinder progress," she says. Story sharers will have to sign a waiver agreeing to the process, and only use first names or a pseudonym.
Dr. John Herman, associate chief in the Department of Psychiatry at MGH and an associate professor at Harvard Medical School said the listening kiosk is "a beautiful idea" that might help diminish stigma and worry about illness. He added: "I think we've all experienced this ... humans seem to be motivated to tell stories, and in the process of making explicit, and articulating feelings which are implicit and unspoken, people are able to be aware of their own feelings. It's a reflective opportunity. The psychobabble word is catharsis." He equated the kiosk to a medical StoryCorps, "...moving, educational, therapeutic."
The idea for SharingClinic was born out of Brewster's personal and professional experiences with the healthcare system. She herself is a patient, living with multiple sclerosis since 2001, and her journey navigating medicine, both as a patient and a provider, have convinced her of the power of stories. This belief is the basis for her non-profit, Health Story Collaborative.
She says: "Stories are what make us human. Stories connect us. Stories allow us to make meaning in our lives. It seems obvious to me that when people are ill, the context of their lives — their stories — are essential to their healing. However, our current medical system, which is focused on maximizing efficiency and scientific mastery over relationships, often overlooks the stories of peoples' lives. This is a tragedy. Medicine is in crisis, with hordes of dissatisfied doctors and unhappy patients. We need to take action to change the way things are."
Brewster works with Jonathan Adler, Ph.D., a clinical psychologist and a professor at Olin College of Engineering in Needham whose research focuses on the health benefits of storytelling; Adler is the Chief Scientific Officer at Health Story Collaborative.
Brewster envisions her idea spreading broadly, to other hospitals and including other collaborators. That's not always easy, she says. "Academic and medical institutions can breed isolation," she says. "But we need to start thinking more collectively if we truly want to re-humanize medicine," she says.