Boston Arts Planners Ask Public To Help Set Priorities At Monday Night Forum
This article is more than 7 years old.
The blueprint is starting to come into focus.
Boston Creates, the ongoing effort to write a 10-year master plan covering the city's arts scene, advanced on Friday with the release of a preliminary report outlining 10 areas of concern to the arts and culture community. These include a desire for more youth programs, a simplification of the event-permitting process, expanded municipal support for arts groups and more direct support for individual artists.
The public is invited to attend an open forum Monday evening, to help identify priorities from among these concerns. The compendium of needs and concerns was generated during a four-month fact-finding process that launched with an earlier forum in June, followed by extensive ground work in the neighborhoods of Boston.
This latest round of public input will help Boston Creates move toward concrete proposals.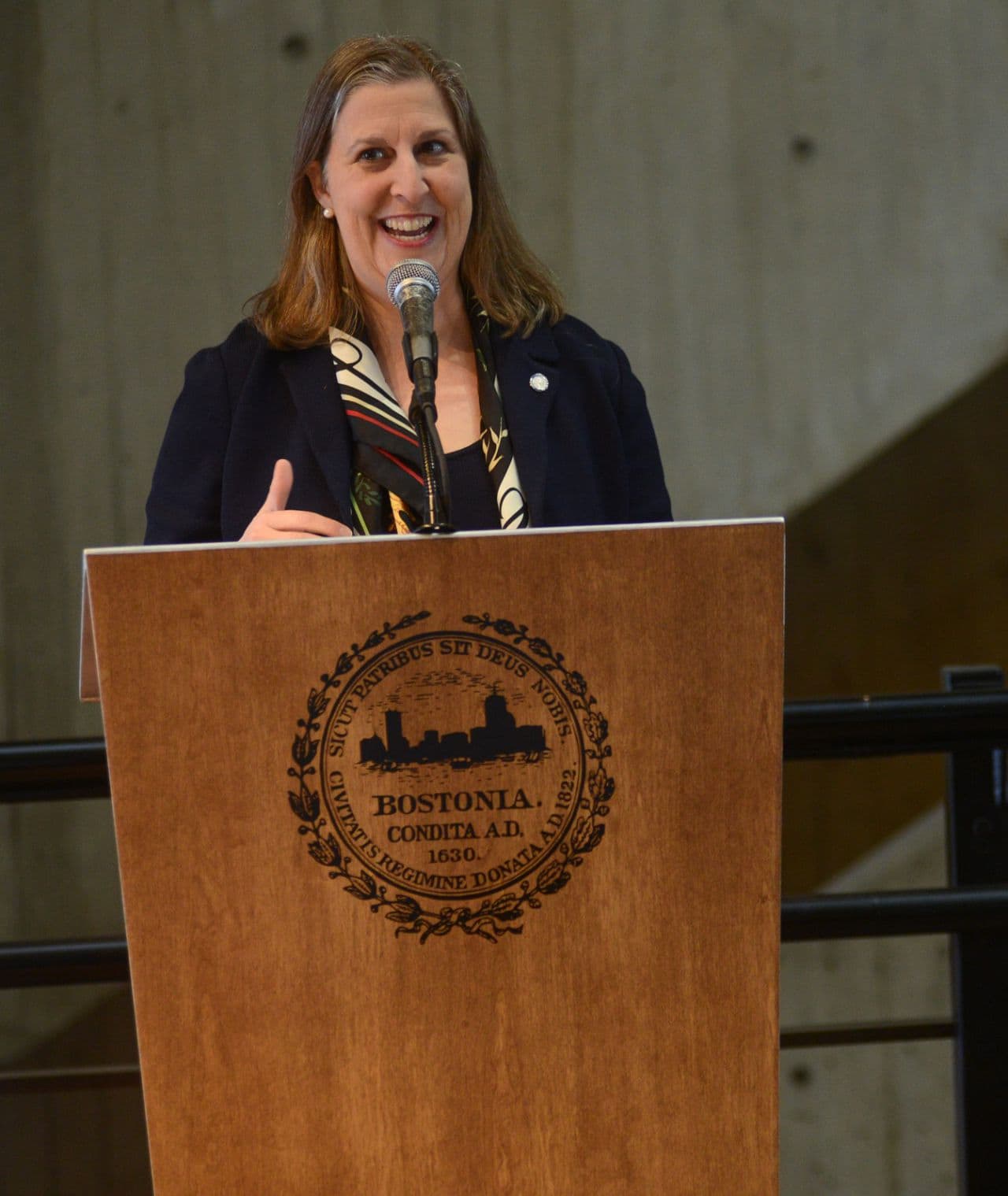 "The prioritization from this Town Hall meeting is actually a very important exercise in starting to create actionable, suggested programs and implementation items," said Boston "arts czar" Julie Burros, who last December was installed as the city's first Cabinet-level arts and culture chief in more than two decades.
In an interview at her City Hall offices, Burros urged the public to not only attend Monday night's meeting, but read the just-released materials that reflect the first rounds of public input. Boston Mayor Marty Walsh, who was not at the kickoff forum in June, will attend Monday's event.
Burros said the preliminary findings are the result of an extensive research and outreach process including some 118 community meetings, survey responses from 3,200 participants and an initial forum that attracted 500 attendees.

One area identified is the need for facilities geared toward arts programs and performances. This has already pushed forward as a priority independent of the Boston Creates process, with the uncertainty around the future of legacy venues like the Colonial Theatre and BU Theatre, as well as Boston Lyric Opera's search for a new home. Burros said her office plans to commission a study to assess the state of Boston's arts facilities. "We've heard about space issues loud and clear," she said. "It really highlighted for us the need to do a deeper dive to examine performance and rehearsal space in the city."
Linda Flynn, of project partner the Cultural Planning Group, said the ongoing effort is not about kick-starting a flagging scene, but harnessing the vital forces already at play in the local world of arts and culture organizations.
"We're not coming from this place of deficiency," Flynn said, "we're building on these amazing Boston assets. There's this belief across the people that we spoke to about the transformational power of the arts and how it can make Boston a much more dynamic place… Every city really has its own story, and without the breadth and depth of the community engagement, we would not hear that story."

Monday's forum will include a report of the findings made so far, and an opportunity for the public to help sort the 10 topic areas into priorities.
Cambridge-based consultants WolfBrown and Archipelago Strategies Group are joining with the Mayor's Office of Arts and Culture and the Cultural Planning Group to create the 10-year master plan. The $1.4 million budget for the Boston Creates effort is being provided privately, by the Barr Foundation and the Klarman Family Foundation.
Even after a final plan with concrete proposals is released in June, Burros said, the work of implementing it will be just beginning.
"Doing a cultural plan is like taking your car in for a diagnostic. It identifies all the work you need to do to be up and running at full capacity, but it doesn't do the work for you. Then you have to do the work," she said. "The plan is really a road map, and we'll be announcing partnerships and programs once it comes out."
Boston Creates Town Hall 2 will be held Monday from 6 p.m. to 8 p.m. at Boston Latin School, at 78 Avenue Louis Pasteur in Boston. An RSVP is not required, but attendees are invited to do so here.
---
Jeremy D. Goodwin contributes regularly to The Boston Globe, The ARTery (where he is also an editor), Berkshire Magazine and many other publications. See more of his work here. Follow him on Twitter here.