Boston Jewish Film Festival's New Leader Assembles Biggest Program To Date
This article is more than 5 years old.
The Boston Jewish Film Festival's (BJFF) new artistic director Ariana Cohen-Halberstam arrives with a message: "It's great to watch movies at home with your friends, but seeing a stranger cry teaches you something about film and humanity."
For her first year, and the festival's 27th, Cohen-Halberstam has assembled the BJFF's biggest program to date. Sixty-two films will screen at 17 venues between Nov. 4 and 16.
Here's a montage of highlights created by BJFF:
A life-long New Yorker, Cohen-Halberstam moved to Boston in April. Prior to that she'd worked in film exhibition at the JCC Manhattan, home to the Israel Film Center and its festival, and the traveling disabilities film festival, ReelAbilities, which BJFF has hosted since 2013.
When asked to compare the two film-going communities, she says she has been struck by Boston's enthusiasm. She recalls one week when Boston had three simultaneous festivals and she knew someone attending all three. "In New York we take things for granted or are overwhelmed by so many other obligations… Here people make film and arts a priority."
She says that BJFF received more than 400 submissions and the final program includes films from 15 different countries. Thirteen titles come from Israel.
"The Israeli film industry just keeps getting better and better," she says, citing the abundance of film schools. "Now we're seeing, horror, thrillers — real genre films. Israeli filmmaking is experimenting." She points out two shorts "Dear God" and "Paris On Water," screening at the ICA on Sunday, Nov. 8, and "Jeruzalem," screening in partnership with the Coolidge's After Midnite series on Saturday, Nov. 7.
After most of the line-up was secured, Cohen-Halberstam spotted another trend of films translated from texts. She's culled five together under a theme called People of the Book (or Am Ha'Sefer), a common term for Jewish people because of the faith's fundamental ties to the Torah.
The feature "Natasha," for example, was adapted from a short story of the same name by its author, David Bezmozgis. It's a coming of age story about a Jewish teenage boy of Russian descent living in the Toronto suburbs. He spends a summer experimenting with his uncle's stepdaughter, Natasha, who only speaks Russian. An accomplished fiction writer ("Natasha" was chosen for The Best American Short Stories anthology in 2005), Bezmozgis has made four other films since 1999.
For the film version, Bezmozgis shifted the story from the 1980s to present day, which allowed him to include the role technology plays in teens' lives. For Natasha that meant that the pornographic photos taken of her in Russia were on the Internet, and she could access them. That added an "element of seduction" Bezmozgis told BJFF. He will be present for the Saturday, Nov. 7 screening at 6:30 p.m. at Somerville Theater.
To bring further depth to the People of the Book series, the BJFF invited novelist and Newton resident Tova Mirvis to choose a film that has influenced her and discuss it with an audience. Hers is also an adaptation: "Driving Miss Daisy." Alfred Uhry wrote the play about an aging Jewish Southerner and her African-American chauffeur in 1987 and adapted it for the screen three years later.
Mirvis grew up as an Orthodox Jew in Memphis and is writing a memoir about leaving Orthodoxy. She says that when she grew up, "belonging was the most important thing you had" and "Driving Miss Daisy" was one of the first films she saw in which characters' feeling of outsiderness overlapped. She says the film asks how the characters do and do not belong in their worlds as well as, "Can they belong to each other? Can they create their own sense of belonging?"
Like Cohen-Halberstam, Mirvis is eager to talk these ideas through with other people right after seeing the movie (Thursday, Nov. 12, 6:30 p.m. at Coolidge Corner Theatre). "Watching TV home alone or with one other person, you don't get to have the simultaneous experience [like in a theater]. I wish I could have that with reading books." As for her thoughts on adaptations, Mirvis says, "We are always moving from one form to another."
For the list of all films screening as part of the People of the Book series and the entire festival lineup, which includes the Fresh Flix Short Film competition, visit BJFF's website.
---
Erin Trahan edits The Independent and is a regular contributor to The ARTery.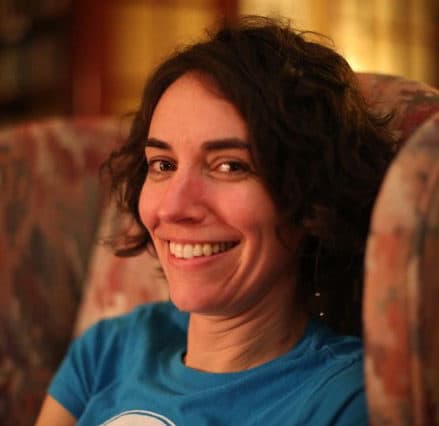 Erin Trahan Film Writer
Erin Trahan writes about film for WBUR.