Commentary: Republicans Cry Foul, But Democrats Didn't Get Off Easy In Debate, Either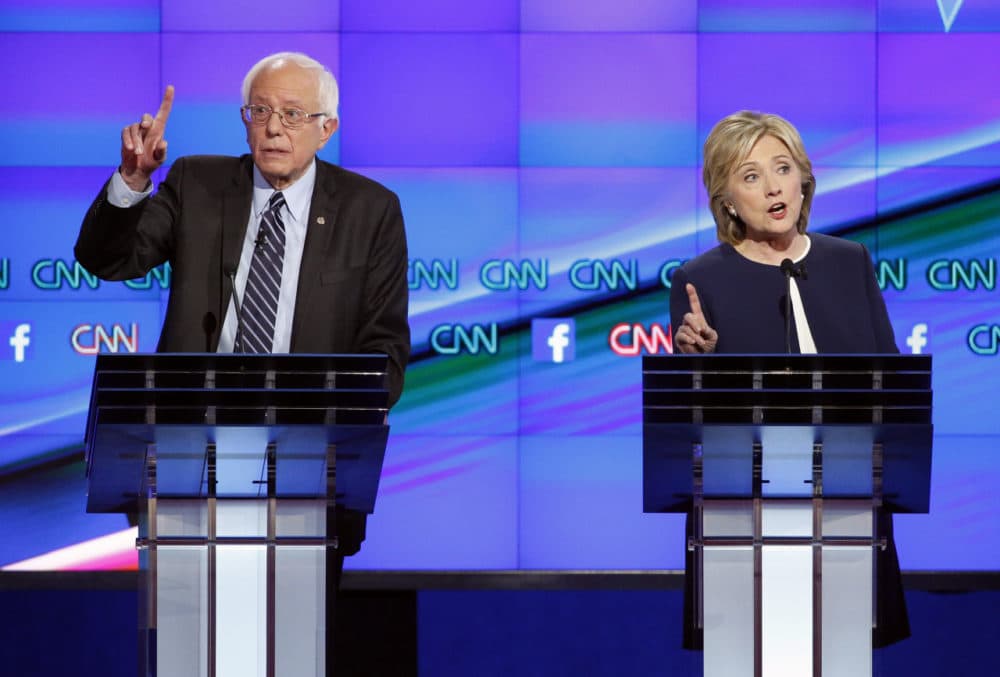 This article is more than 5 years old.
Alongside the nonstop griping about the questioners in last week's CNBC debate, the Republicans have charged that their presidential candidates have been victims of media discrimination.
The Republican Party has long feasted on claims of mainstream media bias. Newt Gingrich famously challenged a question from CNN's John King in the 2012 debate about his ex-wife having just revealed to ABC News that an adulterous Gingrich had proposed having an "open marriage." To thunderous applause he ducked the question entirely, accusing the "elite media of protecting Barack Obama by attacking Republicans." Last week, Texas Sen. Ted Cruz used a similar trick to dismiss the entire proceeding and won raucous audience approval.
Unhappy with Republican National Committee Chairman Reince Priebus, who had negotiated the debate formats and rules with the networks, representatives of the presidential candidates met to discuss how to make future debates more to their liking. Prior to the meeting, Priebus announced that NBC (the parent company of CNBC) will not be allowed to televise a GOP debate in February.
The day after the Oct. 13 CNN debate involving Hillary Clinton, Bernie Sanders and Martin O'Malley (two others have since dropped out), the conservative National Review proclaimed, "The Media Tossed Softballs at the Democratic Debate."
Let's look at the alleged softballs that came at the Democrats.
The very first question in the CNN debate came from host Anderson Cooper to Clinton. After ticking off her changes of positions on same-sex marriage, immigration and the Trans-Pacific Partnership, he asked: "Will you say anything to get elected?"
Of Sanders, Cooper observed: "The Republican attack ad against you in a general election writes itself. You supported the Sandinistas in Nicaragua. You honeymooned in the Soviet Union. And just this weekend, you said you're not a capitalist. Doesn't that ad write itself?"
To Clinton, he asked: You and your husband are part of the 1 percent. How can you credibly represent the views of the middle class?
O'Malley, one-time mayor of Baltimore, was asked about riots and violence in that city this summer: "Why should Americans trust you with the country when they see what's going on in the city that you ran for more than seven years?"
Cooper used former Secretary of the Navy Jim Webb to join the Hillary offensive, telling her that Webb believed the attack on the U.S. consulate in Benghazi was inevitable: "Should you have seen that attack coming?
For Bernie, he asked: "Senator Sanders, tell an American soldier who is watching right now tonight in Afghanistan why you can be commander-in-chief given that you applied for conscientious objector status." That's what old-timers in baseball called "chin music."
Dana Bash of CNN flustered Clinton by using ex-corporate CEO and current Republican candidate Carly Fiorina to claim that paid family leave will force small businesses to "hire fewer people and create fewer jobs." Bash wondered: isn't it just another government program ... at the expense of taxpayer money?
Cooper gave CNN a plug while asking Sanders: Why did it take 18 inspector general reports — and a CNN investigation, and others --- before you and your colleagues took action on problems at the Department of Veterans Affairs?  Proof that not all nasty-sounding questions can be damaging, Sanders countered that he had crafted a measure that provided $15 billion for new doctors and nurses for the VA to improve care and shorten waits.
Then Cooper used a Clinton opponent on the stage to question her right to run. "Secretary Clinton, Gov. O'Malley says the presidency is not a crown to be passed back and forth between two royal families. Why should Democrats embrace an insider like yourself?" Seeing this one coming, Clinton used her gender to dismiss the charge.
Juan Carlos Lopez of CNN threw this pitch at Sanders: "In 2013, you voted for immigration reform. But in 2007, when Democrats controlled Congress and the Bush White House was on board, you voted against it. Why should Latino voters trust you now when you left them at the altar at the moment when reform was very close?" ¡Ay, caramba!
Clinton was asked: "What would you do for African-Americans in this country that President Obama couldn't?" A good answer would have been serve one more term.
Dan Payne is a Democratic political analyst for WBUR and a regular contributor to The Boston Globe.