How One Mass. Program Helps Refugees Get A New Start In The U.S.
Resume
In a nondescript building, tucked away in a small office park here in Worcester, refugees and immigrants from all over the world wait in the busy lobby of Ascentria Care Alliance.
Their languages blend together with English-speaking staff, creating something of a global chorus.
They're here for Ascentria's New Americans Program. "They come here originally for us to resettle them. Find them housing. Get them jobs. Teach them English," says Angela Bovill, Ascentria's CEO and president.
Ascentria is the local affiliate of the national Lutheran Immigration and Refugee Services, which is one of a handful of agencies with federal contracts to provide resettlement services for U.S.-bound refugees.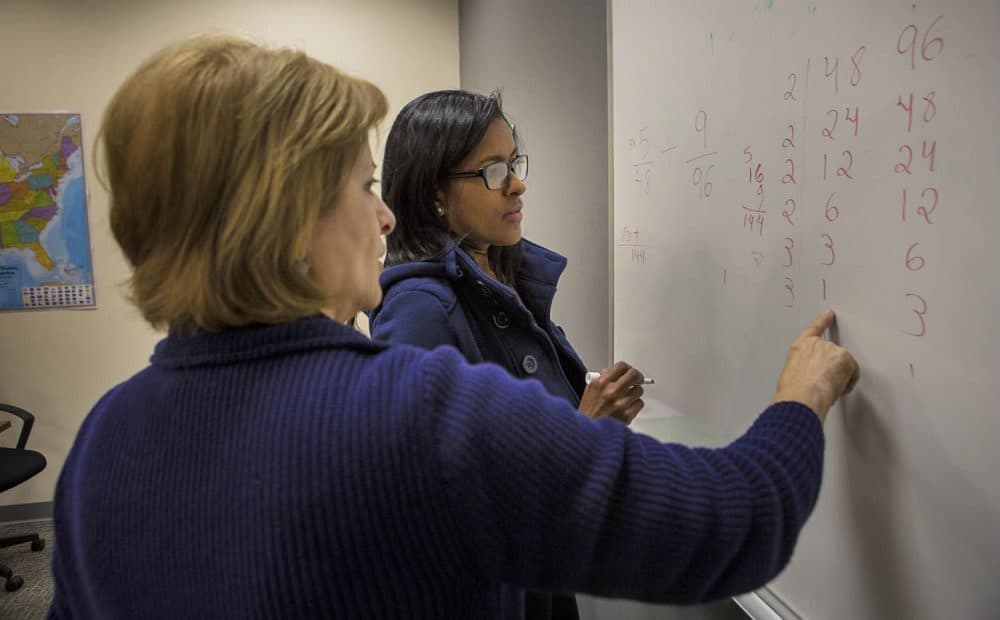 Bovill leads us on a tour of the center in Worcester, a sort of one-stop shop for new arrivals, offering courses in job training, financial literacy, drivers ed and English as a Second Language.
Heading downstairs, we navigate the hallways between classrooms and pop in to a basic English course, where there are students from Iraq, Bhutan, Nepal and Haiti, among others. Sitting side-by-side, they follow along as one of their classmates reads a sentence aloud in English.
Bovill says learning English is the biggest obstacle for most new arrivals.
In some cases, though, depending on the country of origin, there are more basic needs to be met first.
"If they are resettling from the Congo, for example, they may have been subject to rape or torture," she says. "So you need to heal some of that damage before you're able to go into the workforce for some clients."
Ascentria says it resettled more than 500 refugees in Massachusetts between October 2014 and September of this year. Some are refugees from war, others are fleeing persecution. They're all starting over.
"Our job is to give them the basic skills, cultural awareness, in order to get along," Bovill explains. "So they come here to create a new life for themselves, really."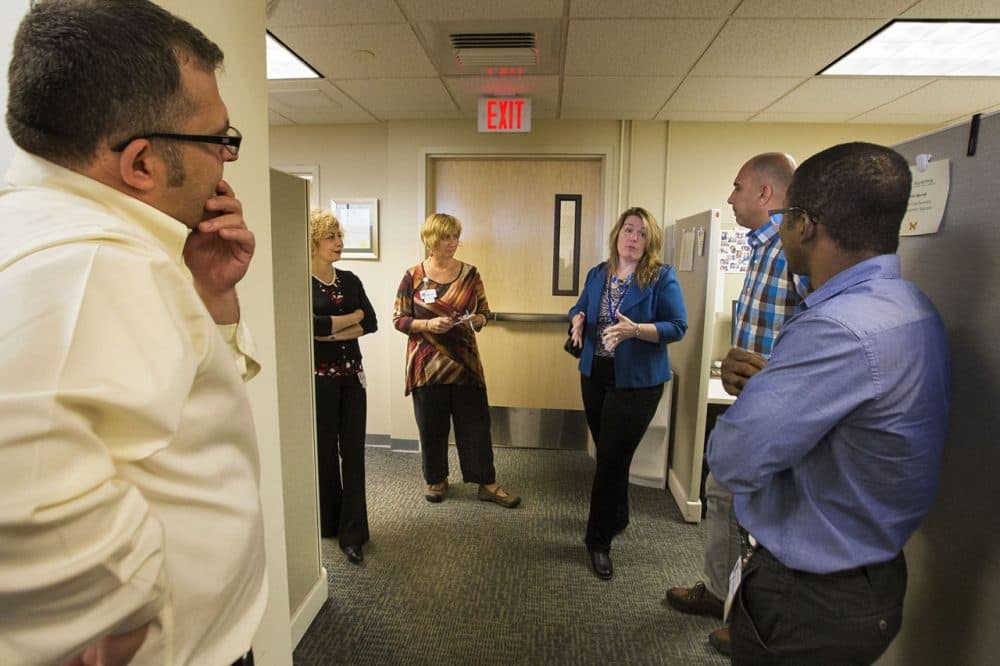 A crucial aspect of creating that new life is finding a job.
Ascentria says in the last year its Worcester and Westfield offices helped find full- or part-time employment for hundreds of people. The jobs can range from entry-level positions processing food products in a plant, to scanning documents in an office or packing boxes in a warehouse.
Benjamin Kagigi was a teacher in the Democratic Republic of Congo before he fled his country, which has been wracked by war and violence since the 1990s. He arrived in Worcester with his wife and four children last year and, with Ascentria's help, found a job working in a warehouse.
When asked about life here in Massachusetts, Kagigi leans back in his chair and smiles.
"Very, very good life," he says. "If I compare it with life in my country, I feel that it is better. Very, very good life."
Kagigi hopes to return to Congo someday -- but just to visit, saying he now considers himself an American.
"I feel American because I don't have any problem," he says. "I don't fear anyone like it was in my country, and now... I'm waiting for green card, which means that I see that the government welcomed me and my family as Americans. That is very good."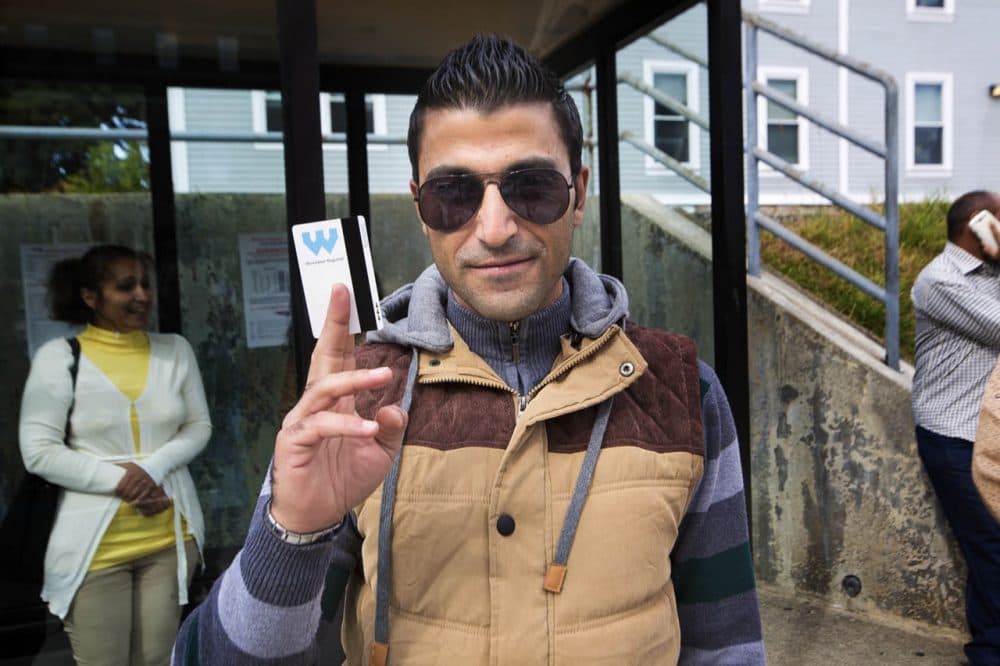 A Federal Program, Lived Locally
Ascentria CEO Bovill says one of the organization's biggest challenges revolves around housing.
"[W]e don't know ahead of time, or very far ahead of time, when the refugees will come," she explains. "So, we will search out apartments. We will find places for them to stay, and we will pick them up from the airport and bring them to that housing. That's worked out pretty well and we're usually able to find them housing, but there's always a shortage of affordable housing."
And there's always a sense of urgency.
In most cases, a certain pool of federal funding for new refugees is available for up to 90 days. Additionally, the U.S. government has an expectation that most refugees will become self-sufficient as soon as possible — hopefully, according to Bovill, within six months of their arrival.
But, Bovill says, reality doesn't always follow that timeline.
Beyond the six months, she says Ascentria provides its own funding, supplemented with local donations and grants.
Funding is just one example of how federal policies and local realities don't always match up as the refugees launch their new lives.
"The federal government decides who will come in this country, where they will come from, and when they will come," Bovill says. "That is not decided at the local level, although the local level has input and informs the process. But it's very different on the ground and it's very different by community. Different communities are in a different position to be able to serve, or be willing to serve, a refugee population."
Worcester, for one, has been very willing, according to Bovill, who says the agency has support from local officials, schools and businesses.
For Kagagi, the refugee from Congo, feeling welcomed in his new community means he can focus on what lies ahead.
"God helps," he says, "I need to be a teacher because I was a teacher in my country."
A teacher in his home country and perhaps one day, a teacher in his new country.
This segment aired on November 5, 2015.