Latinos See Electoral Gains In Cities Across Mass.
05:03
Play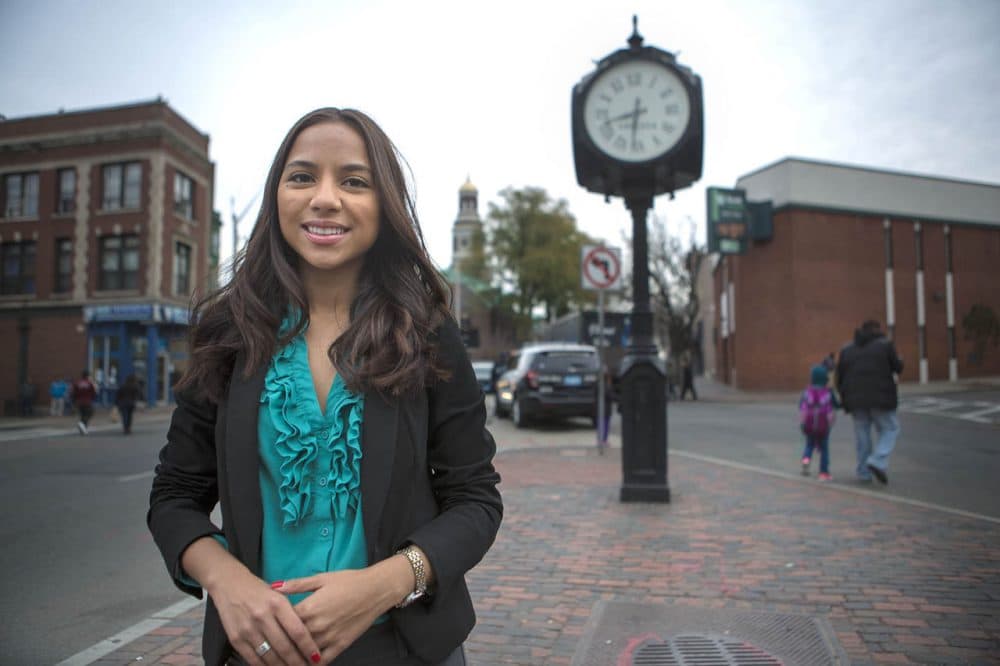 This article is more than 6 years old.
Riding through her district in the heart of Chelsea, 24-year-old Judith Garcia stops to say hello to a man who campaigned for her in the recent City Council race.
"Mi nombre es Marco Antonio Velazquez," the man said, leaning into the car window and introducing himself in Spanish.
Asked why he voted for Garcia, Velazquez said he's unable to vote, so instead, he volunteered.
"I feel very happy because now we have a majority on the City Council," he said. "So it won't be the Americans doing what they want, it will be the Latinos deciding what we want for Chelsea."
Latinos Elected To Serve Across Massachusetts
Chelsea's Latinos won big in last week's elections, taking six of 11 council seats and six of nine seats on the school committee.
District 5 is where Garcia was born and raised, and soon she will represent it as city councilor.
Garcia is among some three dozen Latinos elected this month to councils and school committees across Massachusetts, a figure analysts say is the highest number since the first Latinos were elected to local offices three decades ago.
Their platforms were as diverse as the issues important in their communities: whether it's housing, education or economic development.
For Garcia, one of the issues is gang violence among Chelsea's youth.
"They are running away from the corruption and the violence in their own countries — how do we provide them with counseling?" she said. "How do we also remember that they're here in a new country, where they have to learn a new language and basically start from scratch?"
The wave of Latinos elected this month has its roots in the 1980s. In 1989 Nelson Merced was elected as a state representative from Boston, the first Latino to hold the job.
University of Massachusetts Boston professor emeritus Carol Hardy-Fanta says Merced inspired other Latinos to run across the state — and by 1994, seven Latinos held seats between the state Legislature, city councils and school committees. Twenty years later Hardy-Fanta said that number had more than quadrupled.
And next year, at least 46 elected Latinos will be serving across Massachusetts.
A Desire To Have Latino Voices Heard
There's no one reason behind the success of so many Latinos in this election. Part of it is a response to things like Donald Trump calling Mexicans "rapists," some Democrats say, and part is a sense of only mattering to Democrats during campaign season. But many of the new elected Latinos are young people, and they're the children of immigrants.
Ileana Cintron of the Kennedy School of Government says the millennial generation is coming after power, and they believe in issues including economic equality, protecting the environment and immigration reform.
"They're fighting it out with the older generations inside those city councils and those school committees and it's very interesting how different communities are responding to that generational change as well as more diversity," Cintron said.
Pavel Payano is a school committee member in Lawrence, the first city in Massachusetts to have a Latino majority city council. Payano broke down the reasons he thinks Latinos are eager to run.
"The folks that came here a few years ago — the second generation — they want to make sure their community is being taken into account," said Payano, who ran unsuccessfully for a state Senate seat. "In some communities Latinos might not be taken into account. You might see a politician there every election season, and it gets to a point where the community understands that they themselves have to step up to the plate."
A Step Forward, But More To Go
Twenty-two-year-old Andy Vargas said he's the first elected Latino official in Haverhill. Vargas said being Latino cut both ways.
"You had some people, you would go up to their door, and they'd say, 'We don't want Haverhill turning into a Lawrence,' and they'd close the door on me," Vargas said. "But you also had people who were like, 'Yes, we need diversity.' And that's not just race, it's also age.
"My youth and being Latino certainly helped me stand out amongst a crowd of candidates of very established incumbents, and some very good and qualified other candidates as well."
The first Latino elected to the Boston City Council is Felix D. Arroyo. He's also the first elected to his current position of Register of Probate and Family Court in Suffolk County.
Sitting in his corner office in downtown Boston, Arroyo recalled facing outright rejection while campaigning in places like Hyde Park in the 1980s. Arroyo's strategy? Kill 'em with kindness.
"There were three gentlemen together in a corner so I went, I extend my hand and salute them, I said, 'Hi, I'm Felix. I live here and I'm running for the school committee.' One of them took his hand and cleaned it against his jacket. So I laughed, put my hand around him and said, 'So do you have children in the school system?' And he gets red.
"The other two gentleman couldn't do anything but laugh."
Arroyo says things are different now. But even after three decades in Boston politics, he still gets subtle messages that he shouldn't step out of place.
"What you feel is that they listen to you with a paternalistic approach, or that if somebody else says the same thing without an accent, they might deal with you like it's the first time they hear it," he said.
Carlos Vidal is a 40-year-old real estate agent elected to the Waltham City Council. The city is around 14 percent Latino, and even though he ran for one of the at-large seats, he said his background didn't hurt his chances.
"I speak with an accent," Vidal said with a laugh, "so when I'm door knocking you're going to have a Latino in front of you. You're not going to have a typical John Smith. So I think it might have been a challenge, but people connected with my ideas … and that's what matters really."
Advocates celebrating this month's elections can't ignore the big picture. There's never been a Latino senator or congressman in Massachusetts, the Boston City Council has zero Latino members, and with the exception of Lawrence and Chelsea, no city has political representation proportionate to its Latino community.
Cintron, of Harvard's Kennedy School, says some areas are long overdue to get more Latinos in positions of power. "Like for example Lynn, that has 32 percent Latino population, and for the last four electoral cycles, only one elected official has been a Latina."
This segment aired on November 12, 2015.