2 Massachusetts Reps. Back GOP Bill To Curb Syrian Refugee Resettlement
Massachusetts' all-Democratic U.S. House delegation was split on the issue of whether to establish fresh hurdles for Syrian and Iraqi refugees trying to enter the United States.
Two congressmen — Reps. William Keating and Stephen Lynch — joined 45 other Democrats and all but two Republicans as the House passed the bill with a 289-137 vote Thursday.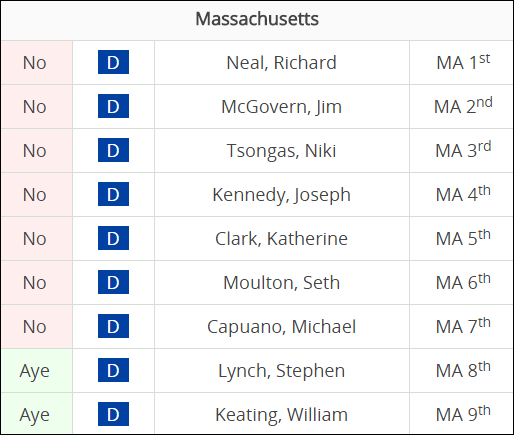 Keating said in a statement that the bill enhances security over the program to assist those fleeing ISIS violence and "will add greater accountability for our top security leaders."
The rest of the state's nine-member House delegation opposed the measure, including Rep. Jim McGovern, who spoke on the House floor before the vote.
"Instead of debating a bill that might actually strengthen and enhance our refugee resettlement screening process," McGovern said, "we are debating a bill that appeals to the worst in us and hurts the very people who are fleeing the violence and chaos ISIS has wrought."
Rep. Joe Kennedy, who also opposed the bill, said in a statement it " needlessly hamper[s] our efforts to respond to a growing humanitarian crisis."
The state's two senators -- Edward Markey and Elizabeth Warren -- have both spoken in favor of continuing to accept Syrian refugees.
But it's unclear whether the Senate will take up the bill, according to a report from NPR:
If the bill does pass through Congress, President Obama has pledged to veto it. But if the House were voting on a veto override, they'd need no more than 290 votes — just one more than they had Thursday — to overrule the president.
With reporting by The Associated Press and the WBUR Newsroom