Benjamin LaGuer Again Tries To Get His 1983 Rape Conviction Overturned
07:35
Play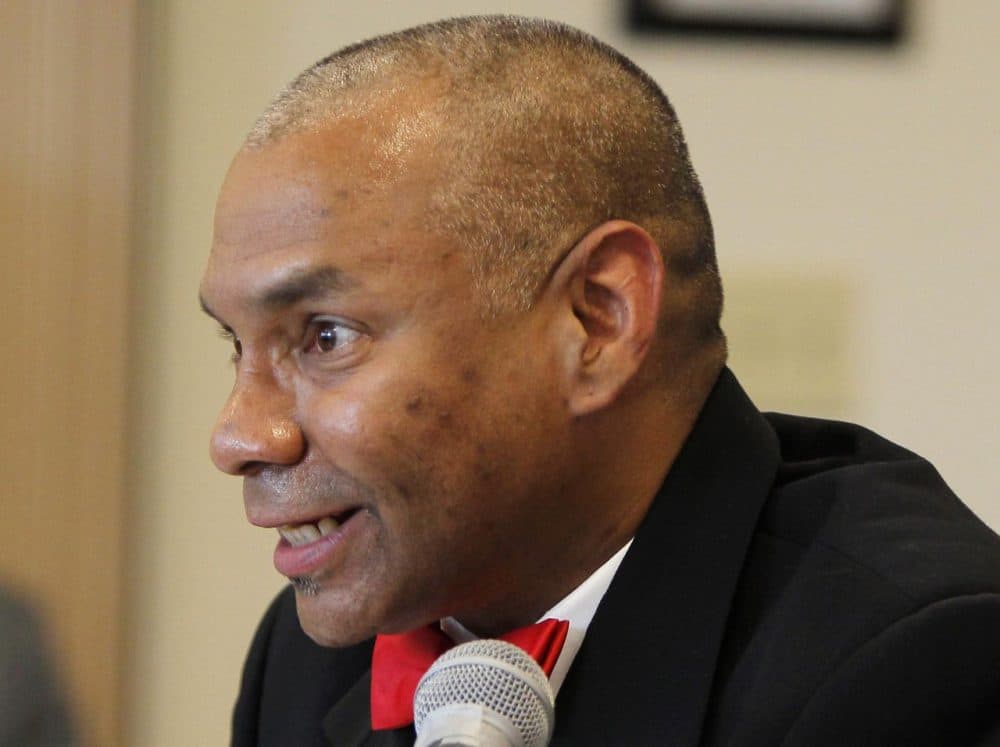 This article is more than 4 years old.
If enterprise and endorsements were what mattered, Benjamin LaGuer might have gone free a long time ago.
Convicted of aggravated rape, the Leominster man has spent the last 33 years behind bars proclaiming his innocence.
LaGuer has attracted the support of a former governor, college presidents, media figures and activists. Yet he has been denied parole five times and his many legal appeals have never led to a new trial.
This week, LaGuer's case was before the Massachusetts Appeals Court once again.
The Prison King Of PR
I've been getting a weekly call from LaGuer since the 1990s.
When I changed jobs, he found my number and followed.
Smooth-talking, with a different pitch for every personality, LaGuer is the prison king of PR. He makes hundreds of phone calls a week.
"I have them in all area codes," he says to me on the phone from North Central Correctional Institution in Gardner. "In New York and in California and in Pennsylvania, and in academia and in finance and in big law firms."
He's been in prison since he was 20. He talked his way out of a stutter and got a bachelor's degree magna cum laude from Boston University. Now, at 52, he plays reporters like a virtuoso on a violin.
"I have 400 people that I have to use regular stamps and licking envelopes with," he says, "and then I have 2,000 on my Gmail account and I still have a Hotmail account." He even has his own website.
Though the arguments may have changed over the years, the singular message has not.
Five times LaGuer has become eligible for parole from prison and five times he has been denied because, the parole board says, he has not accepted responsibility for the aggravated rape of an elderly neighbor in Leominster in 1983.
"I was unwilling, uncapable, and I'm not going to sign a piece of paper that says that I am guilty to a crime I did not commit simply to obtain my freedom," LaGuer says.
LaGuer's attorney, John LaChance, says he wouldn't have served more than eight to 10 years in prison if he acknowledged he had committed a crime.
And other lawyers insist that LaGuer would have gotten parole the first time he was eligible, after 15 years, if only he had said he did it and taken the classes for sexual offenders.
LaGuer had the outspoken support of former BU President John Silber, and no one ever called Silber a bleeding heart. Silber said LaGuer would live in his home with him when he was released. A retired state Superior Court judge said he would hire LaGuer to run his law office.
But because LaGuer is still insisting on his innocence, he is still behind bars, 33 years later, working the phone.
Another Motion For A New Trial 
At the appeals court in Boston on Wednesday, LaChance was appealing a judge's decision in 2012 to deny LaGuer's motion for a new trial.
As if this case has not had enough complications already — from lack of physical evidence and the poor state of what was collected, as well as allegations of juror misconduct and racism — it proceeded Wednesday still further into the weeds.
"The victim in this case had a mental disease or defect that is schizophrenia," LaChance told the court.
What the defense calls newly discovered evidence is a disclosure by the victim's mental health aide, who came forward to defense attorneys long after the victim died.
After the attack, the victim was living in a halfway house for former mental patients.
Her statements are of great significance, the defense says, because LaGuer was convicted on the basis of the victim's eyewitness identification.
But according to the health aide, the victim was delusional.
"If she saw a black man, some black men, she'd accuse them of being the person that attacked her," LeChance said, explaining the aide's statements, "even though the one she had pointed to in the courtroom as having attacked her was in jail and couldn't possibly be the person she saw on the street."
The aide also said the victim claimed to be pregnant with JFK's baby.
But the bar for winning appeals and new trials is a high one. A defendant has to prove not only that the judge committed an error, but that the error was harmful or prejudicial. The defendant needs to prove that a judge abused his discretion.
In this case, LaGuer also needs to prove as well that the evidence was newly discovered.
The panel of three appeals court justices was skeptical Wednesday.
"The motion judge found that the unsworn transcript wasn't credible evidence," Justice Gabrielle Wolohojian said during the hearing.
The reason that lower court judge gave was that LaGuer's lawyer had made an audio tape of his interview with the health aide, but she had not been sworn in as she would have been in a courtroom. She hadn't been presented with a transcript to sign either.
"And you know that the rule governing motions for new trial requires that those motions be supported by sworn affidavits," Wolohojian added.
An Uphill Battle
The path to a new trial is long, winding, uphill and opposed by the commonwealth, whose attorney accused LaGuer of bending time and space, and fabricating facts. She also pointed to LaGuer's biggest setback over the years, when DNA testing of a very small sample of evidence proved a 1 out of 100 million match.
"He asked for the DNA testing, but he did get a result and he has to live with it. He's been challenging it ever since," Assistant District Attorney Sandra Hautanen said in court Wednesday.
LaGuer claims the test results were invalid because of the government's handling and storage of the evidence over the years.
"It would have been crazy to ask for the DNA, if he did it," his lawyer, LaChance, says.
LaGuer has made it to the appeals court four times, and to the state's Supreme Judicial Court three times. Now it looks like he may have to get to the SJC a fourth time to have a chance for a retrial.
And at some point there may come an end to it all. At 52, LaGuer is dealing with a form of liver cancer.
Yet, even as he awaits a decision from the appeals court, he'll continue working the phones.
This segment aired on November 19, 2015.