More Than Headdresses: Peabody Essex Celebrates Contemporary Native American Fashion
Play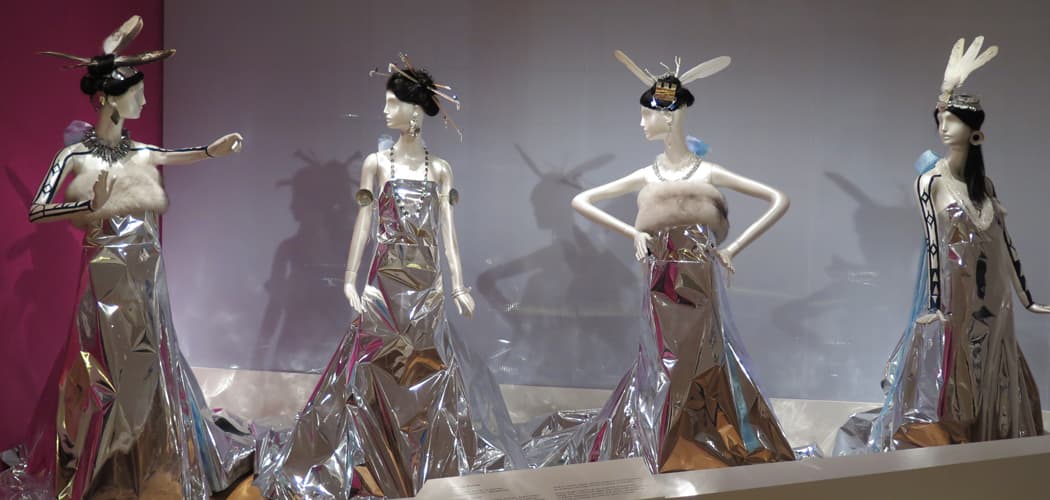 This article is more than 7 years old.
Walk into popular stores like Urban Outfitters or Forever 21 and you'll find trendy clothes embellished with Native American-inspired patterns.
This kind of ubiquitous, cultural borrowing raises questions and concerns for the nation's community of contemporary, indigenous American fashion designers. To them, the meaning behind tribal symbols, imagery and materials runs deeper than the whims of the mass marketplace.
On Saturday, a new exhibition opens at the Peabody Essex Museum (PEM) in Salem that strives to highlight that distinction.
Museum Gallery Gone Runway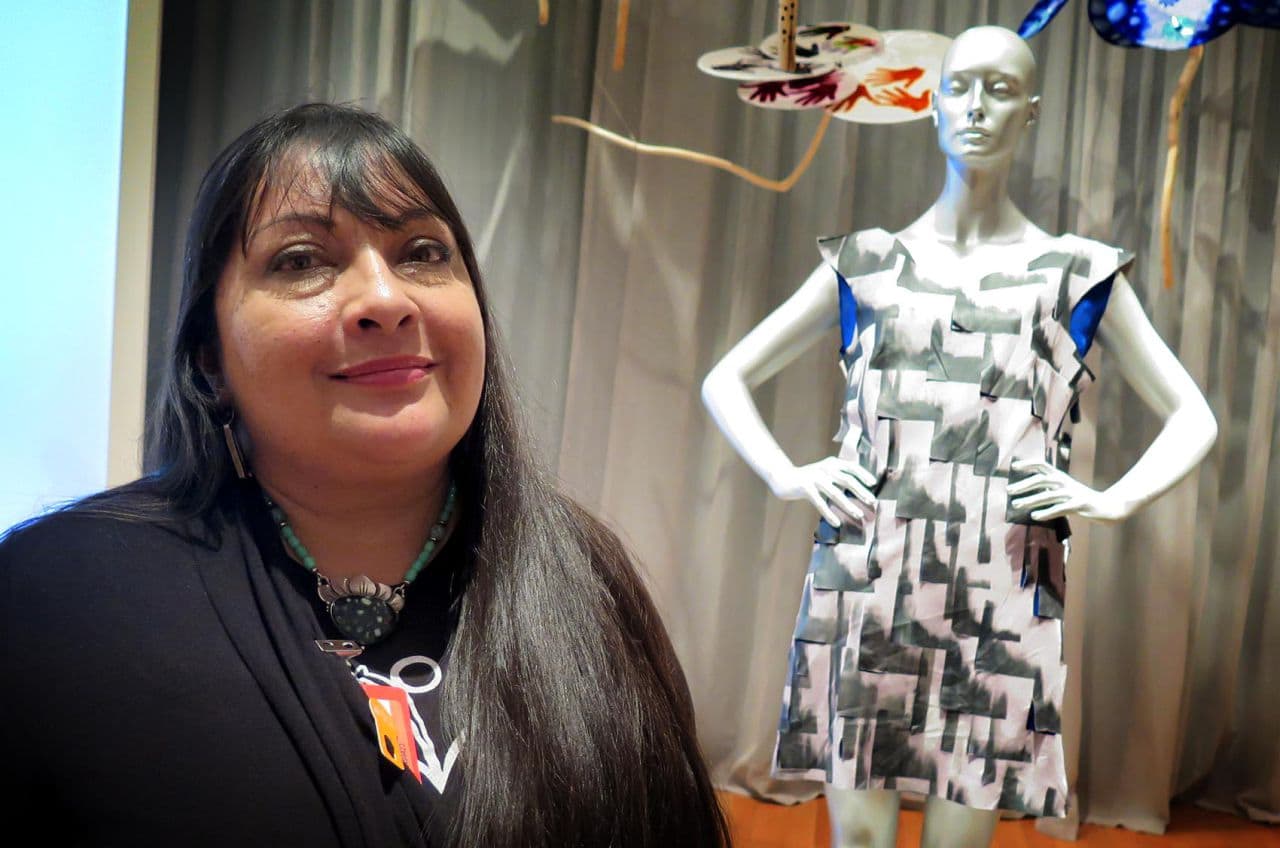 "Native Fashion Now" begins in a gallery that thumps with the music, movement and energy of a runway show. Footage of sauntering models, draped in clothing by Taos Pueblo designer Patricia Michaels, are projected on a big screen.
The 48-year-old Native American artist traveled to Salem to see the exhibition. She gasps, teary-eyed and beaming, as she walks in through the gallery doors to see it for the first time.
"I'm so excited," she exclaims, smiling, then adds, "Yay! It's so gorgeous."
Michaels' series of whimsical-looking, silk parasols hang from the ceiling above our heads. But their backstory is rich and personal. They're decorated with eco-friendly metal, wool, dyes, salt cedar and glass beads to create imagery that represents her tribe's legacy, land and culture. It's Michaels' world made visual. It's her life.
In an adjoining gallery room, Michaels reacts to an especially provocative work. It's an elaborately embroidered gown and she knows and remembers it well. The strapless, bodice-hugging dress blew her mind when she saw it in a 1991 fashion show.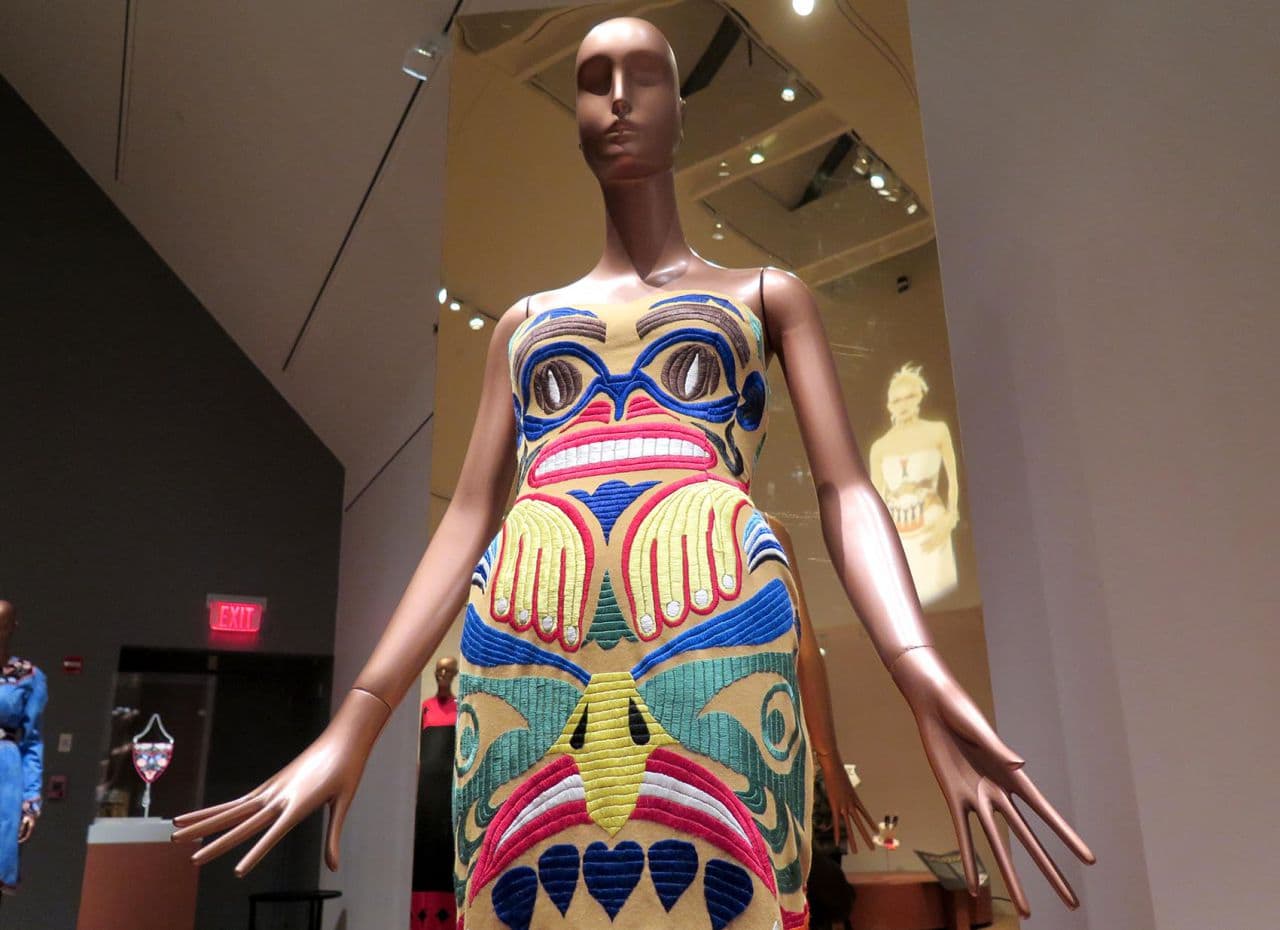 "I remember Naomi Campbell being on the runway and thinking, 'Finally somebody sees the beauty in Native American attire,' " recalls Michaels. "But for me, when I was a little girl from the Southwest, I was already changing the Barbie doll's skin from white to brown and painting and dying everything. So I just thought, 'See, this is a sign that we can go forward in a very contemporary way, and we don't have to be stuck in this like gunny sack of a look.' That drove me crazy."
Bringing Native American Fashion To The Mainstream
The dress that opened Michaels' eyes more than two decades ago was actually made by a non-Native American designer. Michaels says some people might have a problem with Isaac Mizrahi creating a piece that was inspired by tribal totem poles from the Pacific Northwest coast. But early in her career it helped her realize she could stand up for her creative instinct and not bend to people's skeptical questions about the non-traditional clothing she displayed in booths at Santa Fe's Indian Market.
"Well that's not native — what are you doing?" they asked. Michaels would reply to them in her native language, but translated for me. "I said, 'But I'm Native American. What do you know about being Native American? Who are you to tell me that?' "
Michaels went on to make history by becoming the first Native American contestant, and ultimately the runner-up, on the reality TV show "Project Runway," Season 11.
She says that experience helped open doors and change perceptions about what, how and why she does what she does. Now a mannequin stands tall in a museum gallery wearing Michaels' "Cityscape" dress that debuted on the program in 2012.
These days the designer runs her own label, PM Waterlily, in New York and Taos. She hopes the Native Fashion Now exhibition will shatter enduring stereotypes while calling attention to issues and challenges she and her peers continue to face today.
More than 70 indigenous American designers contributed work to the new show. Vintage hand-painted dresses, couture gowns made of mylar, mass-produced T-shirts with political slogans, skateboards, sneakers, beaded boots and metal jewelry help represent dozens of tribes, including the Aquinnah Wampanoag of Martha's Vineyard.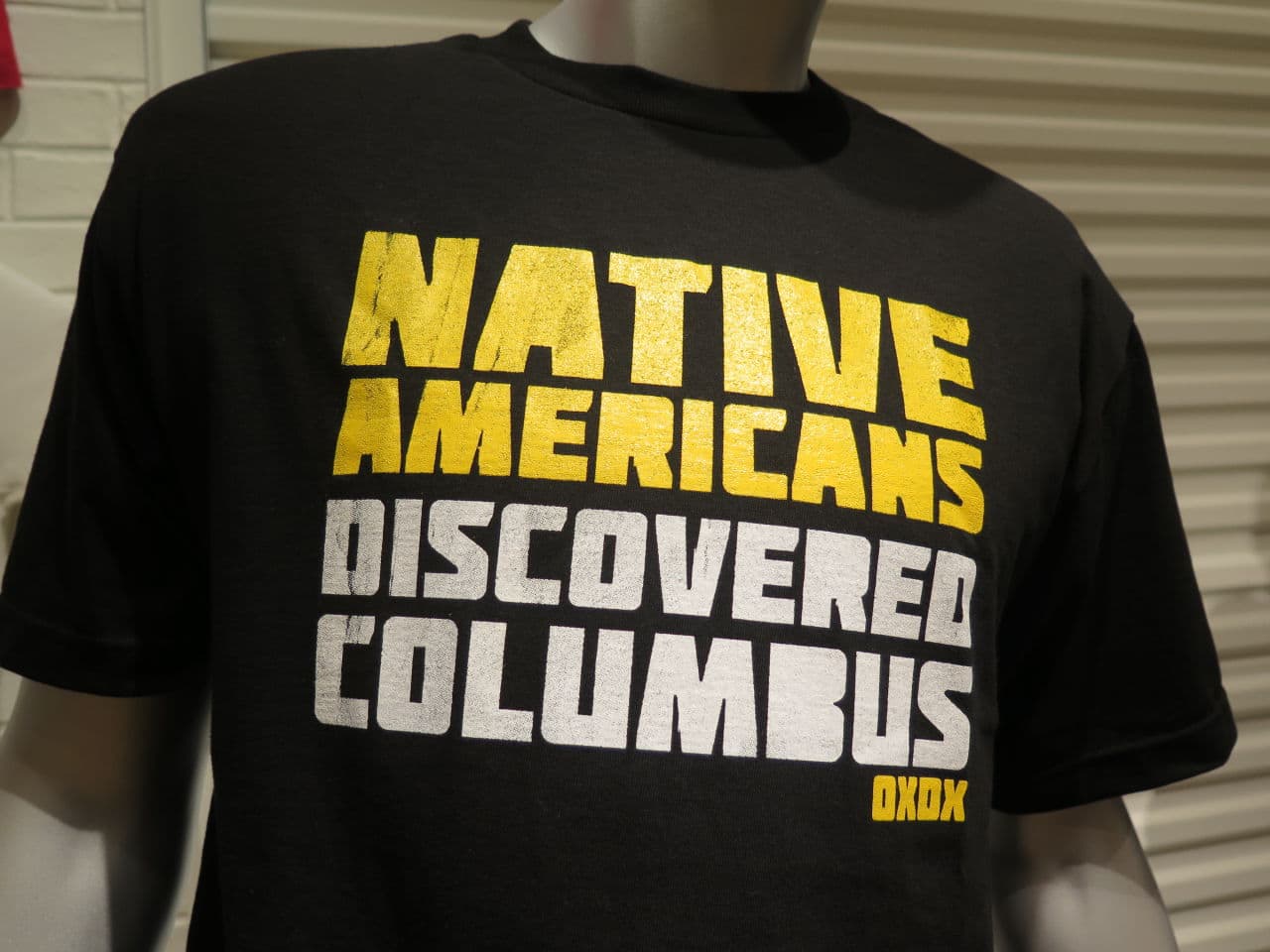 "A lot of the outside opinion that has been thrown at native people is that we are stagnant people," 32-year-old designer and Wampanoag council member Jonathan Perry said. "That Indian fashion is something relegated to the past. And if it's not something out of the Buffalo Bill Wild West shows, it's not something real."
Perry says the pounded local copper, blue slate and antique trade bead necklace he crafted for the PEM show sprang from his spiritual, global and ancestral influences. But its aesthetic is very now, says Karen Kramer, curator of Native American Art and Culture at PEM.
She traces this combination's legacy back to Cherokee designer Lloyd Kiva New, the founding father of contemporary native fashion. He broke barriers and earned acclaim in the 1940s and '50s fashion world -- before the Civil Rights Movement.
"He was pushing beyond what we're still fighting against now," Kramer said, "when you think of native fashion you think of buckskin, fringe, beads and feathers."
New's stylized dresses and handbags made it to 5th Avenue and Hollywood. But at the top of his game Kramer says he left the fashion industry to start the Institute of American Indian Arts in Santa Fe where he mentored the next generation of native designers. Work by many of them are included in the exhibition.
A Move Away From Stereotypes
Back in his day, New thoughtfully incorporated ideas of tribal imagery into his mainstream fashions, but he never employed sacred symbols or objects. That consciousness was (and still is) key according to Kramer because she says things like misused feathers and headdresses have long been controversial topics in the tribal community.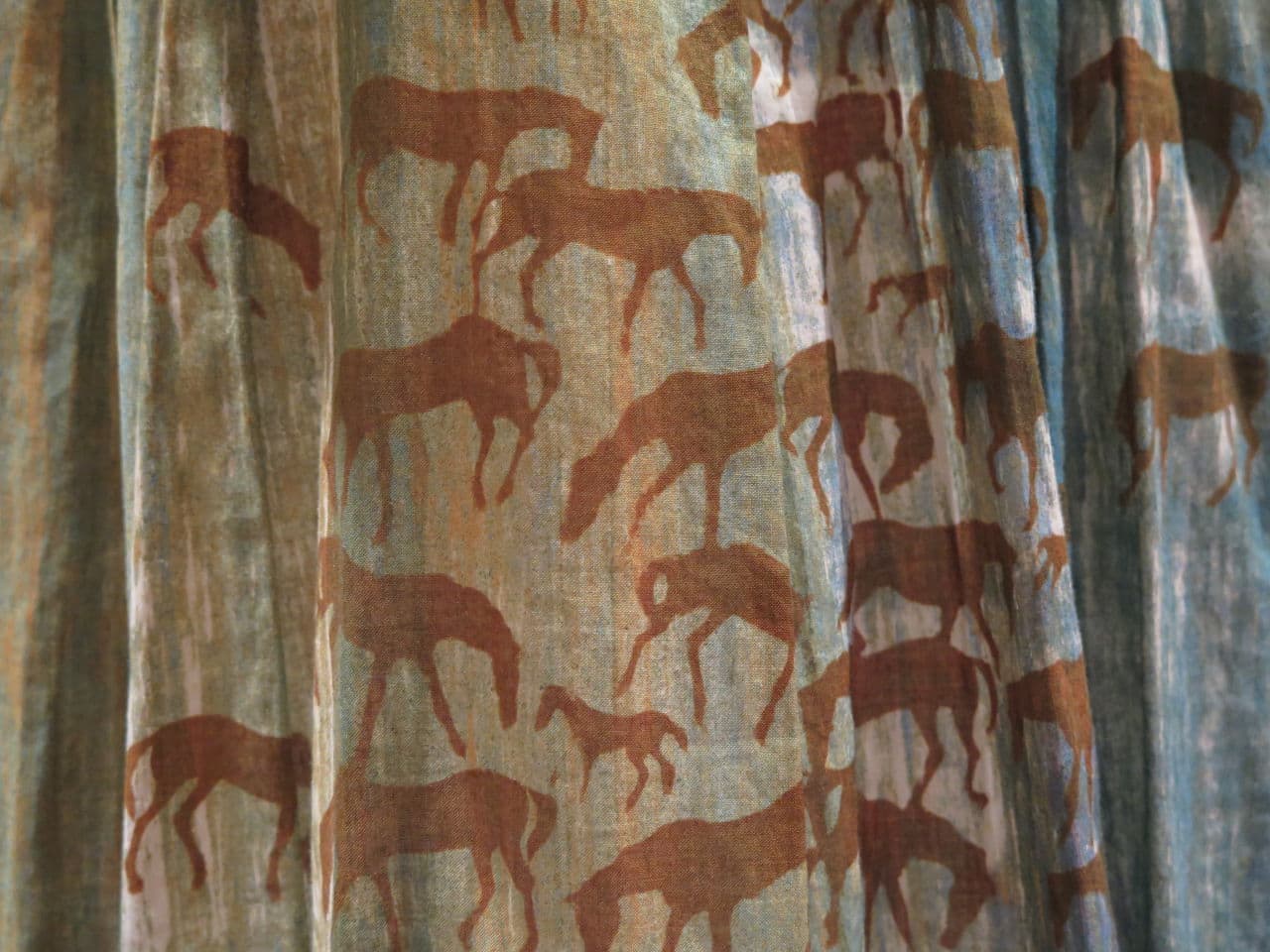 A lot of Native Americans are tired of seeing these ceremonial elements misrepresented in fashion and pop culture. Adrienne Keene is one of them.
"I think with the headdresses it's often used as this aesthetic to pull upon some mystical, wild and free, unbridled by contemporary society stereotype of native peoples," she said, adding, "which to me is very problematic."
Keene writes the snarky but serious watchdog blog Native Appropriations. She's Oklahoma Cherokee and a Ph.D. fellow of race and ethnicity at Brown University.
"The problem is that these non-native designers and companies that are using these symbols are completely divorcing them from the communities where they come from, from the importance behind them, and using them however they see fit," she told me.
Examples of appropriation are rampant, Keene also said. She's seen headdresses on runway models in every New York Fashion Week since 2010.
Last year she called out Ralph Lauren after the company's winter catalog included sepia-toned, nameless images of people from what's known as the "assimilation era." That's when Native Americans were forced to abandon their cultural heritage for more modern, Western ways. They were even forced to wear Western clothing.
After an Internet backlash, Keene says the company removed the photos.
Some non-native designers acknowledge their missteps, according to curator Kramer. Others do not.
But she included Ralph Lauren — and two other non-native designers — in the PEM leg of the traveling exhibition because she wants to highlight the complexity that comes with cultural borrowing.

"Fashion design has a long history of borrowing from outside cultures, and being inspired by designs all over the world — and Native Americans are no different," she said, "But when you're borrowing from cultures that have been oppressed for so long it's a different conversation."
Sparking meaningful conversation is just one of the many end goals of the Native Fashion Now exhibition Kramer says, whether visitors leave talking about authenticity, appropriation — or just cool fashion.
---
Native Fashion Now opens Saturday, Nov. 21, at the Peabody Essex Museum in Salem and runs through March 6, 2016 before moving on to the Portland Art Museum in Oregon, the Philbrook Museum of Art in Tulsa, Oklahoma, and the Smithsonian Institution's National Museum of the American Indian in New York City.