Troy Brown On His Patriots Career, Tom Brady And The Current Team's Chances To Win Out
Resume
The New England Patriots are plowing through the 2015 season, currently undefeated at 9-0. (They play the Buffalo Bills Monday night.)
The last Patriot squad to see 9-0 was the 2007 team, which, much to the chagrin of Pats fans everywhere, suffered their one and only loss in the Super Bowl, falling to the New York Giants.
Longtime Patriot Troy Brown remembers that game well. In a new book, co-authored by ESPN Boston's Mike Reiss, the three-time Super Bowl champion reflects on life, football and his 15 seasons with New England.
Brown sat down with Morning Edition's Bob Oakes to talk about the book, "Patriot Pride: My Life In The New England Dynasty."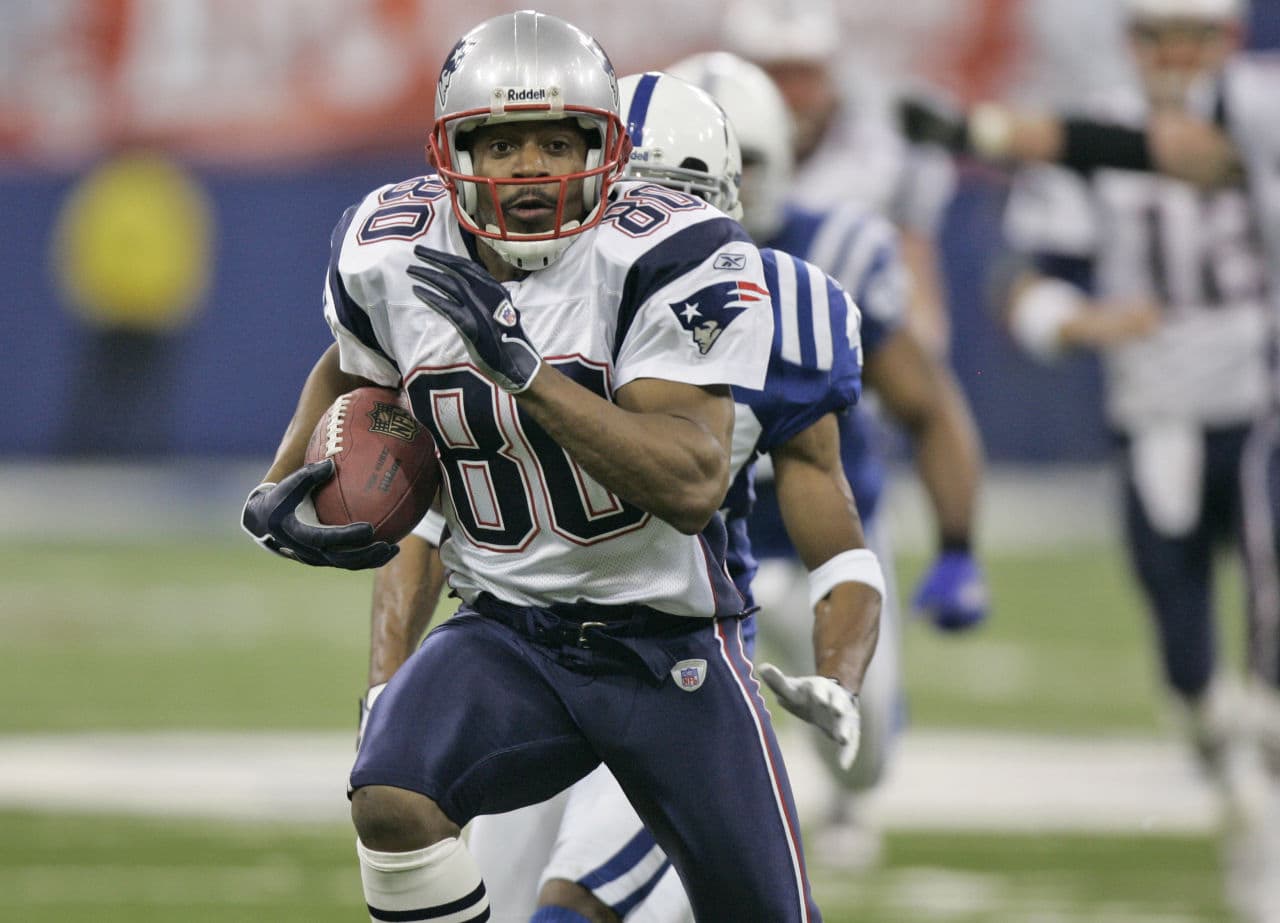 Interview Highlights
On why he felt the need to prove himself in the NFL:
I got a lot of negative reviews because of, you know, something that doesn't even register in football. You're standing there with a clock in your hand, you're timing a guy at how fast he runs through the 40-yard dash. I didn't have a 4.4, 4.3 [second] 40 time, you know, which seems to be really important to a lot of scouts and a lot of coaches.
But, my thing is just bottom line: Can the guy play? And I always made the argument that, 'I can play, guys.' I can get past guys, I can get open, I can catch the ball. Just give me the opportunity.
On the defining characteristics of his three different Patriot coaches:
[Bill] Parcells is, uh, New Jersey guy. Real brash, he's pretty in-your-face with it, you know, and he's not afraid to wear his emotions or even show his authority. Pete Carroll was more, happy go lucky, you know, 'We're gonna have fun today, guys, at practice,' the cheerleader type coach.
[Belichick] Reserved. Very reserved, especially in the beginning he reserved a lot of his emotions. One of the first times I saw him really celebrate was the 82-yard touchdown in overtime that I caught in Miami when we struggled to win games down there. He took his headset off and he threw it and the air and started celebrating with the guys.
On the genesis of 'one game at a time' and 'do your job':
We just won that first Super Bowl in the 2001 season. We kind of got a little full of ourselves, worrying about, 'What color pants are we going to wear with the blue jerseys at home this week?' and just silly things like that that never mattered to us in the previous season. But now that we made it to the top of the mountain, and you know, we are the champions... we lost focus on what was really at hand, which I think kind of started the whole, 'one game at a time,' 'do your job,' type of stuff. It worked and it continues to work to this day. As long as he [Belichick] finds the right guys that have the right type of mentality on that roster, it will continue to work.
On his greatest Patriot teammates:
Oh, there's so many of them, so many of them. I can't really pick one.
Tom Brady, Willie McGinest, Tedy Bruschi, Vince Wilfork, just to name a few. [Brady's] just a warrior, man. He refuses to fail. He's a guy that's so competitive, that he's not going to lose. Even in defeat, he's not going to lose.
On ending his career as a New England Patriot:
I underestimated how the people of New England feel about me and sometimes it brings me to tears... I wasn't going to be one of those guys that took off my uniform and sit in my basement and become depressed.
You know, my kids took it hard. They didn't understand that I was old, that that happens, so that made it even more stressful. But, uh, seeing guys that play too long, and sometimes guys like us, Peyton Manning, Tom Brady, we got to have somebody kick us out. And Bill Belichick, in a classy way, 'It's time son. You got a lot of miles on your body.'
Brady keeps going. He's the type of guy, I think he's smart enough to quit. It doesn't matter though if he's smart enough, it's just hard, you can't walk away from it. Brilliant guy, brilliant guy, but he will probably be one of those guys that gets kicked out as well and have to be told, you know, just sit down for a little while and enjoy the ride.
On the chances of the 2015 New England Patriots going undefeated:
The Troy Brown Patriot answer: We're on to Buffalo.
My analyst answer is: It is very possible they can run the table. What makes me a little nervous right now, if I'm on that roster right now, can we hold up with the limited amount of bodies? That is the biggest issue they have right now. So many injuries. If anything derails them, that will be the thing, but if they can get past these injuries, I'll think they'll be OK.
This segment aired on November 23, 2015.