Controlled Deer Hunt Is Underway In The Blue Hills Reservation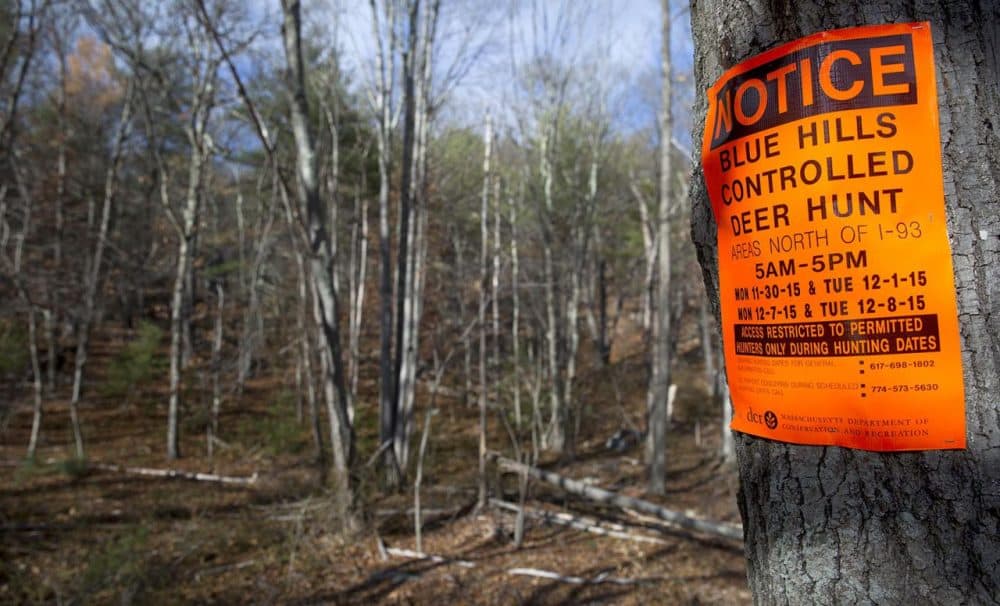 This article is more than 4 years old.
For the first time in more than a century, there's sanctioned deer hunting in the Blue Hills Reservation, the state park south of Boston.
A controlled hunt began Monday morning, with three other days scheduled: Tuesday, and then Monday and Tuesday of next week.
Nearly 100 approved hunters are expected to take part each day of the hunt, with a goal of reducing the deer population to "an ecologically sustainable deer density" within the reservation, according to the state.
As we previously reported:
State biologists estimate there are currently 85 deer per square mile of forest habitat, which they say is well above what is deemed a healthy population level.
Matthew Beaton, the state energy and environmental affairs secretary, told Boston Herald Radio on Monday that the hunt will help control the spread of Lyme disease, reduce the occurrence of deer-involved car crashes and limit deer-caused property damage in the area.
The controlled hunt was set for 3,000 of the reservation's 7,000 acres. It's the first hunt there since Blue Hills became a reservation in the late 1800s.
The hunt went on despite opposition from animal advocates, who say there are more humane ways to control the deer population, and opposition from some local residents, who expressed concerns that stray gunfire could pose a risk to hikers and people that live nearby.
But Matthew Sisk, the deputy commissioner of the Department of Conservation and Reservation, said the state has taken steps on safety.
"In this specific case hunters were required to go to a hunter education and safety course specifically about this hunt, and the geographic locations inside the reservation that they are allowed to hunt in," Sisk said.
With additional reporting by State House News Service