Being Scrooge: One Actor's 22-Year Role As A Beloved Grumpy Miser
Play
This article is more than 6 years old.
There are sooooo many Scrooges! Or I should say so many actors who've played Charles Dickens' famous miser from his classic redemption tale, "A Christmas Carol." The long list includes Bill Murray, Albert Finney, Michael Caine and Alastair Sim in the 1951 film.
Then there's actor David Coffee. For 22 years, he's been transforming into Scrooge at the North Shore Music Theatre in Beverly, where he's quite the celebrity with a loyal following.
On Becoming Ebenezer Scrooge
I sat with Coffee before a recent matinee and he offered up some choice, iconic words from Dickens' dialogue.
"Bah humbug," he said, then laughed and added, "If they would rather die they better do it and decrease the surplus population!"
You might think a man who utters icy cold phrases like those day in and day out for 22 years could be a little frigid himself. But Coffee is actually a really, really nice guy.
After his performances the veteran actor always talks to people in the audience. He shared a recent, cute exchange.
"I had a little girl tell me the other night — a little, bitty girl — she said, 'You know what my favorite part was? When you were happy,'" Coffee recalled, with another very real laugh.
Coffee clearly loves playing Ebenezer. He smiles as he sits in front of his dressing room mirror putting on his makeup just before show time. The 58-year-old travels to Beverly from his home in Texas every December, and says it's like an annual reunion for him and much of the returning cast and crew.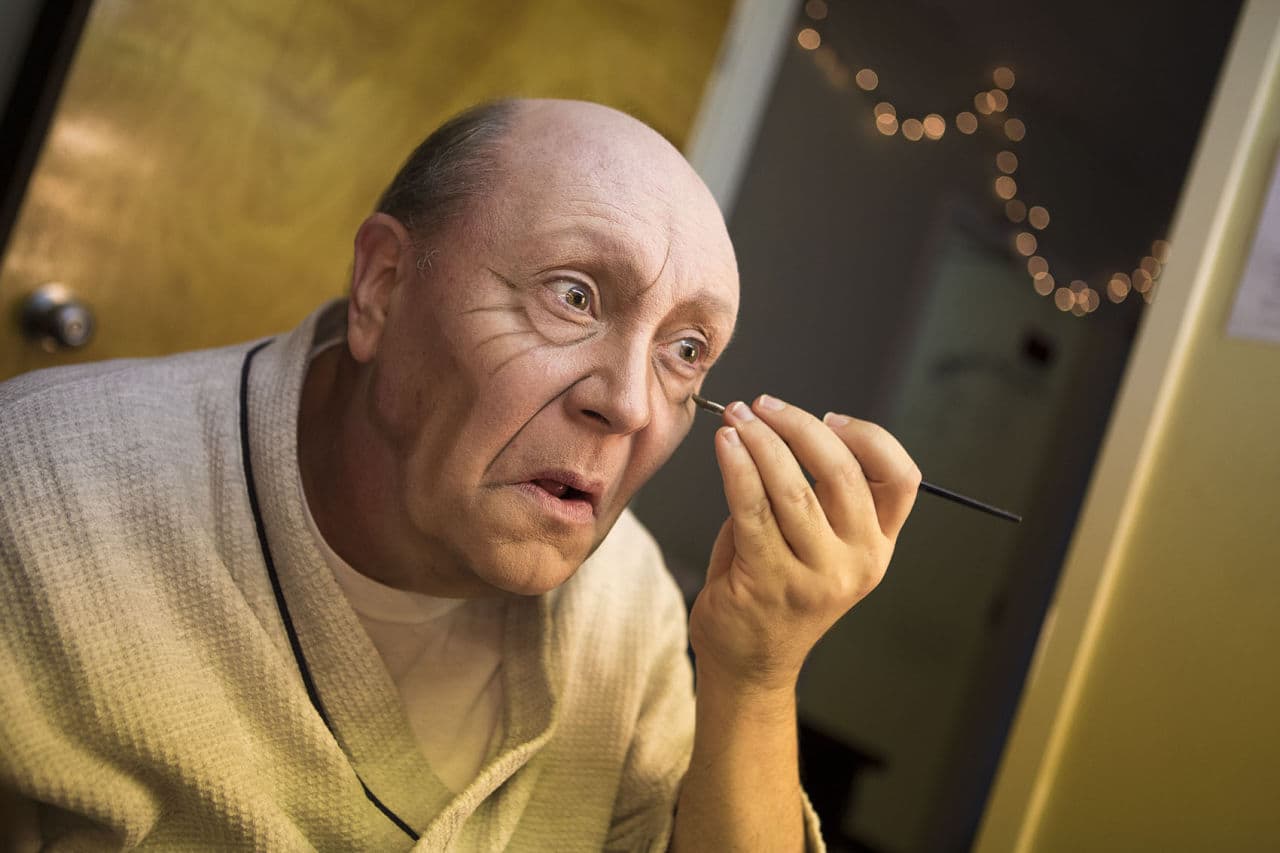 As part of his vocal warm-up Coffee always recites Mr. Scrooge's first line about his former business partner.
"Mr. Marley's been dead these seven years, he died seven years ago this — very — night."
Coffee has a long history of playing mean misers. As a high school kid in the 1970s, he was in a play called "The Stingiest Man in Town." The North Shore Music Theatre's "A Christmas Carol" delves deeply into what made Scrooge so, well, Scroogey … and plumbs the reasons why Christmas is so hard on him. Coffee says it gives glimmers of his humanity early in the piece.
"I describe it as like peeling back an onion, and you see all the layers of how he got there and what caused this. Then he's able to open up and redeem himself," Coffee explained.
While Scrooge is a miserable character for most of the play, people just love him (kind of like Darth Vader). I asked Coffee why he thinks that is.
"Well, they love him because they can relate to the pain that he's had. You know, seeing him as a child being left at school. They can relate to him losing his sister. And they can relate to him falling in love and then losing the love of his life, you know, all at Christmas time," the actor mused. "They go on that journey with him. And all great roles are great journeys."
To Play Scrooge Is To Love Scrooge -- But It's Hard Work
During the performances, Coffee only gets to leave the stage twice, so time is tight for costume changes. Instead, the actor starts every show with all of his ensembles on at the same time.
"I call it the Annie Hall layered look," he said, laughing (again) while showing me how he makes it work.
"The first layer is my tights and undershirt. Here's my lovely Velcro. Then I go with pants."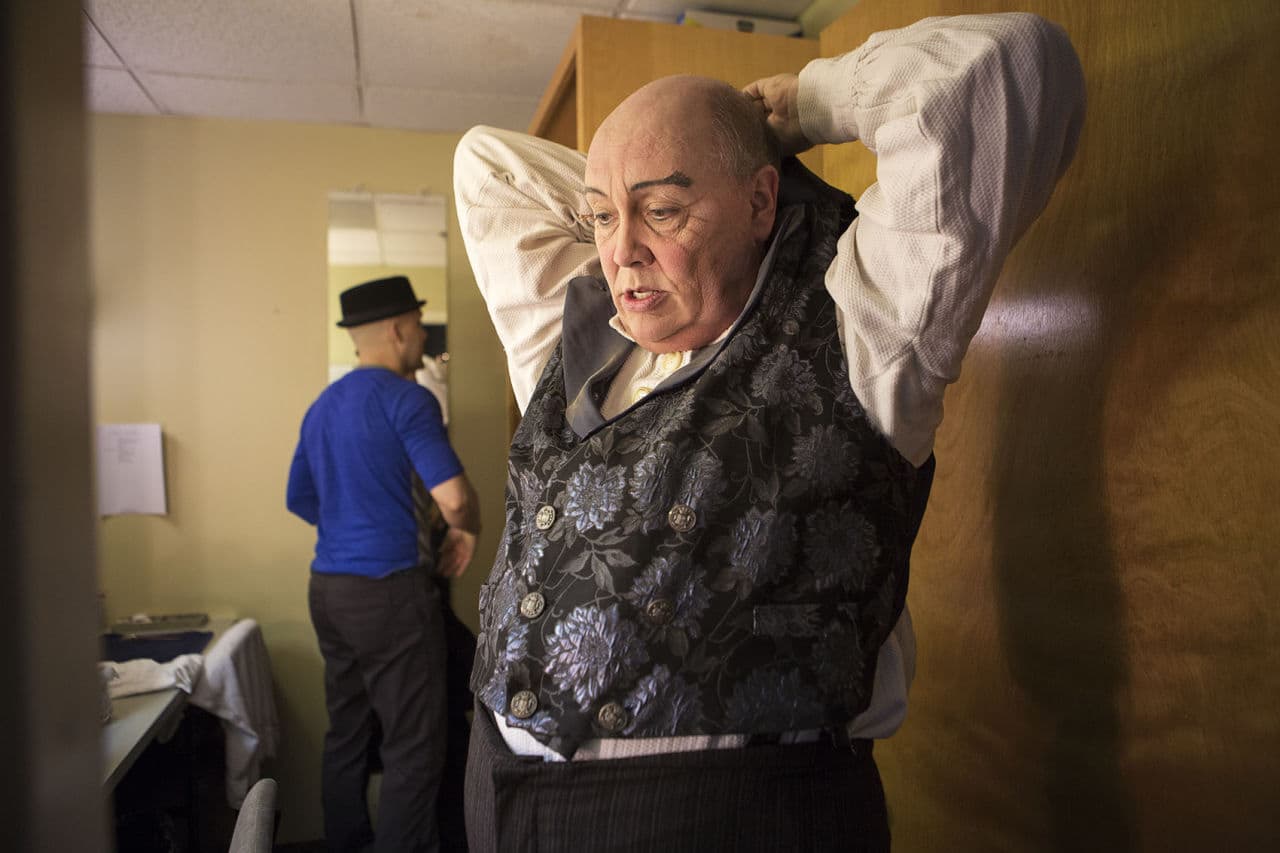 The pants also have a Velcro zipper, for speedy on and offs. There's also a vest, two coats, collapsible top hat, tie, boots and a scarf.
"And then I'm all done," Coffee said just minutes before curtain. "I throw on my hair and I'm ready to go!"
"It's so odd to see David go to such a dark place," Mike Ceceri told me. He's been the North Shore Music Theatre's director of marketing for 15 years.
"For some reason he is able to encompass that dark energy that Scrooge needs at the beginning to really go so far at the end," Ceceri said. "And he carries that energy with him while he's traveling through to make his first entrance."
When Coffee takes the stage the room erupts with applause. Then the anti-holiday grump fest commences.
An early example of Scrooge's seemingly pitch black heart comes early in the play when his nephew drops by to invite him to Christmas Eve dinner.
"If I could work my will, every idiot who goes about with 'Merry Christmas' on his lips should be boiled in his own pudding and buried with a stick of holly through his heart, he should!"
Ouch, right?
But Coffee's profound understanding of "A Christmas Carol" — and his compassion for Scrooge — are part of what draws his loyal superfans to see him year after year. Peabody resident Joan Dexter is one of them.
"I was here from the first show, and 'A Christmas Carol,' it just stayed in my family," the 82-year-old said in the theater's lobby as she showed me a stack of framed photos. She said her home is filled with them, and her neighbors clamor to see Coffee when he's in town.
'More Wicked And More Wonderful'
He's a celebrity in the area, according to Dexter, and over the years the fan and the actor have become dear friends. She believes his turns as Scrooge get better every year.
"He becomes more wicked and more wonderful — and the more wicked he is the better he gets to be at the end," Dexter said. "And even the little kids — my grandson included — says, 'Oh, David is the best.'"
"I loved it!" Plumfield Academy third grader Wesley Kansiewicz told me after a school-day matinee. He lives in Lynn and shared his analysis of Scrooge: "He's like a mean guy and then he's a nice guy. He's like bad and then good."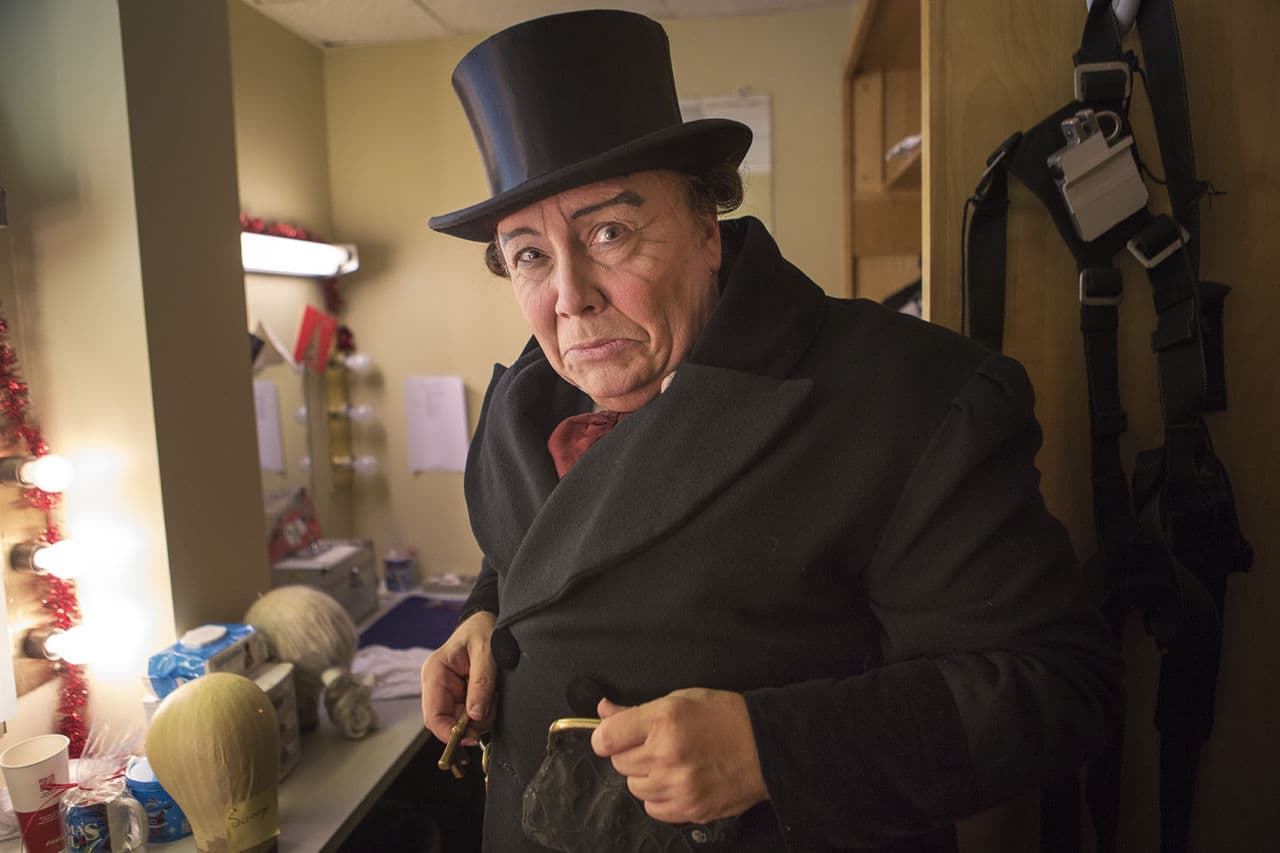 Every person's potential for change — and our ability to choose kindness over cruelty — are just some of the core takeaways Coffee wants audiences to leave with after seeing "A Christmas Carol." And the actor hopes it helps people to reset their attitudes.
"When you're in that parking lot at Christmas time and somebody grabs that parking spot that you thought you had, it's like, 'Just stop and think what's important in the world, you know?'" he asked with that recurring laugh. "And this show really helps you do that. I think it truly can make a difference in your attitude toward the world."
All this reporter can say to that is, "ditto." Oh, and happy holidays from WBUR, The ARTery … and me.
---
The North Shore Music Theatre's "A Christmas Carol" runs through Wednesday, Dec. 23.