First Snow Of The Season Causes Rough Commute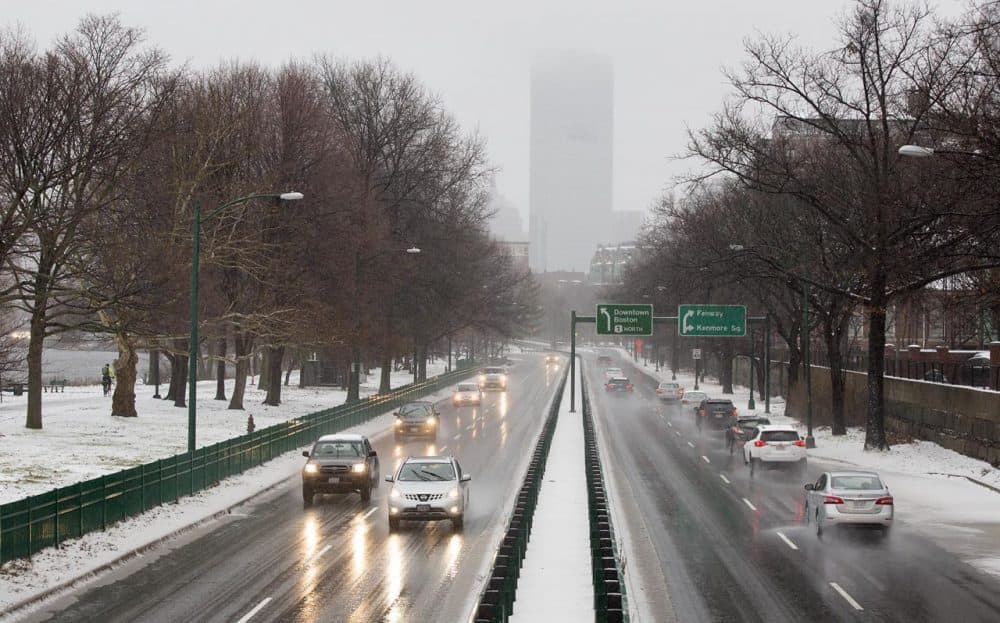 This article is more than 4 years old.
The first snowstorm of the winter made the morning commute difficult Tuesday, with a number of spin-outs and jackknifed tractor trailers.
The morning's sleet and snow turned to rain in the Greater Boston area by late morning and temperatures are expected to rise throughout the day.
A winter weather advisory remains in effect until 7 p.m. Tuesday night for all of Massachusetts, except the South Coast, Cape and Islands.
WBUR meteorologist David Epstein says the heaviest snowfall occurred north of Boston. Portland saw 5 to 8 inches, and southern areas of New Hampshire had around 1 to 4 inches of snow, he reported.
Epstein says icy road conditions are the main concern with this storm.
The Massachusetts Department of Transportation says nearly 1,400 crews are out treating roads.
Still, state highway director Tom Tinlin advises drivers to slow down.
"Even if folks have their SUV, it's not a 70 degree May day," he told WBUR's Newscast Unit. "People need to slow down, use your head, and we'll get you where you need to be."
MBTA General Manager Frank DePaola says the T's only issue Tuesday morning was a frozen Red Line switch at the JFK/UMass station, which was fixed by 6 a.m.
"We've been able to handle the weather and maintain normal operations on almost all lines, both transit and commuter rail. So I think for now, the methods we've deployed are coming out successful."
More than a dozen departures were canceled at Logan Airport, mostly on American Airlines and Cape Air.