'Love In Public' And 'Sweety's Radio' Podcasts Aim To Bring Visibility Through Voice
In our social media-saturated age where image-heavy platforms like Vine, YouTube and Tumblr popularize the consumption of bite-sized, shareable clips, members of two Boston-based groups are finding new methods of expression through a classic form of mass entertainment: radio.
These groups are Intelligent Mischief and Sweety's. The former is a creative collective of Afro-Caribbean artists, dancers, comedians and performers who develop strategies for resilience in communities of color; the latter is a gallery space and multimedia platform run by graduates of the School of the Museum of Fine Arts that prioritizes artists (and audiences) of color.
"I never liked blogs. It's just never been my medium," says Chrislene DeJean, a founding member of Intelligent Mischief. "I like to tell myself it's because of oral history ... that I honor my ancestors by orally passing down information instead of writing stuff down. Group discussions have always been more inspiring for me than writing."
Together with her friends Jax Gil and Kamaria Weems Carrington, DeJean co-founded the podcast "Love in Public" as a direct response to feeling, as Gil describes, "like there aren't enough spaces where we can be both honest and really loving. Coming from a place where we are firm in acknowledging what's hurting us and hurting people that we love, but working with that pain, and working through that pain in a way that is healing instead of perpetuating trauma."
Launched on New Year's Day, "Love in Public" is defined on its website as a multimedia project that is rooted in a monthly podcast featuring multidisciplinary artists and community builders. The first episode kicks off true to its mission with a cosmic, Afrofuturist-inspired conversation on academics, organizing and the situation in Ferguson. The show guest-stars celebrated black scholar Moya Bailey, whose work centers on race, gender and sexuality in media and medicine.
Here's the episode:
The podcast's creators chose the name "Love in Public" because of a quote by American philosopher Cornel West: "Never forget that justice is what love looks like in public." For them, love is both the gateway to and the goal of any organizing space — yet, according to Carrington, it's a feeling that seems to be missing from the very environments that need it most.
"To me, also, the concept of being shown love in public space is one that we are really struggling with, especially for people with marginalized bodies and identities," Gil adds. "Especially now with gentrification and displacement, I think it's important to update and examine what caring for one another and having compassion for one another means."
For the folks at Sweety's, the inspiration to turn their creative energies to the digital airwaves through their own radio program stemmed from an earnest desire to be heard — unapologetically, openly, with others who share similar identities and backgrounds.
"We wanted to have a specific project that allowed us to have public conversations about the things we were seeing and feeling, with artists we felt were expressing their thoughts in way that rang very true to us," explains Ximena Izquierdo Ugaz, a multidisciplinary artist and curator at Sweety's.
For Julia Pimes Mata, a fellow Sweety's founder, the need for "Sweety's Radio" rose out of a desire to go beyond showcasing artists she and her colleagues admired, and to pull back the curtain on their creative processes so that others could witness and be inspired by them as well.
Hosted by Andisa Montez and Rene Dongo, the monthly show centers on conversation with artists that the group feels are important to be heard. Topics range from the current guest's projects and causes to love, sex, self-care and other accessible, everyday inquiries.
"In a society that constantly portrays us as less than human, I feel like it is key to talk about everyday s--- like things that we think about, and love, or experiences that really shaped us," Ugaz states.
The direction of the show is strongly informed by a specific agenda, says Eduardo Restrepo Castaño of Sweety's. "This includes showing off black and brown excellence; exposing institutional racism, not just in regards to lack of representation but also the racism that manifests in the violence, tokenism and parasitism perpetrated towards black and brown artists and audiences alike once you access these white-run artistic institutions; [and] promoting good times, camaraderie, love and deliberate conversations amongst black and brown people."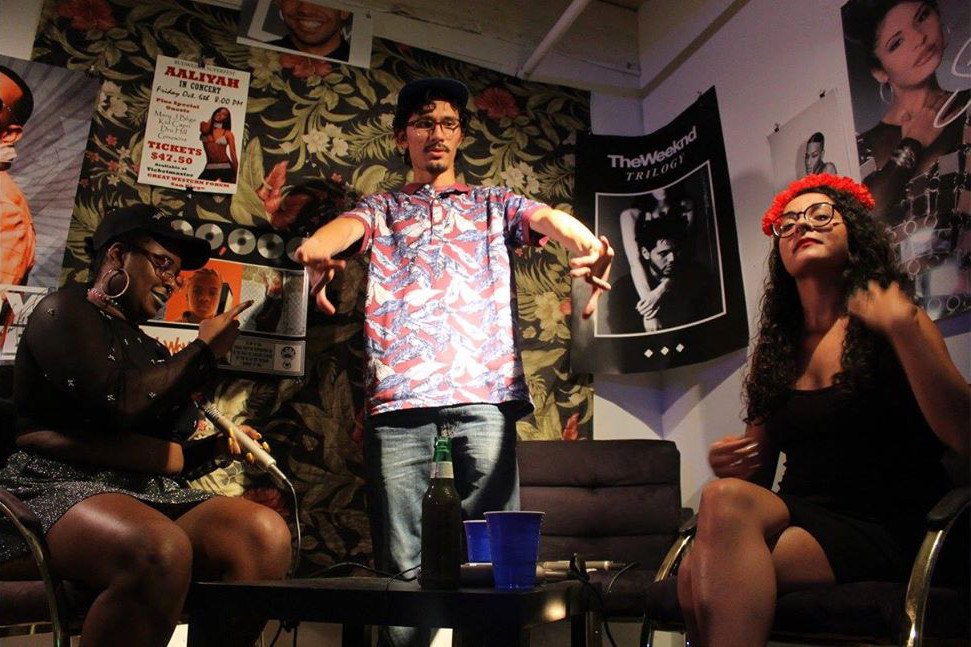 In a city that is struggling to make space for artists to thrive — where steep price tags and inaccessible locations shut out those of a lower income bracket — these projects give welcome amplification to the voices of radical influencers who are shaping the way artmaking is found and experienced.
"For me, ['Love in Public'] will be covering people who are finding creative ways to engage the very real issues of racism and sexism and classism and transphobia in other kinds of systemic oppression," Gil says. "We are interested in talking to people who are encouraging their communities to engage in their own self-reflection. People who are really practicing what a creative democracy might look like."
At its heart, "Love in Public" seeks to create a supportive space for femme and queer people of color — one that occupies a digital form for now, but that the team hopes will one day become a public space that facilitates physical projects for the benefit of marginalized communities.
"I really hope that it will help build imagination and inspire — I'm thinking about Afrofuturism and sci-fi and how they model how powerful it is to narrate and dream your future and that there is agency in that," says Carrington. "Whatever world we have inherited, we all have a really dynamic power to generate something else. And I hope that people see it is possible to do that together."
In equal parts about freedom as they are about representation, these podcasts create spaces for people of color that exist without the permission or curation by larger, largely white-dominated artistic institutions, Restrepo explains. There are no gatekeepers here; only honest expressions, shared the way their owners want them to be.
"The way that we want to talk about ourselves feels so vital and we want it to be done right, but even after all of that, we have had situations where at the end of the day, what we say doesn't matter as much as someone's angle about us and what they're interested in conveying with us," Mata says. "That makes me feel mute."
These podcasts amplify, empower and, according to Sweety's co-curator Bryan Rodriguez, contribute to the everyday resilience of artists of color by giving important visibility to their work and experiences.
But there's a romance in it, too. Something about the art of speaking and listening, sharing ideas in the most fundamentally human method we have — voice — that exceeds the passage of time. That enchants us, even today.
"I know I have gotten more out of a podcast when I am alone, and there's something about me and these other voices that make for a kind of a surreal experience," says Rodriguez. "I think of podcasts/radio as also a warning mechanism, a rendition of fame, and an older form of message that is linked to our nostalgic tendencies."
"Love in Public" posts updates and episodes at their website, which can be found here. "Sweety's Radio" events occur monthly. For updates, follow their Facebook page here. 
---
Spencer Icasiano is a copywriter and freelance journalist whose work has also appeared in DigBoston and on Howlround.com. 
Editor's Note: This post has been updated to clarify that "Love in Public" is an independent project. 
This article was originally published on January 13, 2016.