Mass. Nonprofit Helps Trauma Survivors Heal Through Sharing And Songwriting
05:49
Play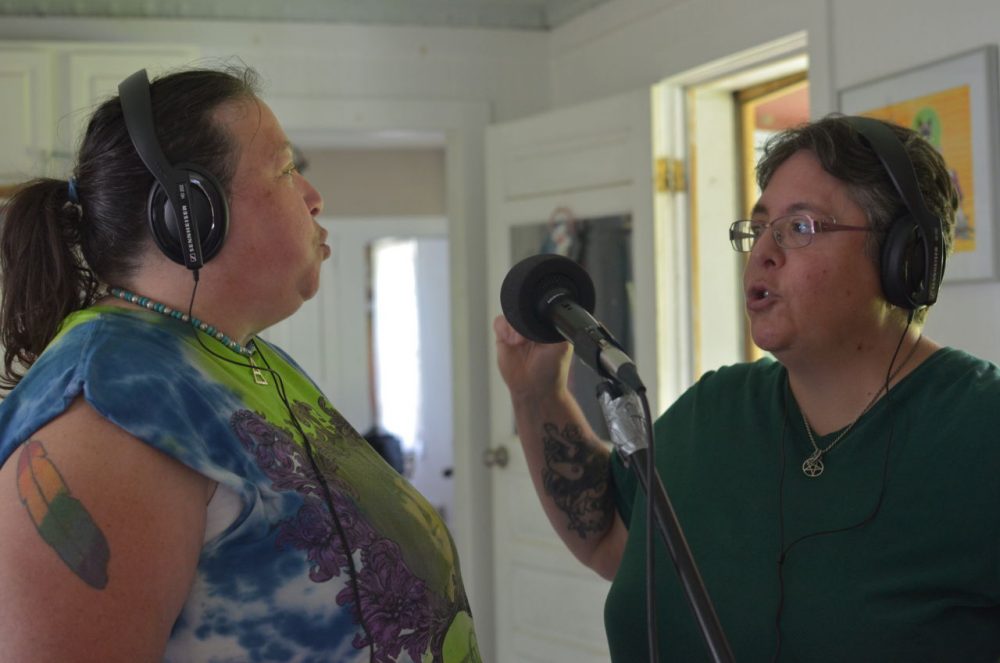 This article is more than 5 years old.
A Massachusetts nonprofit uses music to help survivors of trauma, and it's led by a former rock star.
Robin Lane came to fame with her Boston-based band Robin Lane and The Chartbusters. Their biggest hit, "When Things Go Wrong," aired in the first hour on day one of MTV.
A lot of the singer/songwriter's life reads like an unlikely series of namechecks: her father played piano and wrote hits for Dean Martin; she hung out with Neil Young and sang on one of his albums; she was married for a while to Andy Summers, the eventual lead guitarist of The Police.
And Lane says those plot twists and others led her to just the right place, using music to help people cope with their past. She says her goal is simple: she's trying to save the world, one song at a time.
Her non-profit, Songbird Sings, is based in Shelburne Falls. It offers free songwriting workshops to women and girls who have experienced domestic abuse, sexual assault, trafficking, mental illness and other challenges.
"You're in a group of women with a history of trauma, and you're all there together, and you're about to share some really important things that happened to you that are not-so-fun topics," she explained. "But as you share, the next women can say, 'That happened to me, too.'"
Lane said by making it possible for participants to share their experiences, the workshops help bring women out of isolation, giving them a chance to validate each other. The songwriting, she observed, "untraps. The music lets all the trauma out."
"You can see women change right before your eyes. I've seen it: incredible trauma transforming into incredible healing. And you've figured out through the process of being in a group and songwriting that you have the ability to change your life."

Robin Lane
"They're writing a song which is so powerful to them," she said. "It gives them a jumping-off spot for being able to get back into the community, and to get a job, go to school, to get their lives back, to get their voice back. To find their voice."
One participant in a workshop in Shelburne Falls, Sherri Healy, agreed that the songwriting has created positive changes.
"I had never written a song in my life, so I had no clue what to expect," Healy said. "But to get some of that stuff out on paper was very therapeutic for me. I got to say what I felt without having to censor."
She said the process has boosted her self-esteem.
"It's been a really uplifting experience," she said. "I've had a lot of input from the other women in the group, which has been phenomenal."
Some of the women choose to write songs about subjects they don't tend to discuss in the rest of their lives.
"My song is about depression and about being angry about that state that I was in," said Laurie Batog.
"My song is pretty rough," she continued, with a laugh. "The first line is 'Everything I do happens in silence,' because that's where I felt like I was living. And what's neat is, once I got the song out and put everything on paper, I immediately started to feel better. I just know that when I have music in my head and in my heart, I feel better."
One participant, Jerri Higgins, said that she was in dire need of finding new ways to cope with her trauma.
"I needed to heal, because I was gonna either die or live," Higgins said. "And this was the way I could live."
Higgins explained that she felt isolated, depressed and unable to connect.
"And then I walk in this room, and I hear these other women talking about how much things are sucking so bad! And," Higgins laughs, "it was like 'Oh, I'm home!'"
Finding humor within their struggles and supporting each other through the tough moments are common themes at Songbird Sings.
"We could laugh about it," Higgins said. "And when everybody said 'Oh, what a crappy week I had,' it was like, oh my God, I feel like I'm around people [who understand]. It really is like being with people who get you."
She said the organization has helped her understand that she is not alone, that she has "a place to go." And with that sense of recovery in mind, she wrote a song about winter and hope.
"You get it through music — that feeling of desperate, desperate loneliness. Aloneness, and yet, still hope," Higgins said. "And I feel like that's what this is for me. Even though things haven't changed that much, so much has changed. Because there's hope."
Lane is proud of the progress the participants are making to cope with their trauma.
"You're building community, you're getting stronger, and the ability to believe in your own self and your self-worth, this comes back to you," she said. "I don't know how that happens, but it does."
Lane says although it's hard to pinpoint a precise formula for success, she credits both the music and the camaraderie.
"You can see women change right before your eyes," she said. "I've seen it: incredible trauma transforming into incredible healing. And you've figured out through the process of being in a group and songwriting that you have the ability to change your life."
This segment aired on January 17, 2016.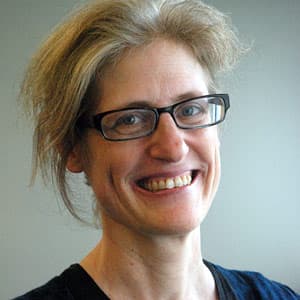 Sharon Brody News Anchor
Sharon Brody is the voice of WBUR's weekend mornings. On Saturdays and Sundays, she anchors the news for Weekend Edition and other popular programs.