MFA Acquires New England's First Frida Kahlo Painting
Resume
The Museum of Fine Arts, Boston has acquired the first painting that celebrated 20th century Mexican artist Frida Kahlo ever sold. It's also the first Kahlo to join the MFA's collection, and the only Kahlo in a New England museum.
I was given a sneak peak of the painting, "Dos Mujeres (Salvadora y Herminia)." It was unframed in the museum's conservation lab, resting on an easel, being prepared for its public debut on Wednesday, Jan. 27.
The Acquistion Process
Curators are responsible for finding potential acquisitions like this Kahlo painting. After they identify a potential candidate, they conduct in-depth research into the piece's provenance (or origin story). The artworks being considered will also spend a good amount of time in the lab where they're examined closely and assessed.
That's Rhona MacBeth's job at the MFA. She's the conservator of paintings and has been working with the just-acquired Kahlo.
"We take a look at it, see what we can find out about it, look at its condition and just live with it for a while," MacBeth explained, standing next to the Kahlo.
"The painting itself is actually in very good condition. It was painted in 1928," she went on, pointing to Kahlo's name on the canvas. "It's signed and dated as you see down at the right-hand corner."
MacBeth and a lot of people at the MFA are pretty excited to have this Kahlo in the building.
"One of the wonderful things about paintings is that they tell stories, and they take you many, many places," MacBeth said. "And Kahlo is one of the people that you can go so many places with, and with the works of art that she makes."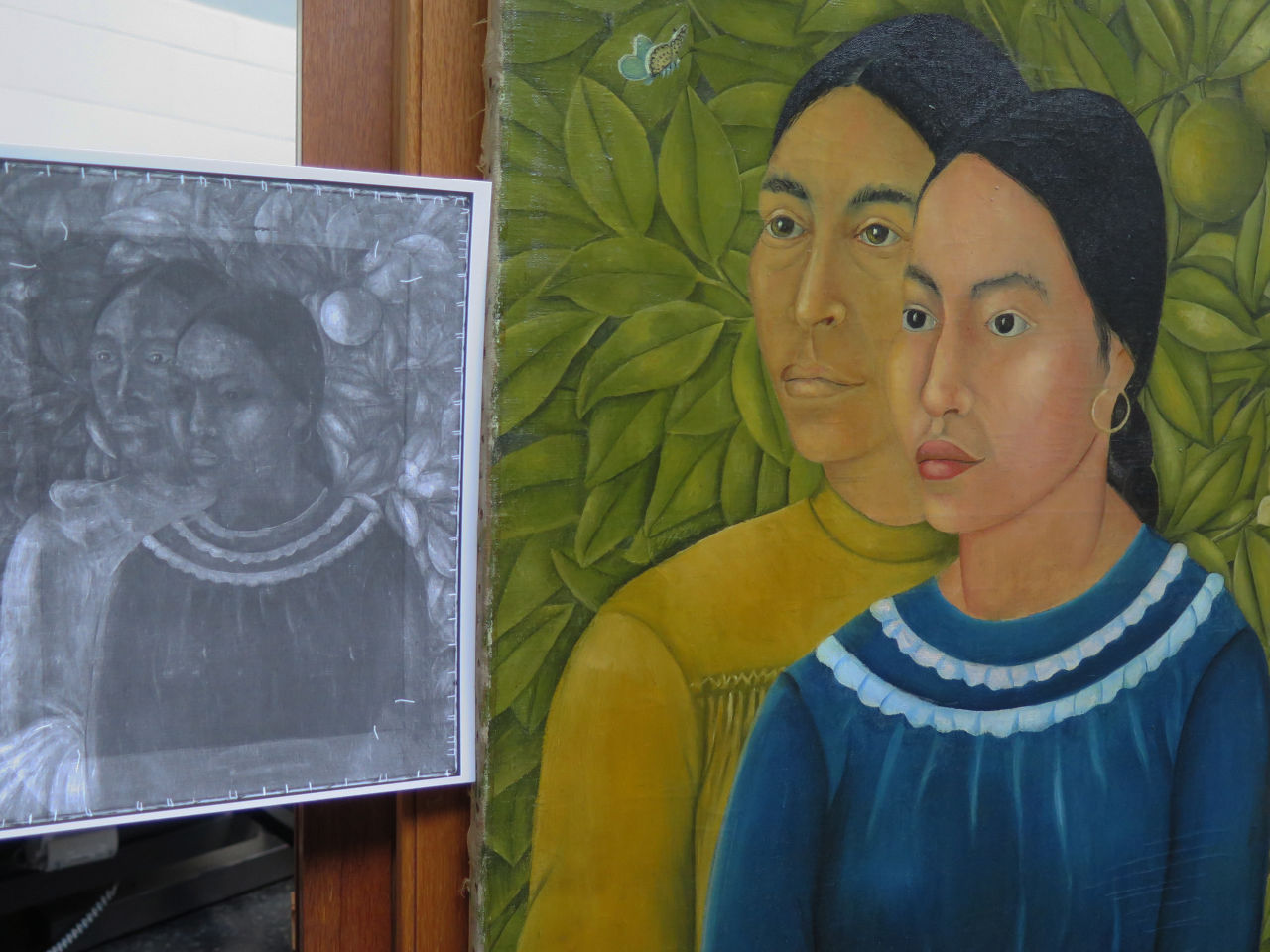 Getting To Know Kahlo
Kahlo is an international icon, but she's especially beloved in Mexico City, where she was born in 1907. Elliot Bostwick Davis, chair of the MFA's Art of the Americas, told me the artist's image is everywhere there, even on cards handed out by taxi drivers. Bostwick Davis discovered the museum's newest painting in a New York City gallery.
"For me it was one of those acquisitions where I was just bowled over," she recalled, "and I said if we could find a way to bring this to Boston it would be one of the most exciting things I could imagine."
There are only 12 Kahlos in public U.S. collections.
This particular Kahlo has rarely been seen, according to Bostwick Davis. "It appeared in Rome, it appeared in an art fair in 2012, and it hasn't been published often," she said, "so I don't think many people know it."
MacBeth, the conservator, has been getting to know "Dos Mujeres" well. Kahlo is famous for her fantastical, vibrant, look-you-straight-in-the-eye self-portraits, which MacBeth says makes the artist's double portrait of two women unusual.
"They were her maids that worked in her house during her childhood, we believe," MacBeth explained, adding, "we're still finding out more about them."
Salvadora and Herminia are indigenous Mexicans, with dark, pulled-back hair, distinct features and modulated, earthy skin tones. They're surrounded by a background of lush, green foliage, fruit and insects.
"When you think of Frida Kahlo, her pictures often shock you or hit you over the head. They stop you dead in your tracks," MacBeth mused. "What's been interesting to me about having this picture here is that it's a quiet painting, but it's very powerful and grows on you. I think it's very beautiful."
MacBeth says this work takes us back to the beginning of Kahlo's career and provides clues about her development as an artist.
As a teen, Kahlo survived a violent automobile crash that damaged her spine and pelvis. (She suffered with tremendous pain for the rest of her life.)
"Her terrible accident was in 1925 — this [painting] was only 1928 — and she really only started painting seriously after the accident, so she's 21 years old at this point," MacBeth explained.
Kahlo even painted in bed. MacBeth told me the two maids in the double portrait might have taken care of Kahlo while she was recovering.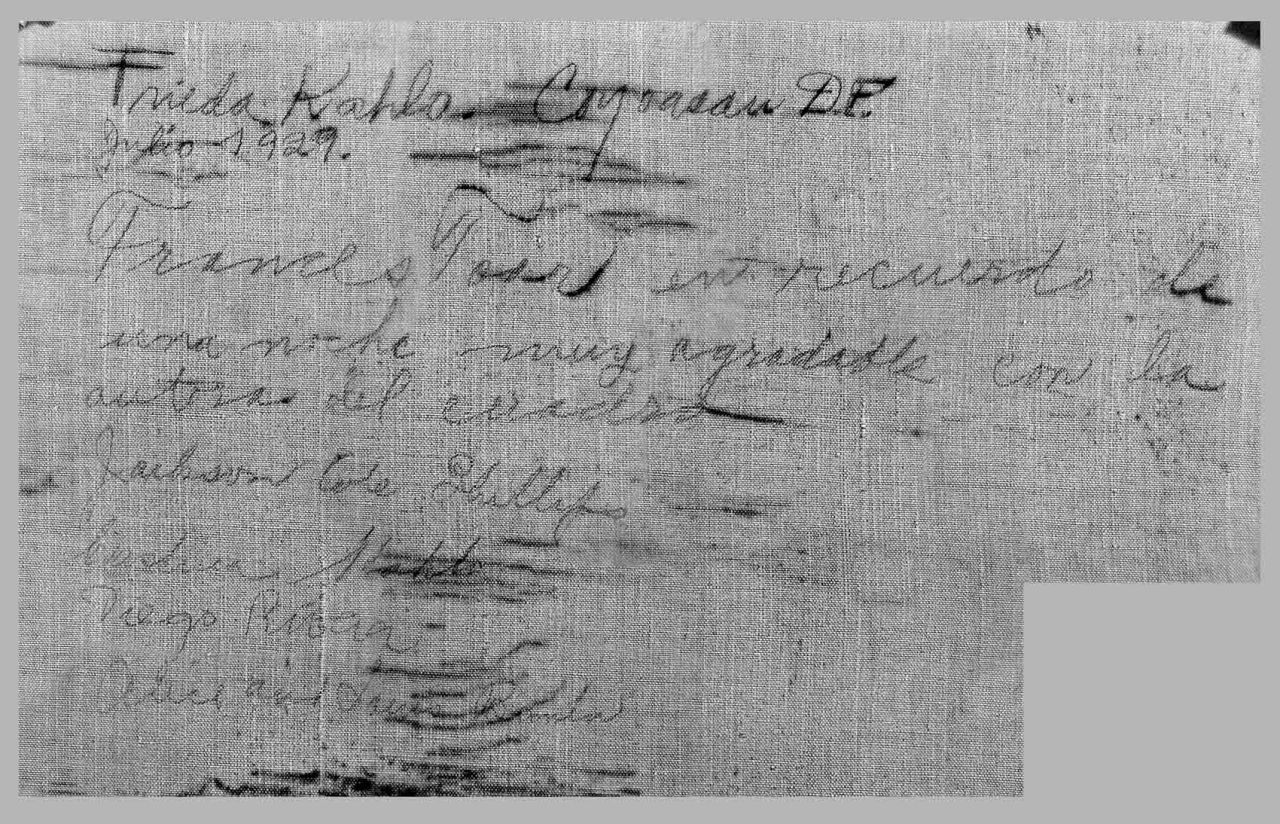 The Story Within The Painting 
The MFA conservators also used infrared, X-ray photography to reveal a few subplots in the painting's narrative. MacBeth lifts the unframed painting off the easel to show me some faded handwriting on the work's backside. The signatures were added to the painting at a party celebrating its sale.
"Frida Kahlo signs it," MacBeth pointing to artist's name. "It's dated July 1929 — which interestingly enough is the year after the painting was made and it's one month before she marries Diego Rivera — so he's very, very influential at this point in her life."
Rivera, a muralist, and Kahlo were part of the Mexican Modernist Movement of the 1920s and '30s. They also had a famously volatile relationship.
MacBeth shows me Rivera's signature too, along with one by the first person to buy one of Kahlo's paintings: American industrialist Jackson Cole Phillips.
"That in itself takes you right back — in a way — to that moment," MacBeth said, smiling. "You can really kind of imagine the gathering and the discussion and somehow then the decision that Jackson Cole Phillips would buy it."
"It must've been a wonderful party," Bostwick Davis imagined, "on the back of the painting it says, 'A most enjoyable evening with the author of the painting.' "
Bostwick Davis also said Phillips and Kahlo remained close friends until Kahlo's untimely death at age 47. The newly acquired painting has remained in Phillips' family until Bostwick Davis was touring the Mary-Anne Martin Fine Art gallery in New York City with the gallery's namesake.
"There was this picture hanging on her wall on 73rd Street, and I could not believe I was seeing this," Bostwick Davis remembered, "and then she showed me the back, and all the inscriptions, and the fact that it had been exported from Mexico in 1929 and it had been in one family. Of course Frida Kahlo's work today is cultural patrimony in Mexico, so we could never really hope to buy just any Frida Kahlo unless it had been out of the country for a very long time."
Since 1984, works by Kahlo and other indigenous artists have been deemed "cultural monuments" by the Mexican government, which is why they're rarely seen outside their homeland.
Bringing Kahlo To Boston
Bostwick Davis said this added to the growing list of things that made this acquisition especially desirable. She also knew it would also help fulfill a mandate from MFA director Matthew Teitelbaum.
He told me he was very enthusiastic and open to Bostwick Davis' pitch to purchase this Kahlo.
"We moved quite quickly because it represents an expanding idea of the Americas very boldly," Teitelbaum explained, "which is that the Americas are Canada, the United States, Mexico and all the way down into South America. And that's one of our ambitions — to broaden the sense of what the Americas mean as a continuous landmass and a series of cultures that share a geography of connectedness."
Adriana Zavala, associate professor of art history at Tufts University, had the chance to see the new acquisition, which she described as "beautiful." She believes Kahlo's "Dos Mujeres" will help attract Latino visitors to the MFA, just as a recent blockbuster exhibition, "Frida Kahlo: Art, Garden, Life," did at the New York Botanical Gardens last year.
"It was a record," Zavala recalled, "500,000 saw that show. As a scholar I'm happy that they came. But it's really also what you do with them once they're in the door. I'm confident the MFA will seize the opportunity to cultivate new audiences by celebrating Latino culture and Mexico's contribution to our global heritage. They are situating Latin American at a crossroads."
Zavala calls the Art of the Americas wing a project in process, and she looks forward to bringing her students to see the new Kahlo acquisition so they can learn about the artist's place in history while rethinking the hemisphere.
"This brings Kahlo closer to home for me and my students to study, and the MFA will be able to contextualize this to teach us something new about her," she said. "That's my hope and expectation."
Teitelbaum also said he wants the MFA's collection to include more female artists.
"Our dream was to acquire something by Frida Kahlo, who really was a pathfinder, and a woman with strong political views that animated her heart," the director said. "And this came on the market and everybody knew this it was going to be important to help us invite new audiences into the MFA. It's going to be a jewel in our crown."
Or at least that's the hope. The MFA has been criticized for not having a more robust and diverse Latin American collection in the Art of the Americas wing — and not enough works by women artists.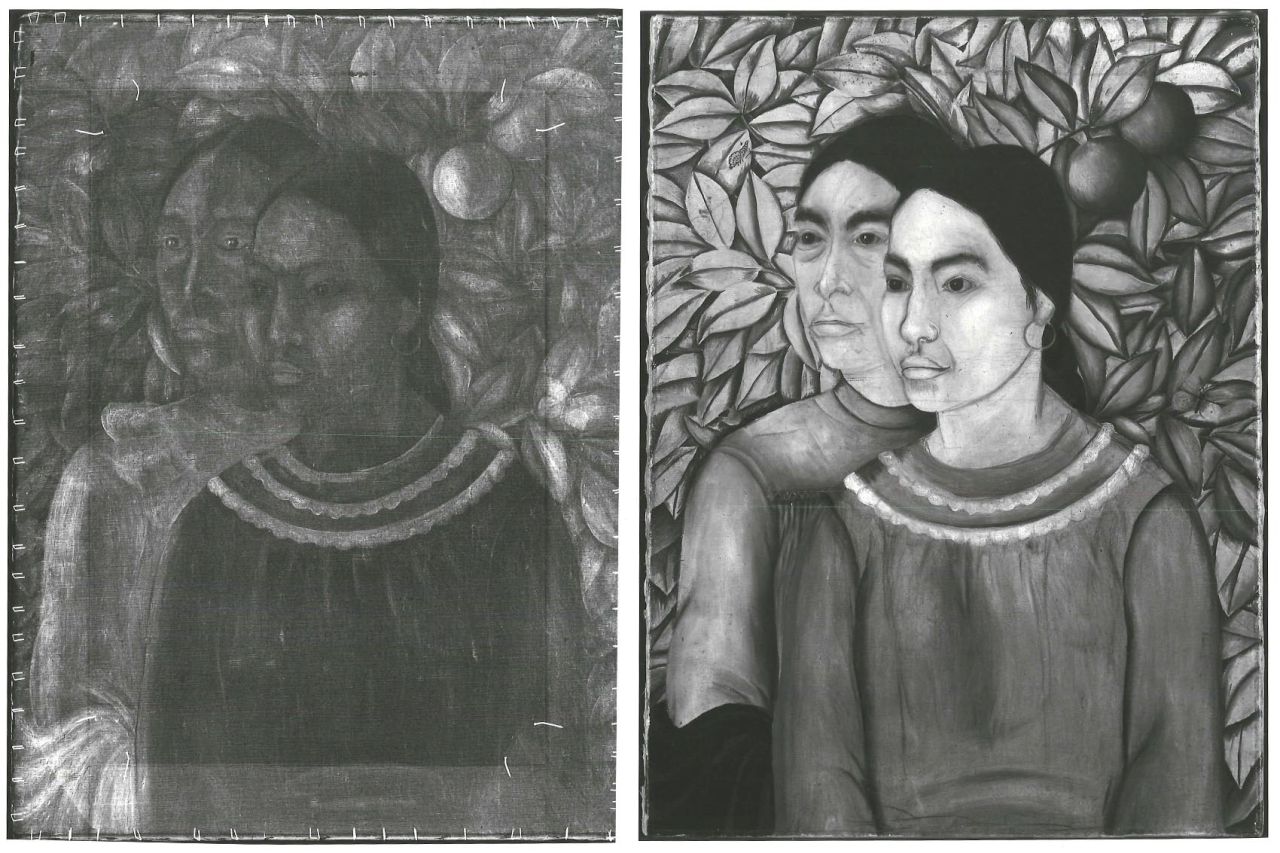 Kahlo's double portrait will be on display Wednesday through March 1. Then it heads back to the conservation lab for further study to see what other stories this one painting can reveal about Kahlo's work and life.
With the help of infrared, MacBeth also said they could see idea sketches underneath the paint. In the above image on the left you can see one maid is wearing an apron which the artist ultimately painted over. This speaks to Kahlo's sympathy for workers and her belief in communist ideals. But that's a story for another day.
Now that Kahlo's double portrait is here in Boston we'll have plenty of time to explore its many narratives. "Dos Mujeres" will be installed permanently in the Art of the Americas wing later this year.
This article was originally published on January 26, 2016.