'An Octoroon' Piles Up Layers Of Lampoonery Like Provocative Face Paint
This article is more than 7 years old.
Branden Jacobs-Jenkins' "An Octoroon" is an audacious race comedy pulled over the bones of an antebellum melodrama written by Dion Boucicault and set on a bankrupt Louisiana plantation. Similarly layered are the old-fashioned scenery — a marching band of painted placards, wings and backdrops — and the characters' identities.
In "An Octoroon," an Obie Award-winner in 2014 seen here in a Boston premiere by Company One and ArtsEmerson (at the Paramount Center through Feb. 27), a black actor plays not only the African-American playwright (meta-theatrically dubbed BJJ) but also, in whiteface, both the wimpy hero and the dastardly villain of Boucicault's similarly titled 1859 hit, "The Octoroon." A white actor appears as the Irishman Boucicault and then, in screaming redface, as a stereotypical Native American complete with feathered headdress and tomahawk. Moreover, the script specifies that a South Asian or indigenous American actor portray two different slaves down on Boucicault's plantation while wearing blackface. Think Jacobs-Jenkins might be riffing on the ridiculousness of equating race with identity — something that hasn't exactly disappeared from American culture along with hoop skirts and slavery?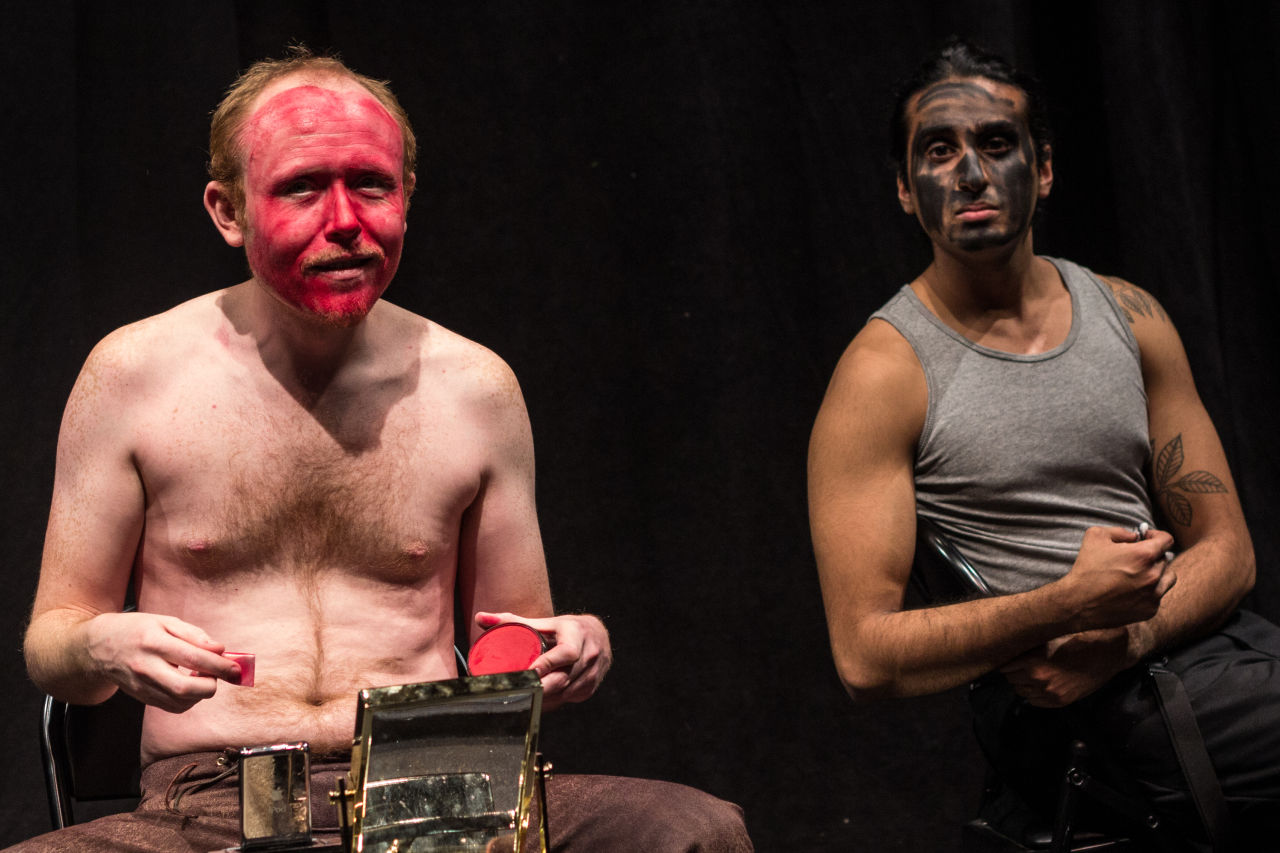 But "An Octoroon," as colorfully helmed by Summer L. Williams, is no polemic. Though overlong, it is discomfitingly hilarious, casually shocking and, most surprisingly, fairly faithful to Boucicault's once-popular, long-disregarded original and its tangled plot of plantation economics, murderous lust and doomed interracial love. Jacobs-Jenkins, introduced to the earlier drama in graduate school, found himself surprised by its theatrical effectiveness, despite the stereotypical characters and blatant, societally sanctioned racism.
One of the subjects of this parody/homage, then, is theater itself, including the medium's use of manipulation and sensation to grab — and possibly indict — an audience. There is a particularly uncomfortable scene set at a slave auction, in which we realize we have been cast as the potential purchasers! And later, when the dramatists debate whether the theater has lost its ability to produce anything "real and dangerous," it proves necessary to introduce a montage of disturbing projections to achieve an effect Boucicault might have conjured by hokier means (including suspenseful music, delivered here on tinny piano).
Certainly the famed actor/playwright/theater manager had a mid-19th century audience on the edge of its seat with his tale of a plantation in financial straits, its new owner in the throes of love for a member of the household whom he cannot wed since she is one-eighth black, and an unscrupulous overseer who will stop at nothing to have the lovely "octoroon girl" for himself.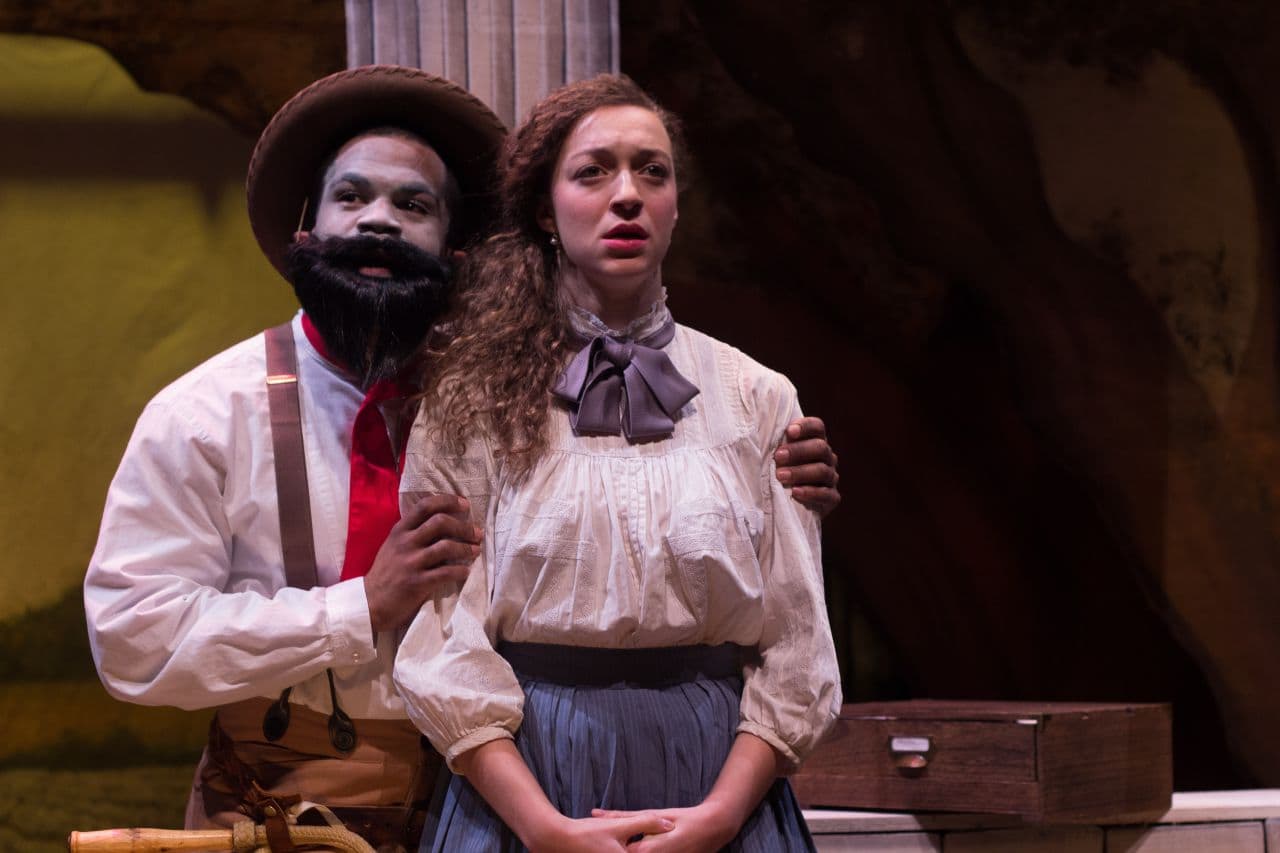 To this heartrending, mustache-stroking mix rife with Louisiana patois and the n-word, Jacobs-Jenkins adds not only his dueling dramatists, alternatively engaged in artistic debate and a preening Ping Pong of profanities, but also a pair of saucy housemaids, Dido and Minnie, who seem to have stepped off a contemporary street corner into somewhat benign slave quarters. (Says Minnie to Dido, as if free choice were an option: "I know we slaves and evurthang, but you are not your job. You gotta take time out of your day to live life for you.") Presiding menacingly, if silently, over all is that old racist Uncle Remus' favorite trickster, Br'er Rabbit, setting (or eavesdropping on) the scenes with a dignified hop and a snap of his blue-gloved fingers.
So OK, irony and lampoonery abound. Brandon Green, though wielding attitude as BJJ, is both a pained and pusillanimous George (the hero) and a Simon Legree of a M'Closky (the villain). For his part, a slinky, surly Brooks Reeves embodies a braggartly Boucicault, proud to have "invented" copyrights and matinees, then morphs into the loyal (if pickled) Native American Wahnotee, painted like a fire hydrant and intoning a mix of "Indian, French and Mexican."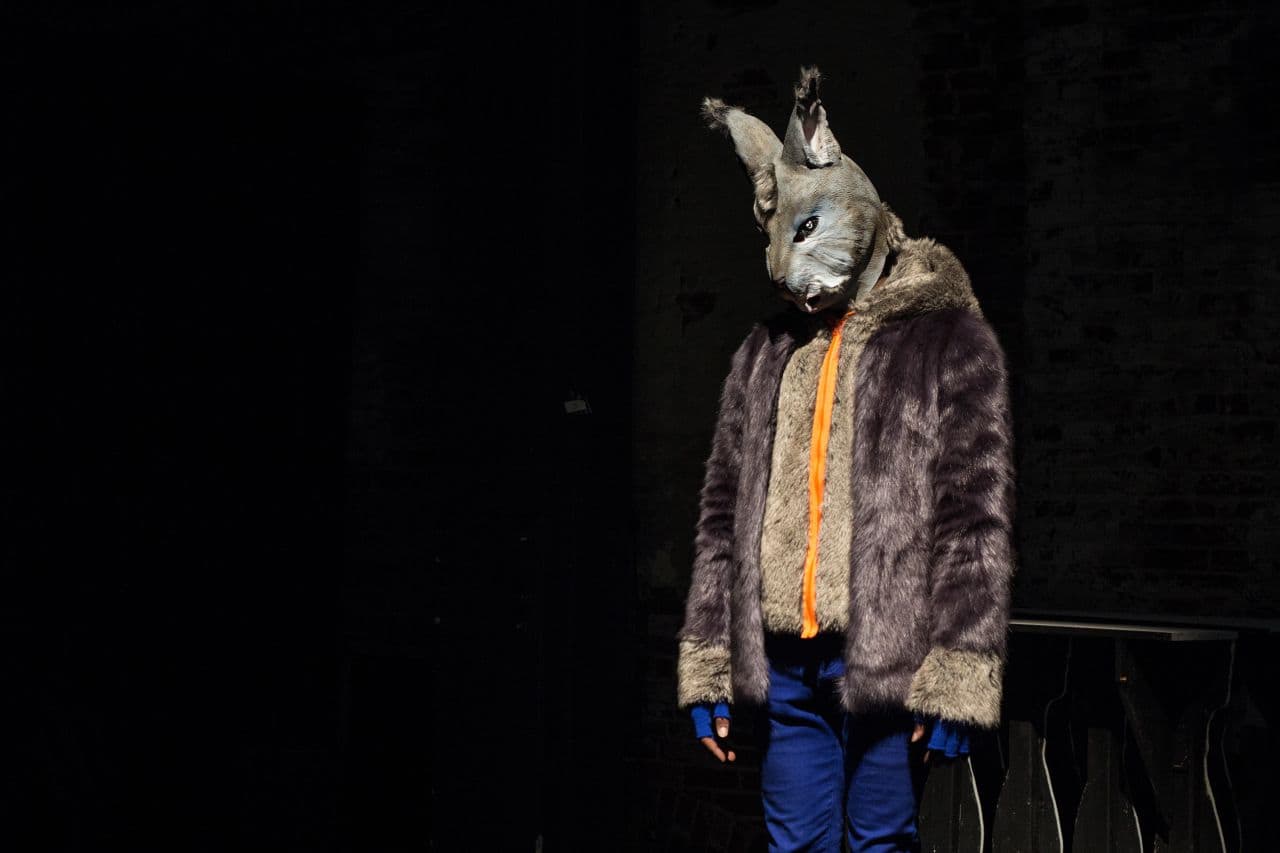 As Dora, the Southern belle who covets George, Bridgette Hayes is all eye-batting vulgarity above her Sherman tank of a crinoline. Harsh Gagoomal, in blackface, jumps between offensive if guilt-inducingly funny stereotypes as an elderly Uncle Tom called Pete and a whiny slave boy called Paul. And as Minnie and Dido, Elle Borders and the terrific Obehi Janice swagger, waggle and jump between 19th and 21st centuries.
But — and this is genius, because it points to the would-be-noble heart of Boucicault's moribund if not quite dead drama — Shawna M. James, as Zoe, the true-blue title character, exudes sincerity, whatever charged emotion or rhetorical twaddle she must deliver. Zoe is a white woman, humbled by but holding to a white perspective, claiming to be irreparably tainted by black blood. In this circus of race and identity grappling toward an ever-elusive resolution, that riddle is harder to scratch away at than the face paint.
---
Carolyn Clay was for many years the theater editor and chief drama critic for the Boston Phoenix. She is a past winner of the George Jean Nathan Award for Dramatic Criticism.