Commentary: The 2016 Race Has Only Just Begun — Winning Delegates Is The Name Of The Game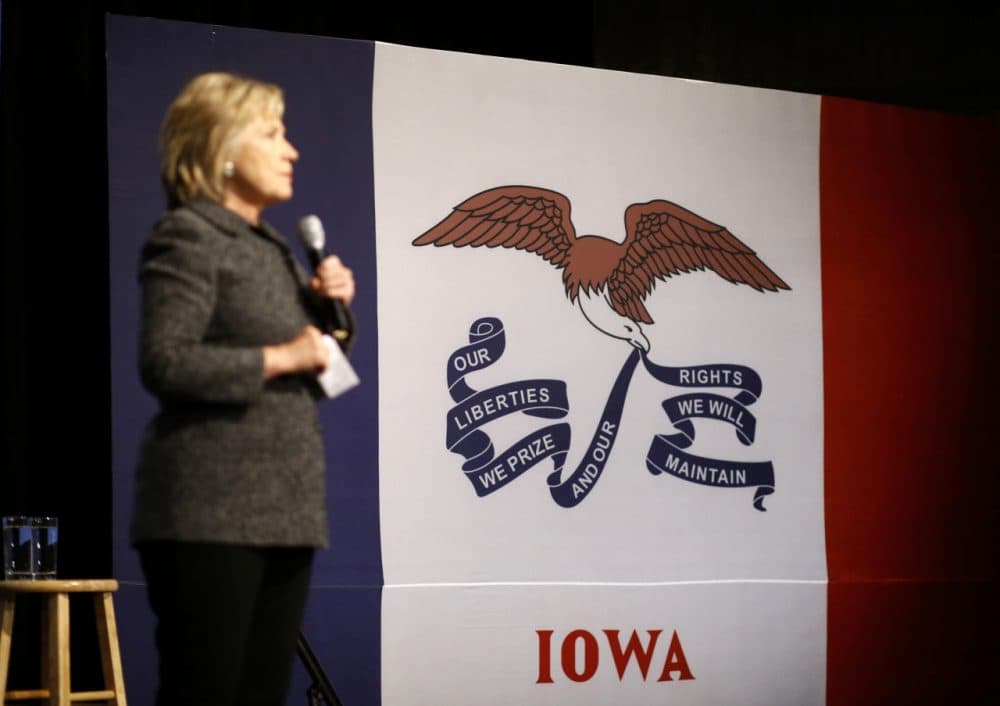 This article is more than 5 years old.
There's an understandable impulse for politically aware people to feel as if some final judgments will have been rendered after Iowa and New Hampshire voters express their preferences.
For some candidates whose motives are self-delusional, that may be true. For Republicans Carly Fiorina and Rick Santorum, Feb. 9 in New Hampshire will almost certainly be their OK Corral, final curtain, the last rodeo. (And that's after Republican Mike Huckabee and Democrat Martin O'Malley called it quits after the Iowa caucuses.) Sen. Rand Paul will be vigorously encouraged to go home to Kentucky to run for re-election, and Gov. Chris Christie will need to retreat to New Jersey to face tax, deficit and storm damage problems, not to mention "Bridgegate" investigations. And Jeb Bush has the funds to go beyond New Hampshire, but does he have the voters to justify staying in the race much longer?
The meaning of the first two contests, while consuming days and months of analysis, are brought into sharper focus when delegate counts are considered. The combined delegate totals for Iowa and New Hampshire are 84 for the Democrats and 53 for Republicans, who have fewer delegates overall. To win, a Democrat must capture 2,383 delegates of the 4,764 at the national convention in Philadelphia; a victorious Republican needs 1,144 delegates at the Republican convention in Cleveland.
Once New Hampshire votes, the long, tough slog begins. First, the candidates head to South Carolina and Nevada; combined, the states offer 102 Democratic delegates and 80 Republican.
Next is Super Tuesday, or the SEC primary, on March 1 when only the well-heeled will be able to play. While it's dominated by seven southern states — Alabama, Arkansas, Georgia, Oklahoma, Tennessee, Texas and Virginia — it also includes Massachusetts, Vermont, Alaska, Colorado, Minnesota, North Dakota and Wyoming. On that day alone a total of 1,064 Democratic delegates will be at stake. Republicans will choose 688 delegates.
With very few, if any, overlapping media markets, TV dollars will be essential on Super Tuesday. One thing I learned as a media consultant in two presidential campaigns is that most voters don't pay attention to presidential politics until the circus comes to town. Candidates facing voters in those "new" states have to start from scratch in laying out their biographies and messages. That requires major TV advertising buys. Easily several millions of dollars will be needed for Super Tuesday, to be spent by the campaigns and their super PACs. (At this point, Donald Trump does not have a super PAC.)
Campaigns built for the long haul will be rewarded in the end. Whether Trump was smart or reckless in ducking a debate on Fox News last week -- because host Megyn Kelly previously asked him "a not very nice question" -- will be justifiably a footnote in the history of this campaign, not a multi-day story as it was last week. Other issue clashes, debates and ads yet unseen, will be larger influences.
Then we have Super Delegates (the Republicans call theirs "Party Leaders"). Think of them as the Nanny Delegates who step in and, if needed, steer their party from nominating someone who will surely lose and bring down nearly all of the party's candidates in the fall. The Democrats haven't relied on Super Delegates to overturn primary results since they were created after the disastrous 1972 Sen. George McGovern campaign, which lost all but two places -- Massachusetts and the District of Columbia. But hundreds of unelected Super Delegates can still vote.
This time, because she's long been the choice of party regulars, former Secretary of State Hillary Clinton has a huge lead among Super Delegates. They are members of the U.S. House and Senate, governors, Democratic National Committee members and "distinguished party leaders."  According to a survey done by The Associated Press in November, among the 579 Super Delegates, 359 said they will back Clinton, while only eight said they will be for Vermont Sen. Bernie Sanders (and two were for former Maryland Gov. O'Malley). Two hundred and 10 were uncommitted. Of course, Clinton enjoyed a similar lead before the 2008 convention, having 234 Super Delegates compared to 156 for then-Sen. Barack Obama, who went on to win the convention and general election.
Republicans don't have Super Delegates, but 123 members of the Republican National Committee can vote for whomever they choose at the national convention. It's safe to assume that a sizable number of the RNC Nannies will be appalled by the prospect of Trump as their nominee; many would likewise find Sen. Ted Cruz unacceptable.
In 2008 Clinton went to the Democratic National Convention with 1896.5 delegates and lost to Obama's 2,229.5. Many believe, and I'm among them, that she lost because she barely competed in caucus states, allowing Obama to clean up in those. She won't make that mistake again; many of Obama's organizers are working for her. But she's learned the hard way, that the Democratic Party contains many very liberal members, who liked the idea of nominating an African-American. This time, many liberals feel that it is time to give Sanders' view of politics, especially on income disparity and the outsize influence of Wall Street in Washington, a full and forceful hearing.
For Sanders, drawing big crowds at rallies and surprising a long-established household name have been impressive accomplishments.  Now he has to convert that success into armies of workers who can deliver a majority, or 2,383 delegates, to win the Democratic National Convention in July.
Dan Payne is a Democratic political analyst and regular contributor to WBUR Politicker.