New Hampshire Is Next: Here Are 5 Things To Know
This article is more than 7 years old.
With the Iowa caucuses now behind us, all eyes turn to next Tuesday's New Hampshire primary.
The polls in the first-in-the-nation primary have been pretty stable in recent weeks, in terms of the story they are telling and the amount of variation between polls. Donald Trump has remained way ahead of a rotating cast of second- and third-place runners in the Republican race, and his support level has been stable. And Vermont Sen. Bernie Sanders holds a sizable and apparently widening lead on the Democratic side.
But the New Hampshire primary is famous for things going bananas at the last minute, so a clear race now is very different than a foregone conclusion. And with a come-from-behind win for Republican Ted Cruz in Iowa Monday night, anything could still happen.
Here is what to know about New Hampshire as the final week begins.
1. New Hampshire polling often goes nuts in the week before voting. If the primary were held today, the polls point to comfortable wins by Sanders and Trump. But it's far from over, and Monday night's results in Iowa seem to have introduced more uncertainty. Trump's surprise loss in Iowa certainly dents his image of constant triumph, and leaves the door open for any number of last minute shifts. It's happened before. In 2004, John Kerry went from 11 points down to 9 points up in just a week and won by 12. John McCain zoomed ahead at the last minute in 2008, echoing a similar burst in the 2000 cycle. And after months of holding a lead in the polls over Barack Obama, Hillary Clinton saw Obama appear to surge past her, though she eked out a 3-point win in the end. So fasten your seat belts for the final plunge. It's not over yet.
2. Iowa casts doubt on Trump supporters' reliability. For months now, Donald Trump has been pulling thousands of people out to rallies all across the early states. But throughout the cycle, his supporters have been those that the polls and models suggest are least likely to vote. So the persistent question is whether, when the time came to vote, Trump's voters would actually show up in the numbers projected in the polls.
Monday night's Iowa results suggest his numbers may be less than solid. It's hard to say for sure whether Iowa is predictive, since the caucuses have a history in recent years of propelling very conservative candidates to surprise victories. So Iowa may be an outlier and Trump may recover. But the Trump camp will take no comfort from the fact they lost a state where nearly all of the late polls showed him ahead.
3. Cruz's win may not be a sign of things to come. Trump's closing message to a crowd in Council Bluffs, Iowa, was peak Trump: brash and a little insulting of his audience. "You have a lousy record -- 16 years you haven't picked a winner," he told the rally. "Please pick a winner this time."
He has a point. In recent years, Iowa Republicans have sent mostly unelectable candidates to victory in the state, who went on to lose the nomination to more moderate competitors. In 2012, Iowans vaulted Rick Santorum to the head of the pack. In 2008, they picked Mike Huckabee. While each rolled up some wins in southern states, neither had broad enough appeal to win out.
Cruz will need to broaden his appeal to achieve a different outcome.
4. New Hampshire may not end up meaning much on the Democratic side. New Hampshire and Iowa look like Sanders' best states in the early going. In Iowa, Clinton just barely edged Sanders, which may tempt the viewer to see a long and closely contested race ahead. Sanders has held a small but steady lead in New Hampshire since September, and seems to be building on it in recent weeks. But both primaries tend to be dominated by white, liberal voters, which is Sanders' best demographic group. Sanders' Achilles heel has always been his support among nonwhite voters, as this Washington Post graphic shows. As the primary moves into more diverse states, he will need to expand his reach, or will stand little chance of making the race competitive in the long term.

5. Keep an eye on the independent voters. A key unknown factor in New Hampshire is which ballot independent (i.e., "undeclared") voters decide to draw. Undeclared voters in New Hampshire often vote quite differently from partisans, and have shown their propensity to flock back and forth across party lines in recent New Hampshire history. Between 2000 and 2008, around a third changed their ballot choice, mostly moving into the Democratic primary. In the end, 42 percent of Democratic primary participants were undeclared, while more Republican ballots came from registered partisans. Fast forward to this cycle, and a large chunk of independent voters hadn't picked a primary even last week. Which way they go could make a big difference for some candidates who are counting on independents' support.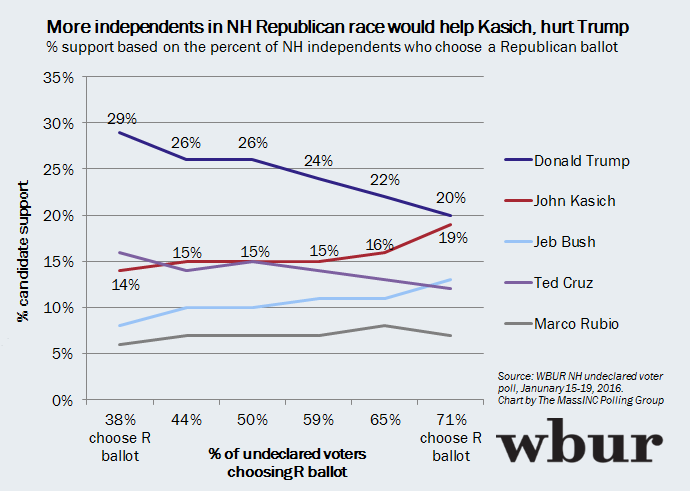 Steve Koczela is president of The MassINC Polling Group and a regular contributor to WBUR Politicker. He tweets at @skoczela.