After Iowa Caucuses, Clinton And Sanders Are Back On The Campaign Trail In N.H.
Resume
The major presidential candidates are campaigning across New Hampshire on Wednesday, continuing their sprint toward primary day next Tuesday.
Following her razor-thin victory in the Iowa caucuses, Democrat Hillary Clinton spent Tuesday rallying loyal Democrats. Her challenger, Bernie Sanders, was also back on the campaign trail — sounding a lot like an Iowa winner as well.
Clinton caught the red-eye from Iowa, landing in New Hampshire early Tuesday morning. Only then did she learn that she had become the first woman ever to win the Iowa caucuses — but by the slimmest of margins. When she appeared at Nashua Community College, her husband Bill Clinton acknowledged the long, tense night.
"Well, we're here, and we're awake," Bill Clinton said.
Clinton's Iowa victory may have been razor-thin -- but that's a lot better than the third place finish she suffered in 2008. And by Tuesday morning in New Hampshire, she was ready to celebrate it.
"I am so thrilled that I'm coming to New Hampshire after winning Iowa! I've won there, I've lost there — it's a lot better to win," she said to cheers.
Clinton now faces a bigger challenge in New Hampshire, where Sanders, from neighboring Vermont, has a big lead in the polls. Clinton referred to Sanders as her "esteemed opponent," and directed most of her fire at the Republicans, making a case that she has the best experience and the pragmatic approach to defeat them next November.
"Make no mistake, we are in a fight to the finish about whether or not we are going to build on the progress we have made or watch it get ripped away. New Hampshire is going to have to decide who can go toe-to-toe with the Republicans to make sure they don't wreck us again!" she said to cheers.
It was by far Clinton's most fiery speech in New Hampshire in recent months. And it impressed Laurie Wenger, from Amherst, a Democrat and long-time Clinton supporter.
"She is so well-rounded and so thorough, so I think she really has the best command of domestic [issues] — whether it's health care, education — and the foreign theater as well."
Many here agreed with that, but some, like Lynn Post, an independent from Hollis, admitted feeling some disappointment about Iowa.
"I think she did pretty well," Post said. "I would like to have seen another few percentage points for more of a statement, because Bernie is going to be strong here."
Bernie Sanders chose the stately Colonial Theater in Keene for his New Hampshire landing.
"You know, it sounds to me like you're ready for a political revolution!" Sanders said to cheers from the crowd.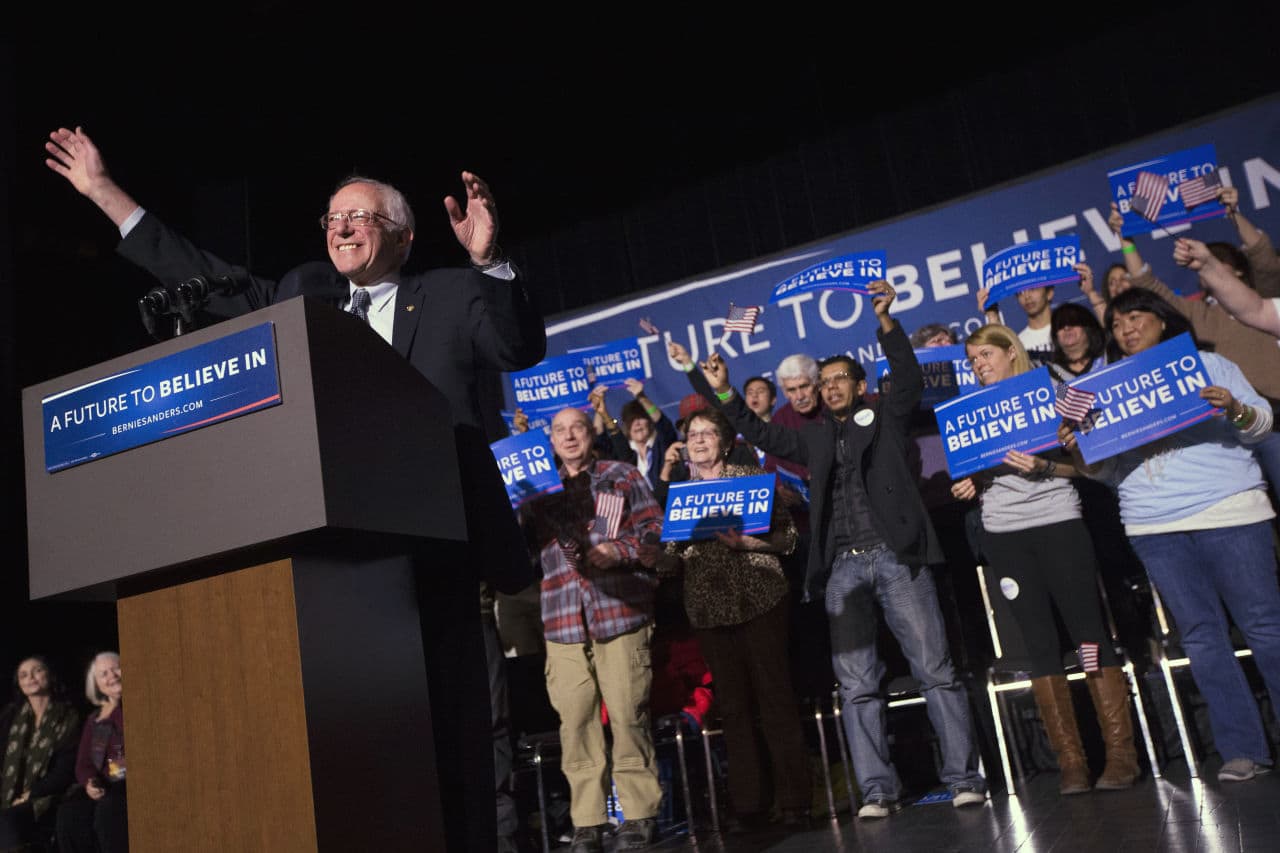 The theater was filled with rowdy supporters, who at one point sang a brief verse of the Beatles song "Revolution." Sanders might have preferred an outright win in Iowa — but he cast what was a virtual tie as just as good.
"Last night in Iowa, we took on the most powerful political organization in this country. Last night, we came back from a 50-point deficit in the polls. And last night, we began the political revolution not just in Iowa, not just in New Hampshire, but all over this country!" he said.
According to his campaign, about a $1 million worth of donations poured in immediately following Sanders' speech in Iowa late Monday night. The campaign still has $28 million on hand to firm up its advantage in New Hampshire and continue its push beyond the Granite State.
On Tuesday, many of Sanders' supporters — like 58-year-old Rich Roth from Keene — were energized and committed to his message.
"Bernie is talking about the straight up, to me, No. 1 [issue], which is: Socio-economic issues cannot be ignored any more," Roth said. "My father retired at the age of 55 with a full pension — and he deserved that. And I'm going to work until 70, and then retire with my fingers crossed."
Sanders proved in Iowa that his grassroots-funded campaign is viable not only in a neighboring state like New Hampshire — but also a thousand miles away in the American heartland.
Over the next six days, he and Clinton will have opportunities to sharpen their differences. On Wednesday, they'll meet at a CNN-sponsored town hall forum in Derry. On Thursday night, they'll meet again for a debate at St. Anselm College in Manchester.
This segment aired on February 3, 2016.