To New Hampshire Voters, Meetings With Candidates Matter
04:09
Play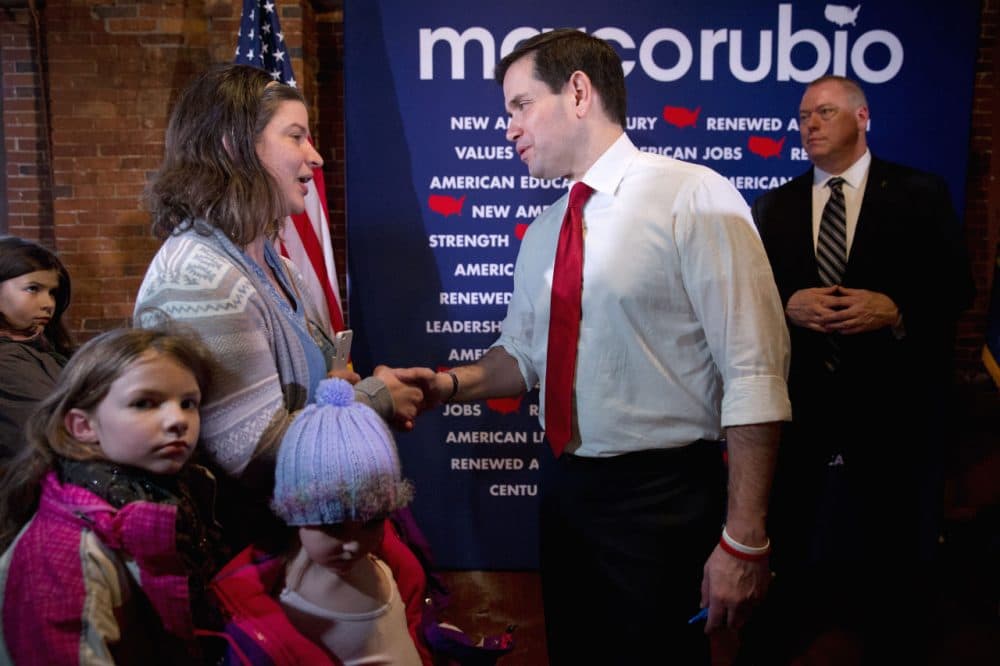 This article is more than 5 years old.
The presidential field is shrinking ahead of the New Hampshire primary on Tuesday.
Former U.S. Sen. Rick Santorum, Mitt Romney's main challenger for the nomination four years ago, has bowed out, endorsing U.S. Sen. Marco Rubio, of Florida. His decision came hours after Sen. Rand Paul ended his campaign.
New Hampshire front-runner Donald Trump was campaigning in Arkansas Wednesday, while his opponents were criss-crossing New Hampshire in an effort to win over voters.
For New Hampshire voters, the town halls and smaller meetings are a valuable part of the decision process.
About 250 people, many young families, packed the historic Belknap Mill in Laconia to hear Rubio. Linda Reynolds, of Gilford, was among them, drawn by the increased attention Rubio has received after his third place finish in Iowa.
"There's a certain synergy in the air, energy," Reynolds said. "Just wanted to be part of it."
Reynolds, an independent voter, said she's still undecided and wanted to look Rubio in the eye.
This was the very first candidate event for Michael Fleming, of Ashley, a Republican veteran going to college. He came to ask Rubio a question about the Department of Veterans Affairs.
"I'm from the Midwest and was part of one of the worst VA systems ever seen," Fleming told Rubio. "Fortunately, New Hampshire has a wonderful one. And it just seems as if people are forgotten about. After the big push is done, what happens to us?"
"You should be able to take your VA benefits to any hospital or any doctor you want," Rubio replied. "The benefit doesn't belong to the government; it belongs to you. And that's why I believe in choice and why when I'm president, you're going to be able to take that benefit anywhere."
In the rain outside the event afterward, Fleming said he liked Rubio's answer.
"He swayed my vote," Fleming said.
Until he heard Rubio, Fleming had also been considering another Republican.
"I was thinking of Trump, but I don't think he would support the military as strong as Marco would," Fleming said.
At a law firm in Manchester, attorneys and clients got to ask Ohio Gov. John Kasich questions. But in New Hampshire, the public has a way of getting into these events, too.
Mia Langley, a nurse and an independent voter trying to choose between Rubio and Kasich, found out Kasich was there, and asked if she could come in. She wanted to ask Kasich about opiates.
"We've seen about 400 people die in the past year, and I was just wondering what is your plan to combat this problem?" Langley asked.
"We went down there, and we shut down pill mills," Kasich replied. "You know what a pill mill is? We shut them down. We also took away the licenses away from these 'doctors,' and I strengthened our medical board. This was a thing that needed to be fixed as well, because I think our medical board had gone too easy on some physicians that were not acting responsibly."
Hundreds of people packed an elementary school auditorium in Nashua last night to hear U.S. Sen. Ted Cruz, of Texas, answer questions. One young man asked Cruz the question that had dogged him all day. Billionaire Donald Trump asked for the results in Iowa to be annulled, accusing Cruz aides of tweeting that neurosurgeon Ben Carson had pulled out of race before the vote began. Carson had not withdrawn.
"Tell us exactly what happened in Iowa with the Ben Carson situation, because I'm getting all sorts of stuff on the news that's very confusing," the man implored. "So, please, in detail, explain what happened."
"I'm happy to. It's very simple to explain," Cruz replied. "So on Monday, about an hour before the caucuses, CNN put out a report that said Ben Carson is not going from Iowa to New Hampshire. He's not going on to South Carolina. Instead, he is going home."
All his team did, Cruz said, was pass on that news story.
But it's not always about looking the candidates in the eye and getting answers to your questions. Consider Dani Dodvojsky, an independent voter and Cruz supporter, who had already seen Cruz. She was there was on Wednesday night with friends.
"I'm a junkie," Dodvojsky said. "We all are."
For Dodvojsky and her friends, being at the candidate event was a social occasion.
This article was originally published on February 04, 2016.
This segment aired on February 4, 2016.