In New Hampshire, Voter Frustration Spans The Political Spectrum
Play
This article is more than 7 years old.
There's been much talk of the anger expressed by voters in a presidential campaign that many think is unlike any other in recent memory.
As the campaign moves toward voting Tuesday in the first in the nation presidential primary, the front-runners in New Hampshire, Democrat Bernie Sanders and Republican Donald Trump, have been stoking some of that anger and anxiety. Trump has been talking about unsafe borders and a lousy economy; Sanders has been complaining about Wall Street and the "one percent" at the top running the country for themselves. All the while, both candidates also acknowledge their own anger.
In New Hampshire, we met a couple backing Sanders and a Trump supporter, speaking in their homes about what's driving their decision-making. They have things in common: They're independent voters over 50 with grown kids out of the house. They also own dogs and self-describe as middle class but say they're only getting by. And as it turns out, they're not so much angry as anxious and, for different reasons, feeling insecure.
---
'I'm Afraid Of Where America's Going'
Chuck and Katherine Stuart live in the Lakes Region town of Meredith, New Hampshire, in a tidy house with a Sanders sign at the end of the driveway that might tweak their Republican neighbors, Chuck says.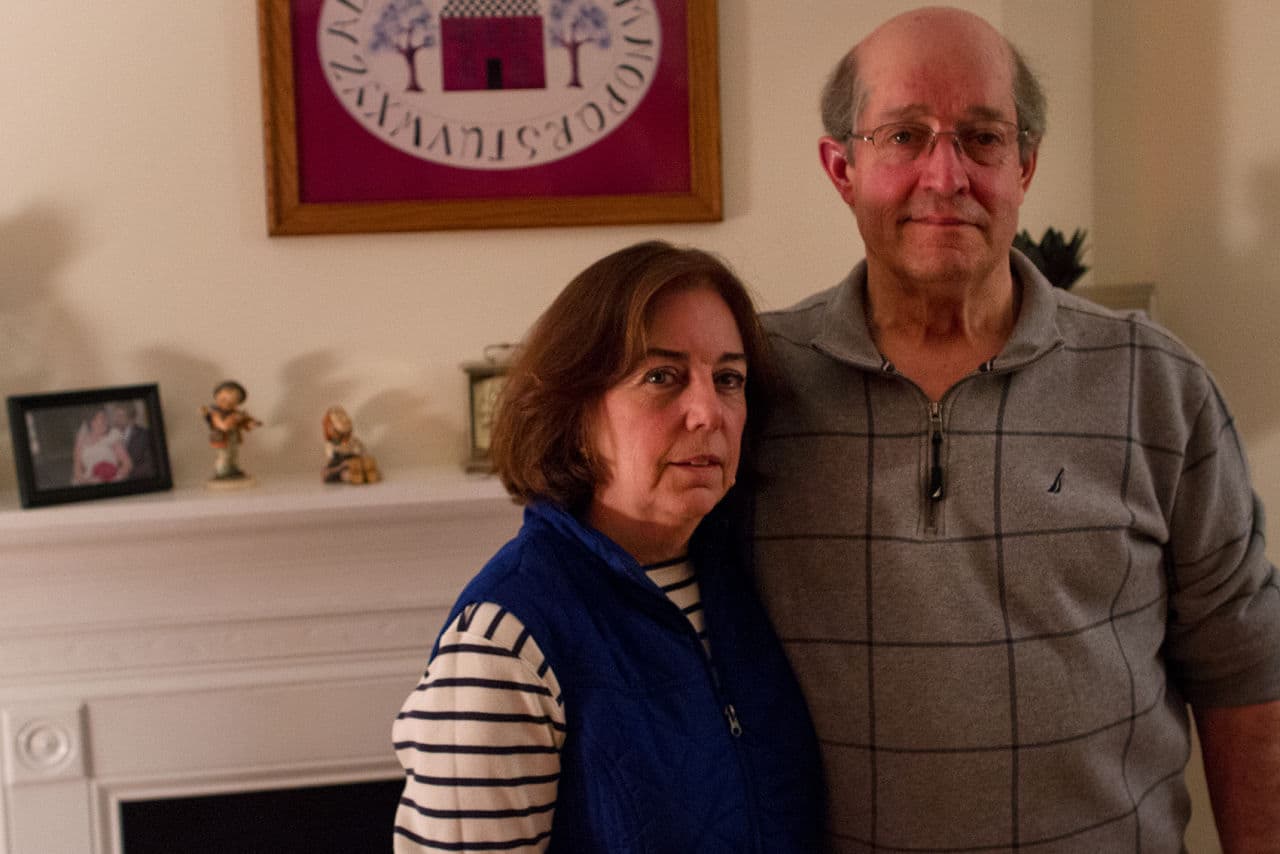 "We're definitely middle class," Chuck explained to us while prepping a few pizzas for dinner. "It seems like the lower end of the middle class as time goes on, because wages aren't increasing the way they were, so that it's a struggle, and I think that's one of the primary issues for this election, and for all elections in the near future, is improving the economy so that people can succeed."
Chuck's wife Katherine agrees that part of Sanders' appeal comes from his focus on lifting up the middle class.
"Too many people are in trouble, and I'm afraid of where America's going," she said. "I'm not sure we can, we can't sustain the way we're going, and I don't know what's going to happen. I'm scared."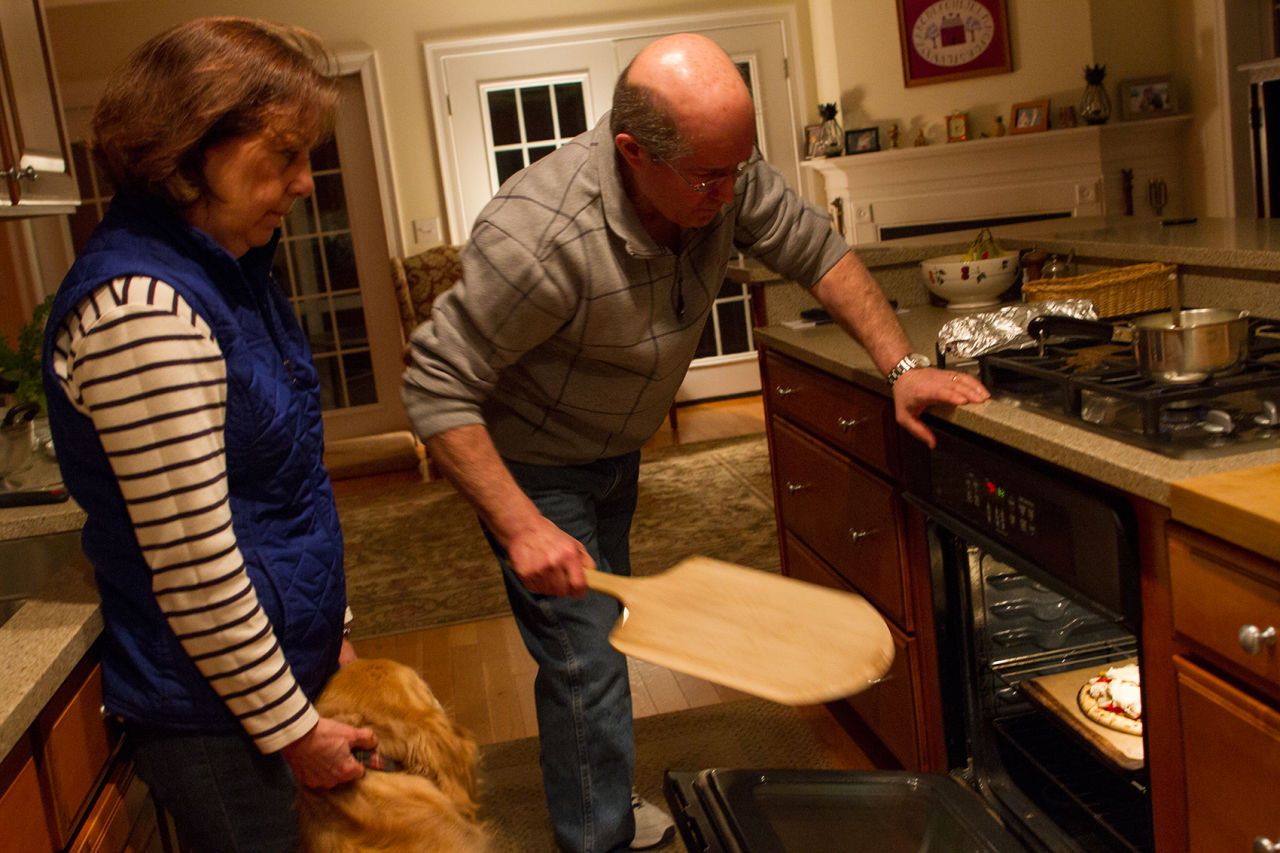 When asked how Sanders addresses their concerns, Chuck said that he's supporting Sanders because he's "stirring the pot."
"If you look at the rest of the candidates, they're variations on the same theme," Chuck said. "I think he's on the edge, pushing the envelope, and I think that's what needs to happen."
'I'm Not Very Happy With The Country Now, The Way We're Going'
Doug Jones has lived and worked his entire life in the adjacent towns of Boscawen and Penacook, New Hampshire, just north of Concord, and he proudly traces his family back to 17th century New England.
"I'm not very happy with the country now, the way we're going," Jones said, explaining that he's frustrated and is tossing his support to Trump.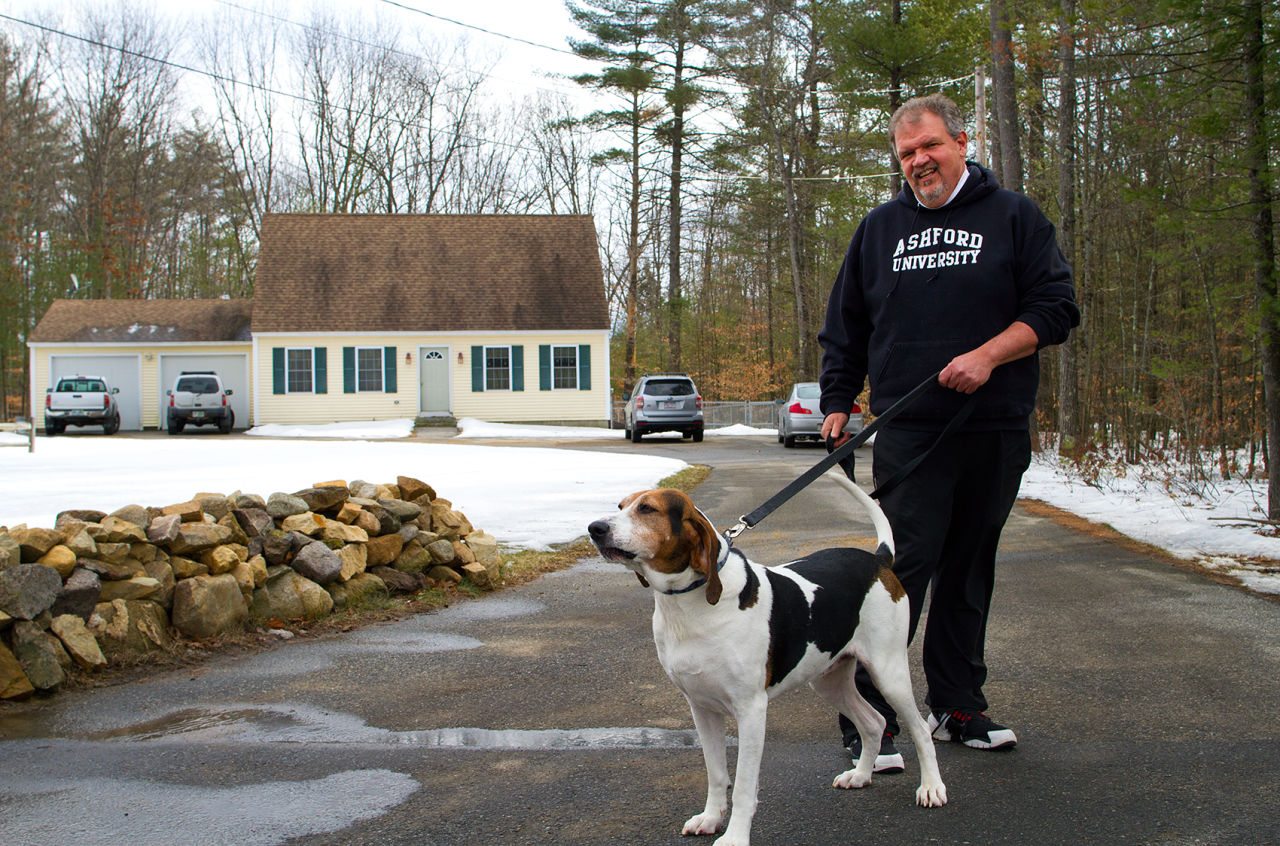 "It seems like our culture is being, uh, phased out," Jones said. "It just seems that our freedoms are starting to become erased. I mean, uh, we can't even speak our minds anymore without being called a racist — if you disagree with the president, you're a racist. Um, that's how a lot of us feel. You know, it's just the simple 'pc' stuff."
Jones and his wife live in a small Cape-style house with a stone wall lining the drive way. There are a couple of antique prints of George Washington on the walls, and on a closet door, there's a Christmas card from Trump.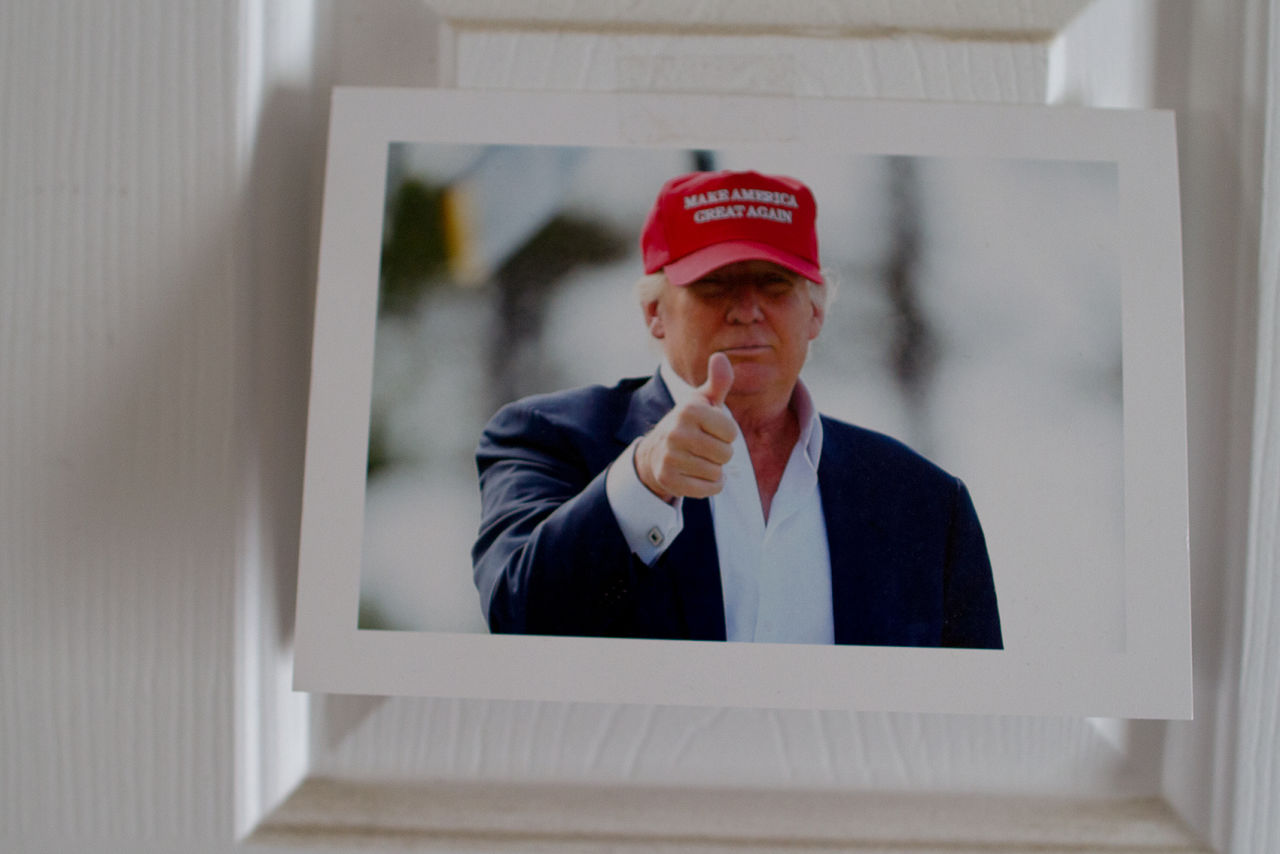 After working at a nursing home facility for 32 years as a food manager, Jones retired in 2008 and later went back to school to get his bachelor's degree. He's looking for work again to provide a little more financial security and likes the idea that as a business person, Trump has created jobs.
But Jones says his support for Trump goes even deeper.
"He [Trump] was saying things that I was hearing with my friends and stuff, that we weren't hearing from other politicians... like securing the border, like, uh, negotiating better deals that the president wasn't doing a very good job at. He opens a number of subjects up that no one else was talking about," Jones said. "It just seems that he won't take anything from anybody and I like a tough guy."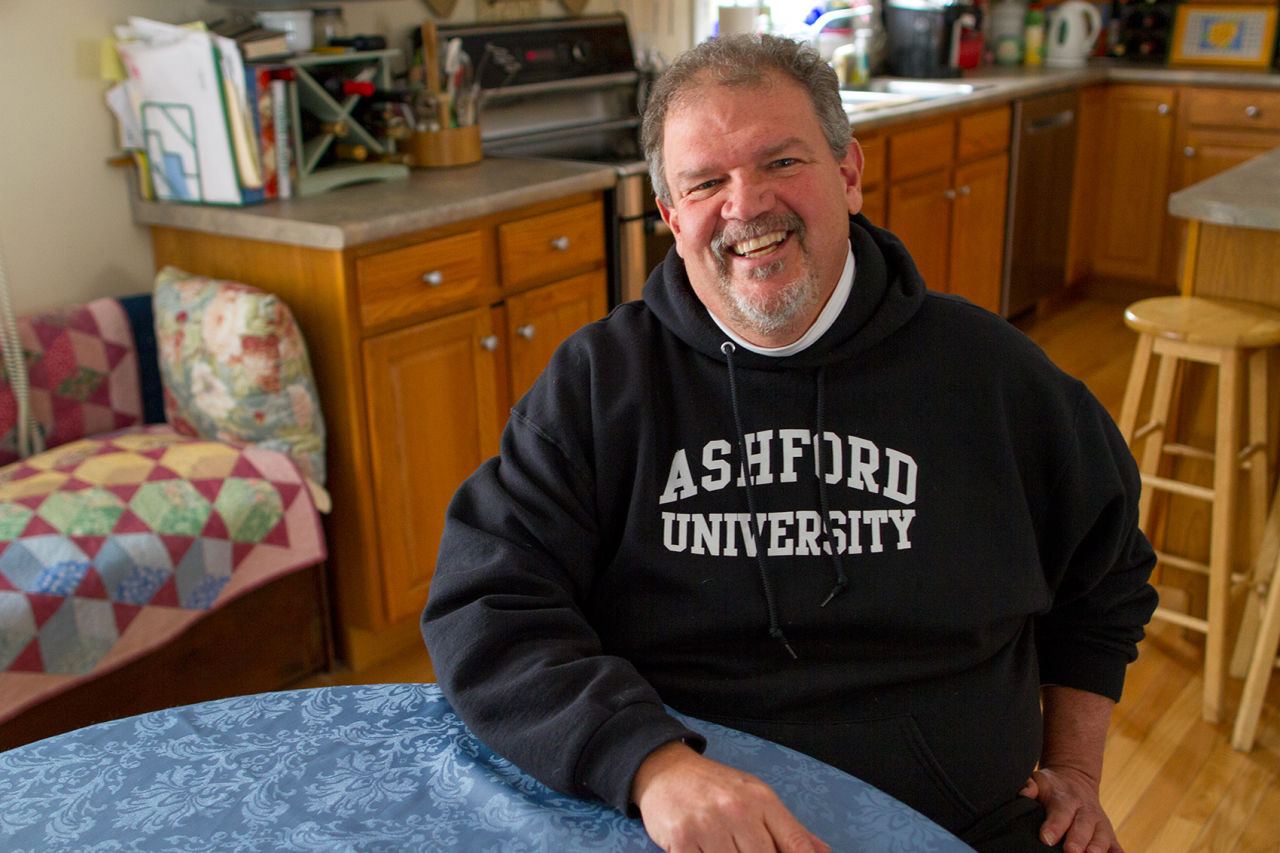 Frustration Spans The Political Spectrum
Susan Tracy is a Democratic political analyst and president of the Boston-based consultant firm The Strategy Group. Tracy says she's not surprised to hear both Trump and Sanders supporters citing frustration as a key factor in choosing their respective candidates.
"Yea, I mean I think the irony is they are very similar, just from different sides of the political spectrum," she said.
The commonalities between some Trump and Sanders voters, Tracy says, is striking.
"I think you have frustrated voters, I feel the irony is there's this gridlock in Washington and both sides of the political spectrum I think feel really alienated that their voice isn't heard, their issues aren't being heard and they are gravitating to these two candidates who really speak to them."
Sanders supporter Katherine Stuart would agree.
"I think Bernie Sanders and Trump are both very popular, because they are doing something different, saying something different," she said. "People want change, they want something different."
But, for the most part, that is where the commonalities end.
When asked if they might vote for Trump should Sanders fail to become the democratic nominee, Chuck and Katherine Stuart offered a quick, "No."
And, when asked the same question — could he vote for Sanders if Trump fails to make it through — Doug Jones just shook his head in the same negative direction.
This segment aired on February 4, 2016.