Justice Francis Spina Of Mass. High Court To Retire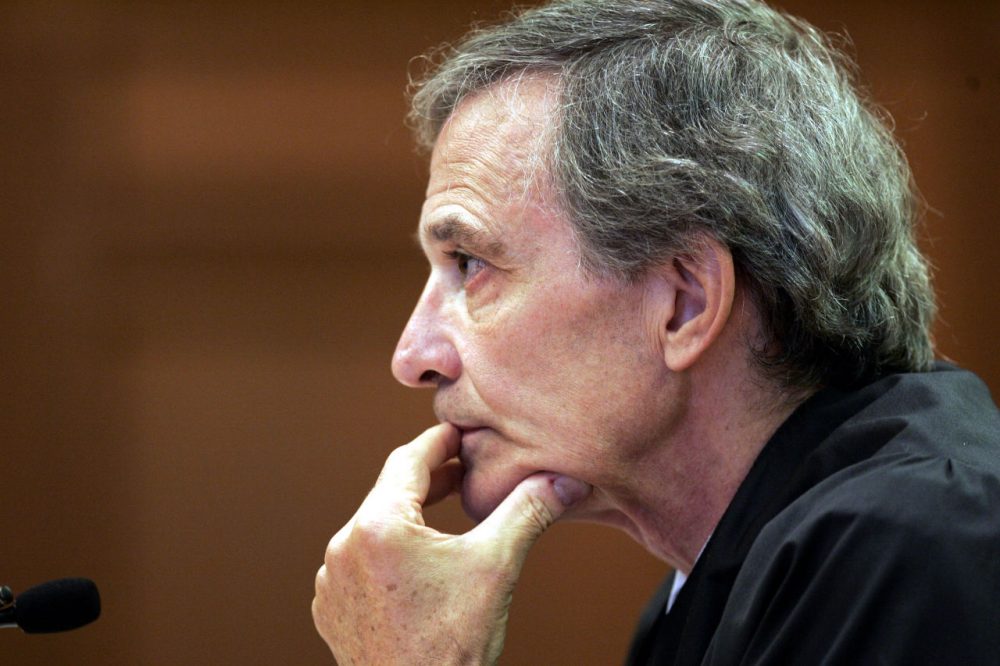 This article is more than 4 years old.
Supreme Judicial Court Justice Francis X. Spina on Friday became the second justice in days to announce his retirement from the state's highest court.
Spina, who has been on the bench since 1999, said he will leave the court in August, three months before he reaches 70, the state's mandatory retirement age for judges. On Wednesday, Justice Robert Cordy announced his retirement, also in August.
Their departures will give Republican Gov. Charlie Baker the opportunity to make his first nominations to the seven-member high court. Justices Margot Botsford and Geraldine Hines will reach the mandatory retirement age next year.
"It is going to be incredibly important for us to work very hard to promote the idea that we want to appoint terrific people, very strong legal minds, people who are incredibly well-respected by the legal community, folks who have a track record of being able and willing to do the work," Baker told reporters Friday.
Appointed by the late former Gov. Paul Cellucci, Spina was one of three justices who wrote separate dissents in the court's historic 2003 ruling making Massachusetts the first state in the nation to legalize gay marriage.
"What is at stake in this case is not the unequal treatment of individuals or whether individual rights have been impermissibly burdened, but the power of the Legislature to effectuate social change without interference from the courts ... The power to regulate marriage lies with the Legislature, not the judiciary," Spina wrote.
In 2005, Spina wrote the court's unanimous opinion finding that most statements given to police may not be used at trial unless the witness can be cross-examined. The ruling was criticized by advocates for victims of domestic violence, who said victims are often afraid to testify against their abusers.
In the ruling, Spina wrote that victims who make statements to police must be available for cross-examination because the Sixth Amendment guarantees defendants the right to confront their accusers.
Earlier in his career, Spina provided legal services to residents of western Massachusetts, including indigent people in landlord-tenant issues and welfare rights cases. He also worked as a prosecutor in the Berkshire County District Attorney's Office.
Spina also served as a Superior Court judge and on the Massachusetts Appeals Court.
In a press release announcing his retirement, the court said Spina plans to spend more time with his family and play piano in an amateur chamber music group in the Berkshires.
This article was originally published on February 05, 2016.