How Conservators Are Saving A Historic Mural At The Boston Public Library
05:59
Play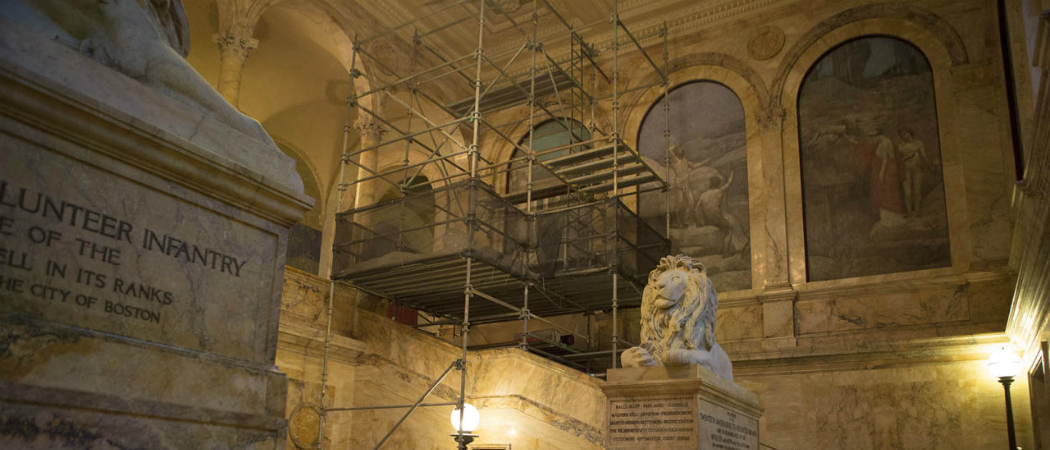 This article is more than 5 years old.
For more than a century, people who have walked into the Boston Public Library's central library across from Copley Square and then headed up the grand, marble staircase that cuts between two majestic, stone lions have been struck by eight, large-scale murals depicting academic disciplines.
But one of those 19th-century French murals had become extremely damaged, requiring a team of top conservation experts to rescue it.
On a recent visit, BPL exhibitions and outreach associate Meghan Weeks described the pastel-hued philosophy panel: "Two robed figures — Athenian figures, if you will — backed by the Acropolis, which is rendered in very light relief at the top right-hand portion of the panel," she said, "and they're having a debate, a conversation."
Weeks remembered how the top right corner of the 120-year-old painting became her version of a nightmare. It was late in 2014.
"I noticed a strange patch of light hitting the top right-hand side of the canvas," she recalled. "That light turned out to be a little bit of dust, and that dust had collected on a bulge of sorts."
A bulge on an artwork is not something an art steward ever wants. Let's just say panic ensued.
"These are the city of Boston's works, so there's that moment of terror when you see that these masterpieces are in jeopardy," Weeks admitted. "I was certainly completely freaked when I saw it."
She freaked because the painting is part of a series by the most highly regarded 19th-century muralist in France: Pierre Puvis de Chavannes. She alerted her higher-ups and immediately picked up the phone to call a top art expert who happens to be local: Gianfranco Pocobene, head of conservation at Boston's Isabella Stewart Gardner Museum.
"It was very alarming," Pocobene remembered. "We immediately mobilized and put up some temporary scaffolding to inspect the entire surface. And we discovered that in fact somewhere between 75-80 percent of the mural had detached from the plaster."
Turns out moisture from an elevator shaft located behind the mural degraded metal supports and plaster that helped hold the mural in place. Pocobene had never seen this before, so he reached out to his mentor Ian Hodkinson, who's a professor emeritus at Queen's University in Ontario and has been restoring murals for 50 years.
"We've done some tests right at the bottom of the mural and found that with only slight physical movement, it shatters," Hodkinson told me, with a glimmer in his eye. He clearly welcomed the challenge.
Pocobene and Hodkinson had to figure out how to gently separate the art from the wall for repair. The conservators lightly tapped around the mural to show me what the detached plaster sounds like.
The philosophy panel looks like it was painted on the wall, but Weeks, who's overseeing the restoration project, said the artist created the series using oils on linen canvases in France.
BPL architect Charles Follen McKim commissioned the work in 1893 and provided Puvis with detailed specs of the space, as well as a sample of the yellow, Sienna marble that adorns the ornate staircase.
"Puvis was 72 years old when he received this mural commission. He never saw it installed in Boston and he never accompanied the panels," Weeks said. "This remains his only mural project outside of France."
The panels were shipped to Boston in 1895. Assistants set the canvases in place using a binding technique called marouflage. Weeks likens the application of this mural series to installing "artful wallpaper." "Very valuable wallpaper. And it's really not meant to come off," she said.
To fix the damaged mural it needed to come off completely. The conservators devised a procedure for securing a bracing support to keep the mural intact while they subjected it to the trauma of removal. They even built a reduced-size model to test their methodology before applying their theories to the real thing. The practice run worked, so they went on to build a wooden support system.
Using spatula-like tools of various sizes, the conservators separated the canvas from the wall. Once down, the conservators plan to attach a rigid, honeycomb panel that — after the front is restored — will act as a protective barrier between any moisture and the canvas.
Hodkinson told me this solution is unprecedented.
"There is absolutely nothing in the literature about this type of project. And it hasn't happened in all the other Puvis de Chavannes mural paintings that are all in France — except for this one," he said, adding that they hope to publish the results of this high-stakes exercise.
This first is not lost on interim BPL President David Leonard.
"In some ways the BPL is known for some of its firsts early on," he said, speaking in the corridor of the nation's oldest library. "We wouldn't necessarily be choosing this to be a first to be known for — but, all going well, we'll be able to have a precedent that somebody else would be able to [follow] should they ever be in a similar situation again."
Leonard acknowledged the stakes are high on a project that's happening less than a year after precious artworks went missing — and were later found — in the library.
"We're now even more aware of our obligations for all of the art in our collection. We want to ensure that people have confidence in the approach that we are taking, so that this project has the best chance of being successful," Leonard said.
But of course success is never guaranteed, according to Hodkinson.
"However much you have worked out the process and the theory of it, you have to be prepared to go with what the mural is actually telling you," he reflected (and warned). "In the long run, when the painting goes back up, it should look like nothing has ever happened."
That's always a conservator's hope, Pocobene and Hodkinson told me.
Last week, the mural and its new, custom apparatus were removed and lowered the way the conservators had planned. Once down, the 120-year-old mural was maneuvered through the library's echoing corridors on the way up to the third floor for six to eight weeks of restoration.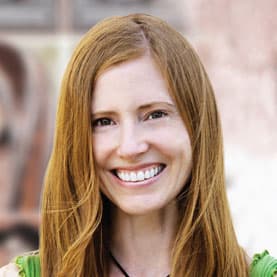 Andrea Shea Senior Arts Reporter
Andrea Shea is WBUR's arts reporter.