The Grisly Details Of 'The Perfect Crime' And Its Cultural Aftermath
One day after he went missing from his posh Chicago neighborhood, Bobby Franks was found stuffed in a drainage pipe. Only 14, the son of a millionaire had been bludgeoned with a chisel and suffocated with a rag. In a crude attempt to conceal his identity, his face and genitals were burned with hydrochloric acid. Even before his family received a ransom note, their boy was already dead.
Yet just as shocking as Franks' gruesome 1924 murder were the identities of the young men accused of such brutality — Nathan Leopold and Richard Loeb, the privileged sons of two of Chicago's most prominent families. Loeb and Franks were cousins.
WGBH's "The Perfect Crime," which premieres locally at 9 p.m. Tuesday, Feb. 9 (check listings for additional air times), is a straightforward retelling of the infamous acts of Leopold and Loeb, whose names have become synonymous with thrill killers. Both 19, they were friends, occasional lovers, and students at the University of Chicago born to lives of great material comfort and social advantage. Well-educated and seemingly destined for success, the two instead developed a warped sense of their own superiority. Buoyed by Nietzsche's concept of the Übermensch, they saw themselves as so exceptional they were unbound to laws or morals. They had long planned to murder someone, and ego never allowed them to consider being caught — which they were, in short order.
This is not a previously unexamined story. Films such as "Compulsion" (1959), "Swoon" (1992), and most famously, Alfred Hitchcock's "Rope" (1948), based on a 1929 play, were all inspired by this twisted true tale that captivated Jazz Age America. One, then, might wonder what this hour-long "American Experience" documentary can add to what is already known about the case. Directed by Cathleen O'Connell and written by Michelle Ferrari, "The Perfect Crime" is best viewed as a prism through which we see how little has changed since Bobby Franks died.
Save the killers' chattiness and defiant lack of remorse — "It is as easy to justify such a death as it is to justify an entomologist impaling a beetle on a pin," Leopold said — so much here is sadly familiar. There's the media's insatiable need for information real or invented; a scrum of hand-wringing clergy pointing fingers at popular culture as a catalyst for evil; and the tendency for courtroom outcome often to favor those with the means to get the best available representation.
For Leopold and Loeb, that meant famed attorney Clarence Darrow. Since both men incriminated each other and police recovered a key piece of evidence, their guilt was never in doubt. An ardent death penalty opponent, Darrow sought only to keep them from the gallows. He presented what today might be considered an "affluenza" defense, putting on trial his clients' elite backgrounds. He portrayed Leopold and Loeb as so emotionally and psychologically damaged by their indifferent upbringing, they could not be held responsible for their murderous actions.
"It took a tremendous amount of chutzpah, but Clarence Darrow made the argument that these two very privileged sons of very wealthy families were actually victims," says John Farrell, Darrow's biographer, in the PBS film. "They were in a sheltered life with cold families, and they should be pitied rather than hated."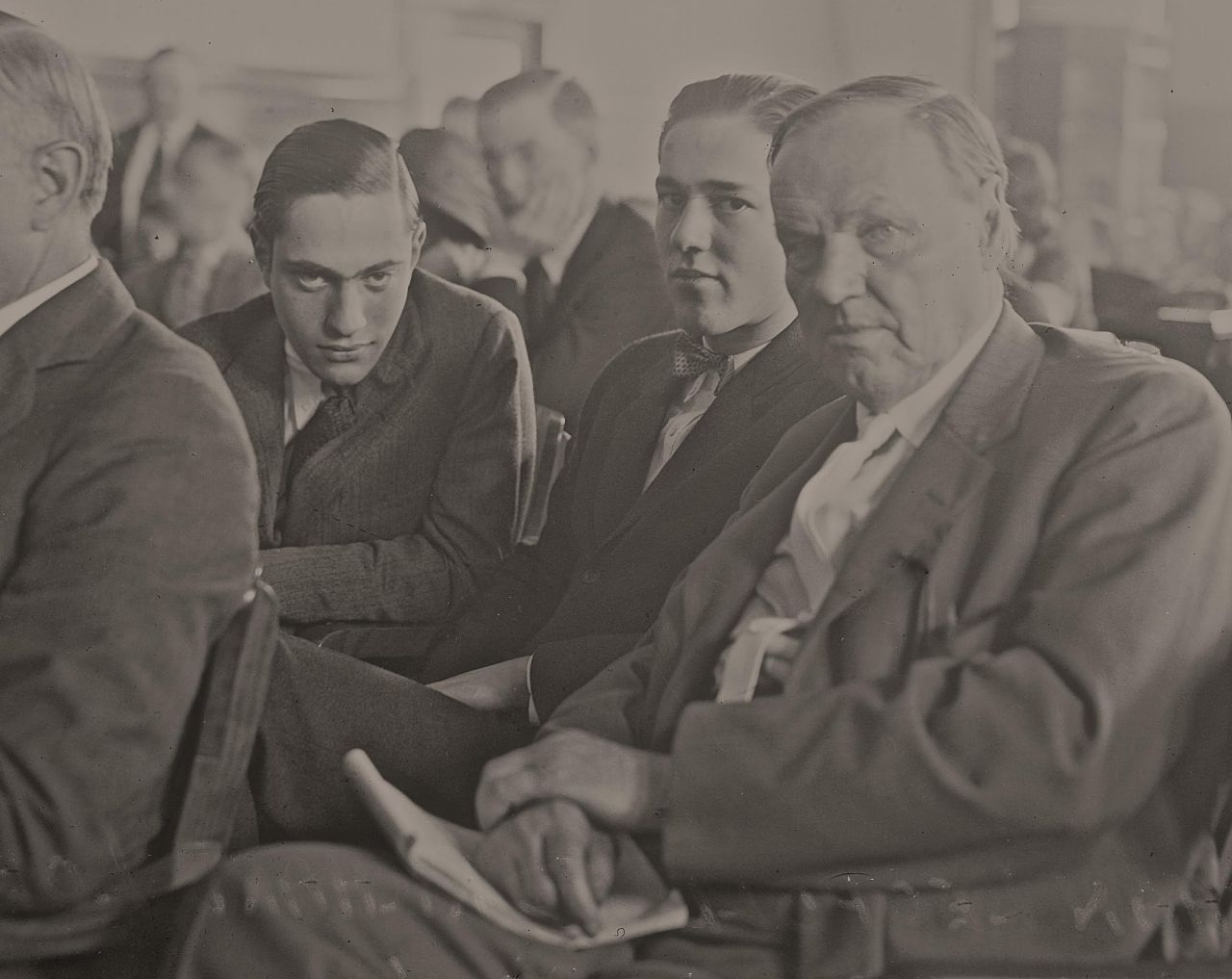 Now a common tactic, what Darrow did was unprecedented. He introduced Freudian interpretations and made claims of childhood sexual abuse. An enthralled public lapped it up. Of course, so much of that sustained interest had to do with the defendants. Then as now, few could wrap their minds around the notion that the wealthy can commit heinous crimes.
"These were children of privilege, of high ideals, who had everything given to them," says historian Paula Fass incredulously, as if money has ever been an indicator of morality. Yet just this past week, those same empty observations have been made about two Virginia Tech engineering students accused of kidnapping and murdering a 13-year-old girl.
With just-the-facts understatement, "The Perfect Crime" reminds us — and clearly, it can't be said often enough — that no one knows what lurks behind a polished façade, and savage criminality is not the sole province of the poor or disenfranchised.
As Darrow, in his plea to save his clients, told the judge: "No one knows what will be the fate of the child they get or the child they bear. The mother who looks into the blue eyes of the little babe cannot help but wonder what will be the end of this child, whether it will be crowned with the greatest promises which her mind can imagine or whether he may meet death from the gallows."
---
Renee Graham is pop culture correspondent for WBUR's Here & Now and The ARTery, and was a longtime arts writer and pop culture columnist for The Boston Globe. Follow her on Twitter at @reneeygraham.