1 Dead In Officer-Involved Shooting In Dorchester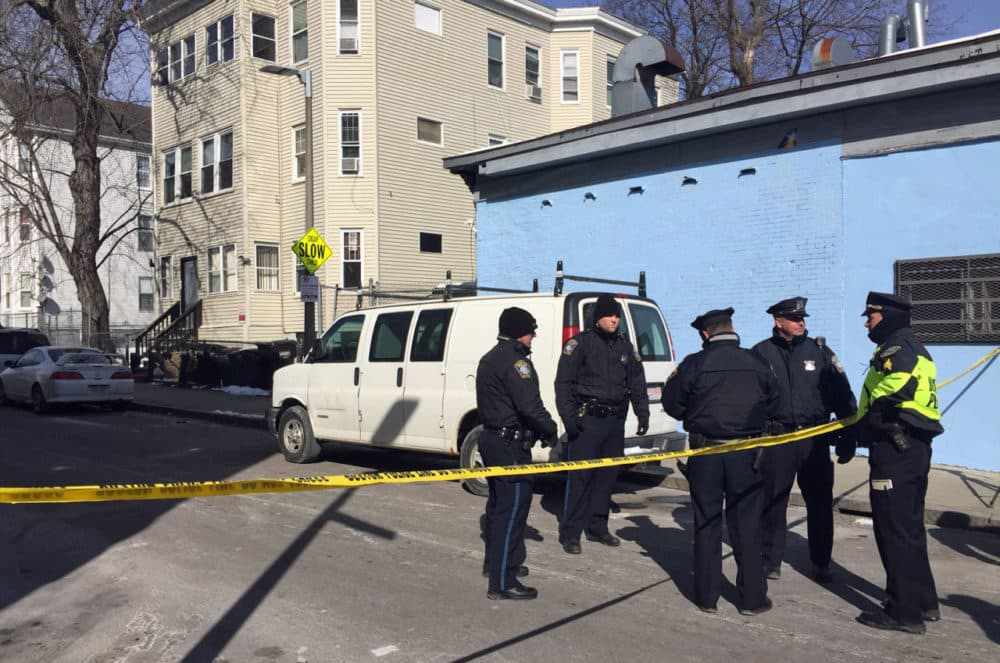 This article is more than 6 years old.
Authorities say one man is dead after exchanging gunfire with a Boston police officer in Dorchester Friday morning.
Speaking at a press conference Friday afternoon, Boston Police Commissioner Bill Evans said officers were responding to reports of a shooting at 107 Devon St. in Dorchester around 10:30 a.m. when they were confronted by a man with a gun on nearby Laredo Street.
An officer ordered the man to drop his gun three times before firing, Evans said.
"Nobody likes to take a life, but if you're gonna point a gun at one of our officers in the way he did, obviously we're gonna protect ourselves and we're gonna neutralize the threat," Evans said.
According to Evans, it appears the man who was killed by officers was assisting someone else who had been shot in the leg. Both appear to have come from 107 Devon St., where Evans said a third person was found with multiple gunshot wounds.
Evans did not release the identities of the three people involved, though he said the man who was killed was known to police and had several prior firearm violations on his record.
No officers were hurt, Evans said. Four were brought to a hospital to be checked for stress.
The Rev. Eugene Rivers, who leads a congregation nearby in Dorchester, told reporters at the scene he had spoken with police and it seemed like they had acted professionally.
"There's nothing nice about it. It's tragic," he said, adding that he thought there was "no evidence of an overreaction or excessive force."
Following the shooting, witnesses and neighbors called for more police presence in the neighborhood. Rohan Thomas lives on the very corner where the man was shot and killed. His wife called him to come home. Thomas said there had been other shootings nearby recently.
"One was like three months ago, someone was shot in someone's house — boom, boom, boom — right through the person's window," Thomas said. "And there was another one. It's just crazy, it keeps happening. I work in a public school, I'm not a criminal. This is where we can live. It's not safe, it's not safe."
Evans said police units were nearby and responded quickly.
"It goes to the whole point of continually stressing out there, how many guns are on the street," he said. "We've got a lot of work to do."
Evans says Boston police have taken possession of about 80 guns so far this year.

With reporting by WBUR's Curt Nickisch
This article was originally published on February 12, 2016.
This segment aired on February 12, 2016. The audio for this segment is not available.