Amtrak Signal Issue Faulted For Major MBTA Disruptions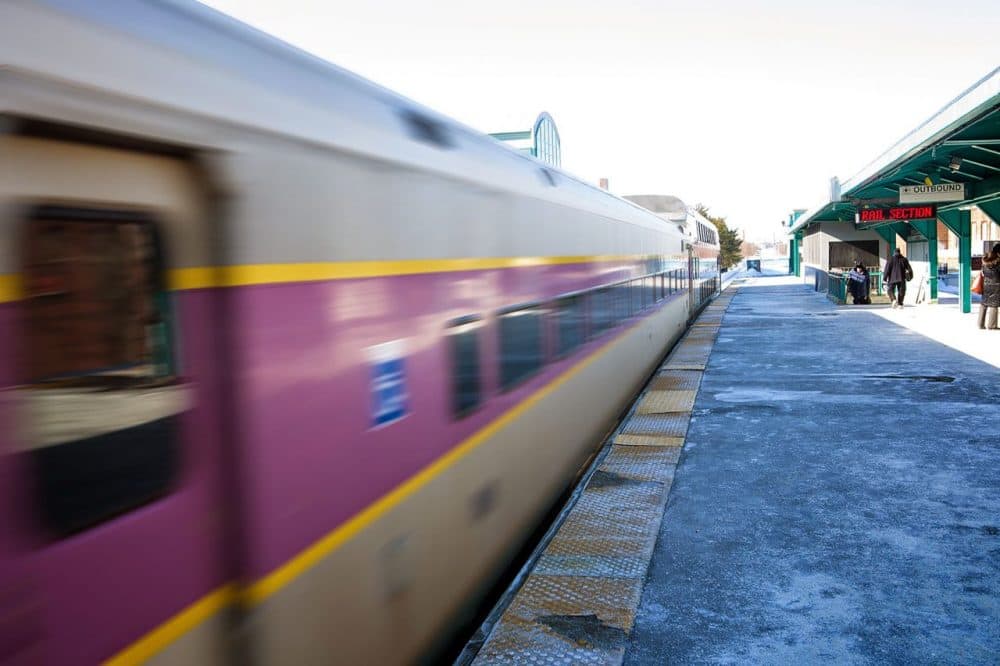 This article is more than 4 years old.
Amtrak signal problems caused a wave of major disruptions for MBTA riders during both the morning and evening commutes Thursday.
Leslie Aun, a spokeswoman for Keolis, the company that runs the commuter rail, said she did not know if the signal malfunction would be resolved by Friday morning's commute.
"Amtrak informs us that they do not know when the system will be repaired. There could be problems lingering into tomorrow," she told WBUR's Newscast Unit Thursday evening. "We have no information beyond that."
The signal malfunction plagued the transit system in and out of Boston throughout the day.
Thursday afternoon, the Massachusetts Department of Transportation announced in a statement that "the only commuter rail trains that will depart from [Boston's] South Station are those that serve the Providence/Attleboro and Stoughton Lines."
MassDOT urged all other passengers to board their commuter rail trains at alternative stations, including JFK/UMass, Back Bay, Forest Hills, Quincy Center and Braintree. MassDOT said new schedules for the evening commute would be on the MBTA's website.
At 3 p.m., Amtrak said in a statement that service in and out of South Station was delayed 30 minutes to two hours.
"Track switches are currently being operated manually which significantly limits the amount of trains arriving and departing the station," the rail service said in its statement.
Gov. Charlie Baker expressed frustration to WGBH-FM about the delays.
"I've been ready to strangle somebody all day," the governor said.
Amtrak spokesman Mike Tolbert told WBUR's Newscast Unit that crews were actively working on the tracks to fix the issue, and extra crews were called in to help operate the manual switches at South Station.
During Thursday morning's commute, passengers had to disembark their commuter rails prior to South Station and transfer to MBTA subway lines.
Passengers were forced to exit commuter rail trains between Back Bay Station and South Station.
The majority of passengers — especially those headed downtown — were advised to take free transfers to Orange and Red line trains. In many cases, these commuters then faced cramped T platforms.
Overcrowded Red Line trains faced severe residual delays — both inbound and outbound. Normal service resumed at about 10 a.m.
MBTA officials said passengers disembarking the rail service were orderly and reported no issues. Thanks to school vacation week, ridership was lower Thursday than the 40,000 passengers the commuter rail typically sees traveling to South Station each weekday morning, MassDOT said.
For more information, here are the latest service alerts from the MBTA.
This article was originally published on February 18, 2016.