Close Race Between Democratic Candidates In Mass., WBUR Polls Finds
Play
This article is more than 7 years old.
As Massachusetts prepares to vote in the state's presidential primary on Super Tuesday, a new WBUR poll shows Donald Trump with a hefty lead among likely Republican voters.
According to the poll (topline, crosstabs), the race is much closer between the two Democrats, with former Secretary of State Hillary Clinton ahead of Vermont Sen. Bernie Sanders by just five points among Bay State voters — just outside the poll's margin of error.
WBUR's Anthony Brooks looks at the numbers and what they mean for the two Democrats on Morning Edition.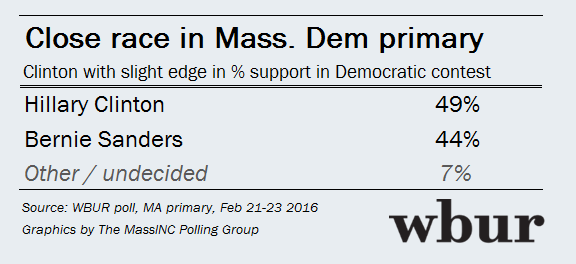 This segment aired on February 26, 2016.