Galvin Predicts Big Turnout As Candidates Hit Mass. A Day Ahead Of Presidential Primary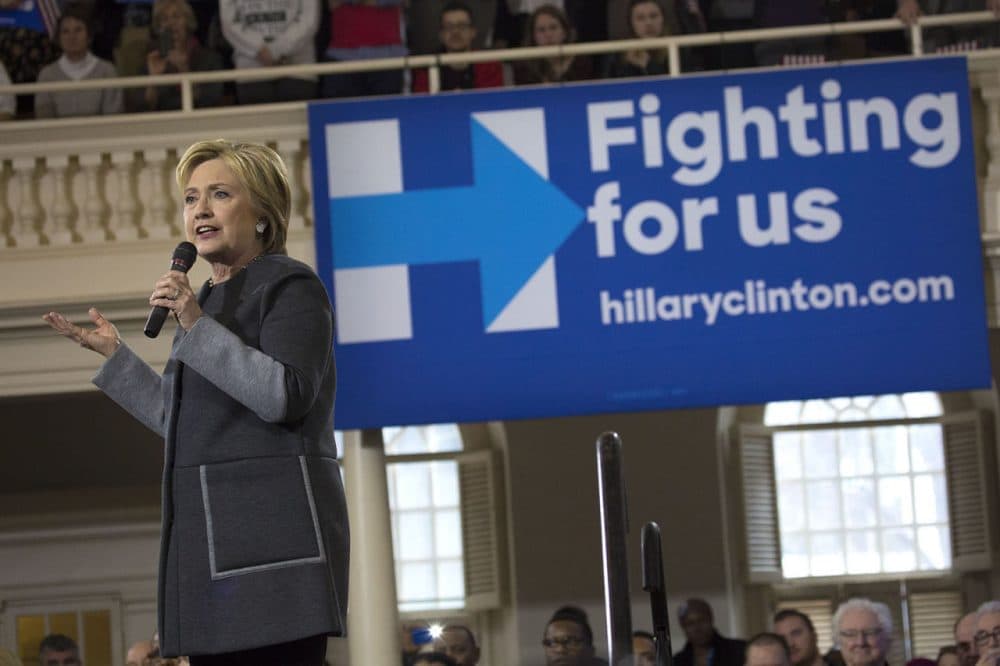 This article is more than 5 years old.
As the Democratic rivals for president and one Republican stumped across Massachusetts ahead of Tuesday's primary, state election officials predicted strong turnout, especially on the GOP side.
Massachusetts Secretary of State William Galvin said Monday that Republican turnout will likely shatter the 2008 record of just over 500,000 votes cast.
"I believe on the Republican side to see a turnout that will probably exceed 700,000 votes cast, which is very interesting given the size of the Republican Party here in Massachusetts," he said.
Among the signals that GOP voting could be higher this time around, he said, is the fact that nearly 20,000 residents have left the Democratic ranks since the start of the year. The majority of those voters switched their registration status to unenrolled, while others became Republicans.
On the Democratic side, Galvin says he's not sure if turnout will exceed the 1.2 million votes cast in 2008, when it was a tight race between Hillary Clinton and Barack Obama.
"I don't think anybody can argue that the atmosphere is quite the same as it was in 2008," he said. "The sense of history that was in 2008 is not replicated this time."
Massachusetts, with a rich delegate count, is seen as a pivotal contest in the battle between Clinton and new rival Bernie Sanders. Sanders is seen as needing a good result here, and polls have shown a tight race -- closer than many of the other states voting on Super Tuesday.
A WBUR poll, released Thursday night, had Clinton with a 5-point advantage over the senator from next-door Vermont.
Clinton -- fresh off a decisive win in South Carolina -- held an event in Springfield Monday morning, and then was in Boston later Monday.
Appearing with a number of Democratic politicians at the Old South Meeting House, Clinton spent most of her time looking past Sanders.
"More and more people are really focused on making sure that we reject the kind of mean-spiritedness, demagoguery, the bigotry that is being peddled by the Republican candidates," Clinton said.
Her husband, former President Bill Clinton, was expected to hit the campaign trail in Worcester late Monday too, at a rally at the White Room at Crompton Collective.
Meanwhile, Sanders held a rally at Milton High School. He also spoke at a at the University of Massachusetts-Amherst last week.
Republican presidential candidate John Kasich was also campaigning in the Bay State Monday. He hosted a town hall in Plymouth, which typically votes Republican.
Kasich was also on Radio Boston Monday afternoon, where he told host Meghna Chakrabarti what he thinks it will take to beat GOP front-runner Donald Trump.
"I think you beat him on records, accomplishments and vision," Kasich said. "I don't think you beat him with insults. I would never run a campaign that way."
The Ohio governor was also in Springfield Sunday, and he's the only Republican to visit the state ahead of Super Tuesday.
Many analysts say Kasich looks to remain in the race by edging out Florida Sen. Marco Rubio to become the moderate alternative to Trump, who is leading in our latest poll of likely Massachusetts voters by a very wide margin.
With reporting by WBUR's Steve Brown and Lisa Creamer, with additional reporting by The Associated Press.
This article was originally published on February 29, 2016.