Record Super Tuesday Turnout Predicted In Mass.
The polls have closed in Massachusetts, in a presidential primary that was expected to draw record turnout.
Secretary of State William Galvin predicted more than 700,000 votes would be cast in the Republican race here, smashing the 2008 record of about 500,000.
On the Democratic side, Galvin said he wasn't sure if turnout would exceed the 1.2 million votes cast in 2008, when there was a tight race between Hillary Clinton and Barack Obama.
Galvin noted that some 20,000 voters had left the Democratic Party since the beginning of the year — perhaps, Galvin said, to vote for — or against — Republican front-runner Donald Trump.
As of 6 p.m., the city of Boston reported just over 31 percent turnout.
Steve Koczela, with MassINC Polling Group, says that vote count in Boston suggests the state is on track to break the primary vote record of 1.77 million votes cast in 2008.
Massachusetts was just one of several states with presidential primaries this Super Tuesday. (Follow NPR for live coverage from across the country.)
And while no candidates were here campaigning, former President Bill Clinton made several appearances on behalf of his wife.
In fact, Galvin's office had to remind the Clinton campaign that the state prohibits campaigning within 150 feet of polling places after the former president and Boston Mayor Marty Walsh were photographed inside a West Roxbury church where voters were casting ballots.
A spokesperson for Mayor Walsh's office said the two were thanking poll workers, not campaigning.
On Monday, Democrats Hillary Clinton and Bernie Sanders made campaign stops in the state, as did Republican John Kasich.
A WBUR poll released last week showed Clinton leading Sanders by 5 points in the Democratic race here, and Trump at 40 percent support on the Republican side, compared to 19 percent support for both Kasich and Marco Rubio, with Ted Cruz at 10 percent and Ben Carson at 5 percent.
Republican Gov. Charlie Baker cast his ballot in his hometown of Swampscott early Tuesday, but wouldn't say who earned his vote.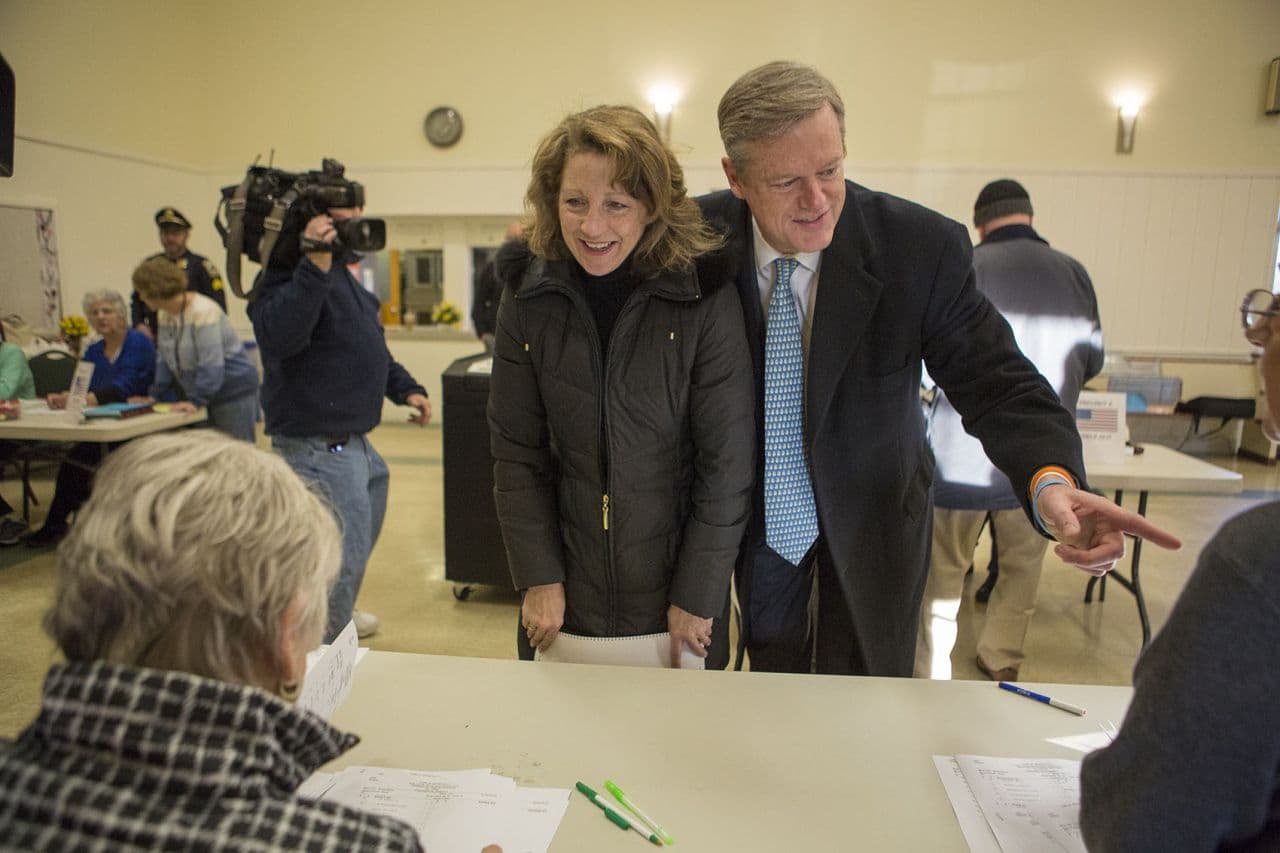 He did, however, say who he did not vote for: Trump or Cruz.
Baker had endorsed New Jersey Gov. Chris Christie, but has not selected a new candidate to back after Christie dropped out of the race.
WBUR will have live coverage of the Super Tuesday results beginning at 8 p.m. And follow along here for county-by-county returns. 
With reporting by The Associated Press
This article was originally published on March 01, 2016.