Hillary Clinton Narrowly Defeats Bernie Sanders In Mass. Democratic Primary
03:49
Play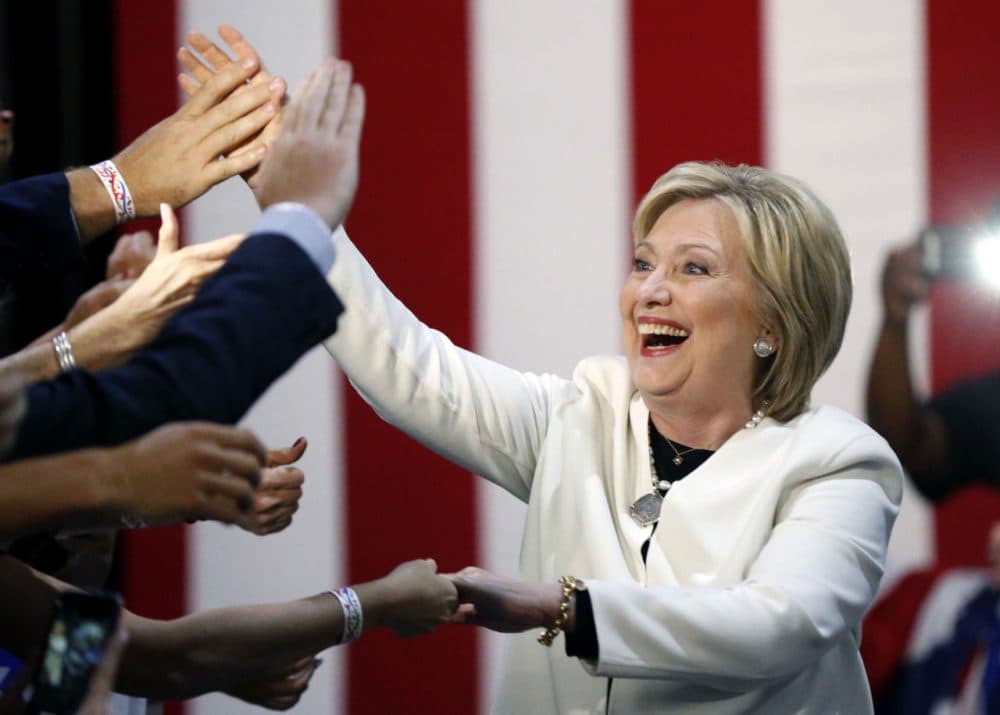 This article is more than 6 years old.
Spirits were high Tuesday night in the Whiskey Priest bar on the South Boston waterfront, where Hillary Clinton supporters gathered to watch election returns. Among them was Boston Mayor Marty Walsh, Clinton's cheerleader in chief in Massachusetts.
"And I keep watching that TV cause I want that little yellow checkmark next to our name in Massachusetts, but I can tell you, when that happens it's because of Boston. We won by 20,000 votes today!" Walsh said.
Clinton racked up early wins in Alabama, Georgia, Tennessee, Virginia, Arkansas and Texas, but the close race in Massachusetts wasn't decided until late Tuesday. Clinton edged Sanders by less than 2 percentage points.
Sanders carried the western part of the state, many rural areas, the Cape and the Islands, but Clinton beat him in the cities, including Boston and most of its suburbs.
Karen Carew, of Medway, said she voted for Clinton, calling her the most experienced candidate in the race.
"Her domestic knowledge, her international knowledge, her ability to connect with people, her wide-ranging education and experiential background makes her on Day 1 ready for that job," she said.
According to exit polls, Democratic voters who said they wanted a candidate with the right experience and to continue President Obama's policies backed Clinton. Voters who wanted a change in course, and valued honesty the most, chose Sanders.
Sanders supporters gathered Tuesday Night in the Holiday Inn in East Somerville, which backed the Vermont senator. Sanders drew support from voters like Kyle Cranston from Southampton, who said he's tired of corrupt, pay-to-play politics.
"He's not in the pockets of big corporations. Finally, we have somebody who comes out there and tells it as it is, and he's able to do it because he's not taking the money. Nobody else who's taking the money is going to say that," he said.
But Sanders fell short in Massachusetts, a state he hoped was particularly suited to his message.
Paul Feeney, Sanders state campaign director, did his best to put the evening in a positive light.
"We knew that when we started this 25 points down that it was going to be a challenge. The entire political establishment in Massachusetts was against us," Feeney said. "We knew on the Sanders campaign that we needed to build an organization, not borrow one. And that's exactly what we did with every one of you in every city and town in Massachusetts."
Sanders did win his home state of Vermont, as well as Minnesota, Oklahoma and Colorado.
And while Clinton now has a big lead in delegates, Sanders' campaign is still flush with money and will continue, as he told WBUR on Tuesday.
"We have a long, long march to the Democratic [National] Convention in July in Philadelphia," he said. "We're going to fight it all the way. We're going to have 35 more states to contest and also some of the largest states in the country."
From the start that long march has been an uphill climb, and there's little doubt that Clinton's success on Super Tuesday has made that climb a lot steeper for Sanders.
With additional reporting by WBUR's Curt Nickisch 
This segment aired on March 2, 2016.