4 Takeaways From Boston's New Report On Inequality
A new report on Boston's workforce provides yet more evidence that many in the city are struggling to find well-paying jobs, despite Boston's overall strong economic growth.
The Boston Redevelopment Authority report, out Tuesday, uses 2014 census data to paint a nuanced portrait of a city with vast inequalities.
Here are four takeaways:
1. Low Pay At The Bottom -- And Stagnant
About a quarter of the city's fully employed residents earned less than $35,000 in 2014, according to the report.
When all labor force participants are included — that is, city residents who are working in some facet, or not working but actively looking for it -- the share of Bostonians earning less than $35,000 rises to about half.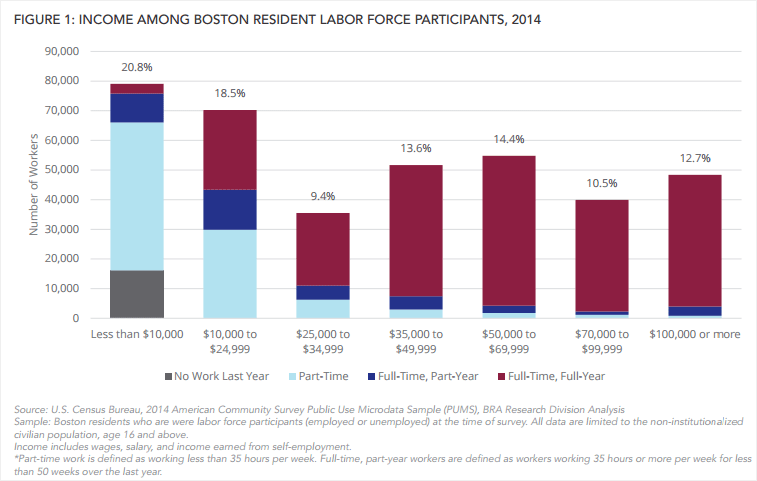 Here's what those dollar figures mean in real terms, per the report: "[T]he BRA calculated that a two-parent, two-child family with one child in preschool would need each parent working full time to earn $16.96 an hour, or $35,277 a year, to cover all family expenses in 2014."
Overall, the median annual income for residents of Boston is $36,000 — a figure that, according to the BRA, has remained the same, in non-inflation-adjusted terms, for nearly three decades.
2. How Earnings Are Tied To Education
Among those not in school in 2014, more than 60 percent of Boston residents with a bachelor's degree or higher earned $50,000 or more. That is, they earned far higher than the aforementioned citywide median.
For residents without a high school degree, only 12 percent earned more than $50,000 in 2014. Forty percent earned between $10,001 to $24,999.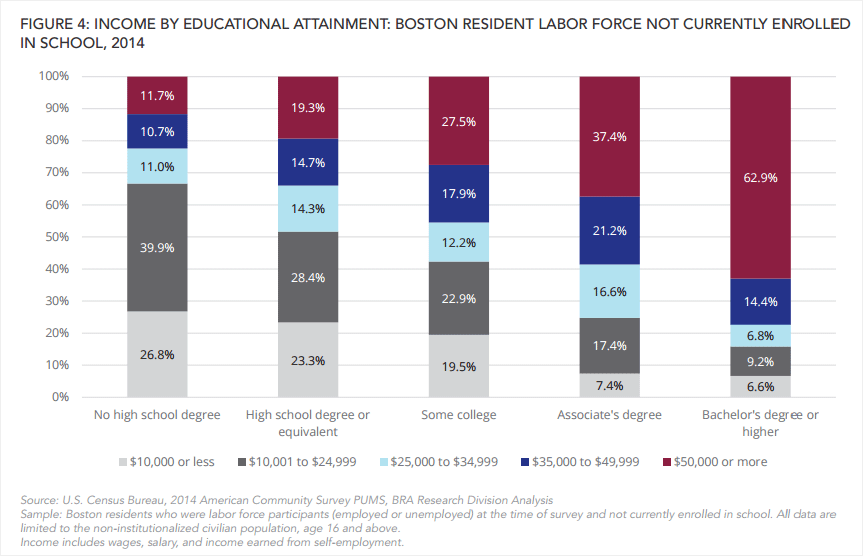 As the BRA wrote in the report: "The intimate connection between education and income emphasizes the vital importance of connecting all Boston residents with the skills they need to move up in the labor market."
3. Low Citywide Unemployment Rate — With Gaps
The report says Boston added more than 15,000 jobs in 2014, and the resident unemployment rate fell to 4 percent in the spring of 2015. 
But the jobless rate differs along demographic lines. For instance, the white unemployment rate is about half the city average, while the African-American jobless rate is significantly higher than the average in Boston.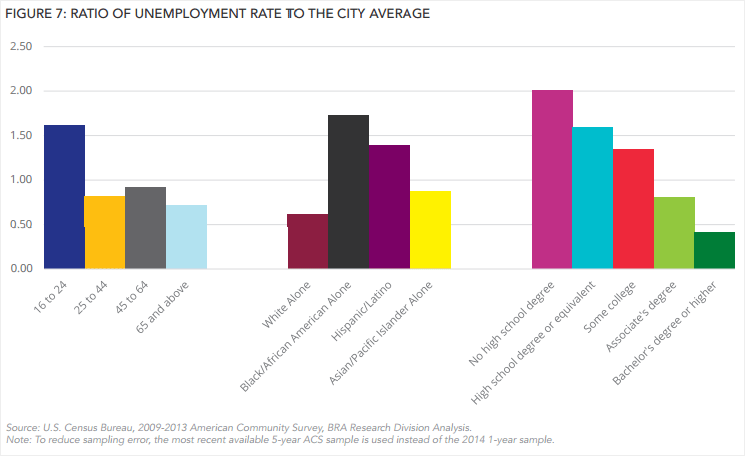 The report added that certain areas of Boston have unemployment rates as high as three times the citywide average. (The map is on page 13 here.)
4. Education, Again
Based on a database of projected job openings through 2022, the report says that a bachelor's degree will be a prerequisite for about 41 percent of jobs in the city. That's compared to a projection of 27 percent nationally.
Census figures show that among city residents in the labor force, 74 percent of bachelor's degree holders are white. That's even though the city is a majority-minority — more than 50 percent minority.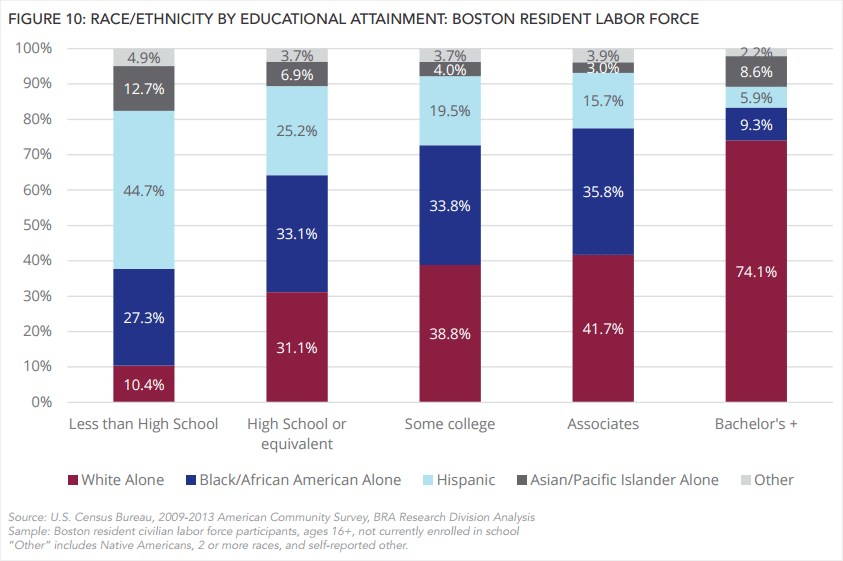 The BRA report comes two months after the Brookings Institution found Boston to be the No. 1 big city in the United States for income inequality.
In a statement released with the BRA report, Boston Mayor Marty Walsh acknowledged the inequalities in the city. He said he's "made confronting income inequality a cornerstone" of his economic agenda.
Among other measures, the Walsh administration has eyed financial coaching as a way to close income gaps and lift up residents, and Walsh is creating a task force to explore a $15 minimum wage for the city.